A group of 20 attorneys general requested the Supreme Court to overturn a lower court's ruling on enforcing bans on homeless encampments.
This week, 20 attorneys general from Republican-controlled states petitioned the high court in the case of Johnson v. City of Grants Pass after the U.S. Appeals Court for the Ninth Circuit ruled last year that the Oregon city of Grants Pass violated the U.S. Constitution's Eight Amendment by enforcing an ordinance to prevent people from sleeping in public if they have no other place to go.
The lawsuit was brought by three homeless individuals in Grants Pass, located near the Oregon–California border, several years ago. They argued that their constitutional rights were violated and sought to overturn the small city's anti-homeless ordinances that levied fines and other regulations.
However, a growing number of cities and even some Democrats have said the lower court rulings essentially have made it difficult to enforce regulations against homeless camps. Last week, California Gov. Gavin Newsom, a Democrat, filed a brief with the Supreme Court and urged it to take up the case, saying that the court rulings are unworkable and have led to a public safety crisis in major cities across his state.
The city of Grants Pass filed an appeal with the Supreme Court last month. It came after the Ninth Circuit Court in August upheld a ruling invalidating the Grants Pass anti-camping measure, which expanded on a previous case, Martin v. City of Boise, which prevented cities from blocking people from sleeping on public property if local governments cannot supply beds for them.
"Does the enforcement of generally applicable laws regulating camping on public property constitute 'cruel and unusual punishment' prohibited by the Eighth Amendment?" lawyers for the Grants Pass asked the nine justices in August.
On Monday, in their brief (pdf), the 20 attorneys general offices—led by Republican Montana Attorney General Austin Knudsen—wrote that "allowing encampments is cruel and creates more suffering than the alternative," citing health and safety issues that homeless people and the general public face by not clearing camps.
"While being mindful of the health and safety of both the homeless population and that of the greater community, many issues still must be resolved by (the Supreme Court) to clarify what other efforts may be made within the bounds of the law," their petition said. "The questions raised by this case are of paramount importance to local governments … and warrant this Court's thoughtful attention."
In a news release accompanying the filing, Mr. Knudsen said that the Ninth Appeals Court's 2018 decision leaves states "powerless" to deal with the problem of homelessness, noting that states have both "criminal law and land-use policy authority, and that the decision is an outgrowth of the 'evolving standards of decency' jurisprudence."
Newsom Joins In
In a rare move, Mr. Newsom's office joined conservative states and groups by also filing an appeal with the Supreme Court, representing a shift for the Democratic governor as he rarely sides with Republicans on nearly any issue.
"While I agree with the basic principle that a city shouldn't criminalize homeless individuals for sleeping outside when they have nowhere else to go within that city's boundaries, courts continue to reach well beyond that narrow limit to block any number of reasonable efforts to protect homeless individuals and the broader public from the harms of uncontrolled encampments," Mr. Newsom said in a statement.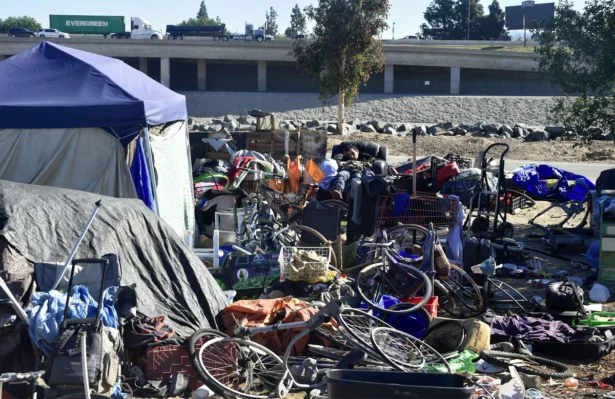 The Supreme Court, he argued, needs to once and for all provide clarity on the matter because lower court rulings have left a "confusing" and "impractical" situation for the states. "Courts have tied the hands of state and local governments that seek to use common sense approaches to clean our streets and provide help for unhoused Californians living in inhumane conditions," the governor continued.
The flurry of legal activity also comes as West Coast cities such as Los Angeles, San Francisco, Portland, and Seattle have increasingly grappled with a recent rise in homeless camps and public drug use.
But in December, U.S. District Court Chief Magistrate Judge Donna Ryu issued an injunction that prevented San Francisco from continuing its efforts to clear out tent camps. The city then appealed to the Ninth Circuit earlier this year.
According to Mr. Newsom's court filing, a district court ruled that Los Angeles would have to tick off a long list of requirements before it enforces its anti-homeless ordinance. That includes more rules for nursing staff, mandates for security, and policies around testing for communicable diseases, it said.
"I hope this goes to the Supreme Court, and that's a hell of a statement for a progressive Democrat," Mr. Newsom told Politico earlier this month. "It's gone too far. People's lives are at risk."
The high court has until early October to make a decision on whether to take up the case, among many others.
From The Epoch Times