The United States will transfer additional military equipment worth up to $200 million to Ukraine to aid in its ongoing fight against Russian aggression, the Pentagon announced this week.
In a statement on Aug. 14, U.S. Secretary of State Antony Blinken said the latest round of security aid will include munitions for U.S.-provided Patriot air-defense systems, artillery rounds, additional mine-clearing equipment, and anti-armor capabilities.
Mr. Blinken said the new package—which is being provided under the Ukraine Security Assistance Initiative—underscores the United States' continued commitment to providing Ukraine with the capabilities to defend its territories and protects its people.
"Every day, Russia is killing Ukrainian civilians and destroying civil infrastructure, while also weaponizing hunger and contributing to global food insecurity through its destruction of Ukraine's civilian ports and grain infrastructure," Mr. Blinken said.
"Russia started this war and could end it at any time by withdrawing its forces from Ukraine and stopping its brutal attacks. Until it does, the United States and our allies and partners will stand united with Ukraine, for as long as it takes," he continued.
The latest $200 million military aid is the 44th drawdown from U.S. Department of Defense inventories for Ukraine since August 2021. This round of assistance will use presidential drawdown authority, which allows the Pentagon to take weapons from its own stocks and quickly ship them to Ukraine.
In total, the Biden administration has committed more than $43 billion in security assistance to Ukraine since the beginning of Russia's investigation on Feb. 24, 2022, according to the U.S. Department of Defense.
Prior packages had included thousands of Stinger anti-aircraft systems, more than 10,000 Javelin anti-armor systems, and millions of 155 mm artillery rounds, among other items.
Ukraine's President Volodymyr Zelenskyy said during his evening address on Aug. 14 that the new aid package includes "much-needed things" as he expressed gratitude to the United States for supporting Ukraine in the face of aggression.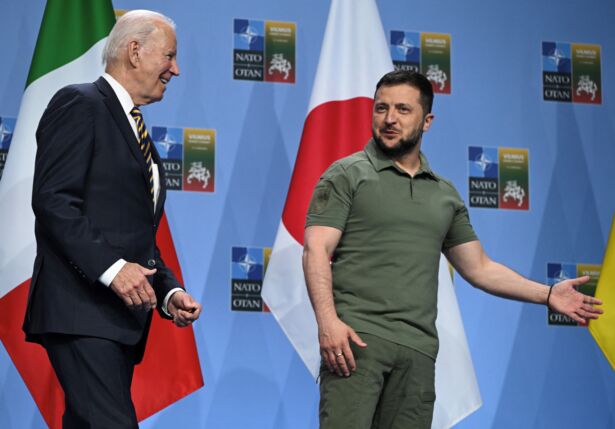 "I want to thank the United States today for the new package. Munitions for Patriots, for HIMARS, artillery, Javelins, and more," Mr. Zelenskiy said. "There will be even more work soon with our partners for the sake of defense," he added.
The United States says the items are being provisioned as part of a $6.2 billion aid package authorized in June under the Presidential Drawdown Authority, or PDA, which is a mechanism that allows the Biden administration to transfer articles and services from U.S. stocks without congressional approval during an emergency.
A U.S. official told news agency Reuters last week that Washington would begin to dole out $6.2 billion in funds to Ukraine after discovering a Pentagon accounting error that had overvalued billions of dollars of aid.
This error occurred because U.S. military officials didn't count the actual value of what was pulled from the Pentagon's weapons stockpile and sent to Ukraine but instead used the value of replacing those weapons, according to deputy Pentagon press secretary Sabrina Singh. Newly produced weapons usually cost more than the excess old ones they replace.
The new package worth up to $200 million of military equipment comes just weeks after the U.S. government on July 20 approved a $1.3 billion package of long-term military aid to Ukraine, including air defense systems and military drones.