Newly released video footage shows Nation of Islam follower Noah Green shopping for a knife at a store in Washington just hours before ramming his vehicle into a barrier at the U.S. Capitol.
The security footage, captured at District Cutlery, was published by WJLA.
Green entered the shop in Union Market just after 11 a.m. on April 2. He bought a carving knife for $300, owner Derek Swanson told the broadcaster.
FBI agents went to the store over the weekend and began asking questions.
"They asked me for footage from our surveillance camera. I reviewed it, it was about 22 minutes he was in our shop. It was hard to tell a lot from it. He acted very normal, and the footage shows him basically trying to decide what knife he wants to buy at our shop," Swanson said.
"I had heard about the incident, but I hadn't read too much about it, so I was surprised that we were involved somehow. None of us had a clue until the next day."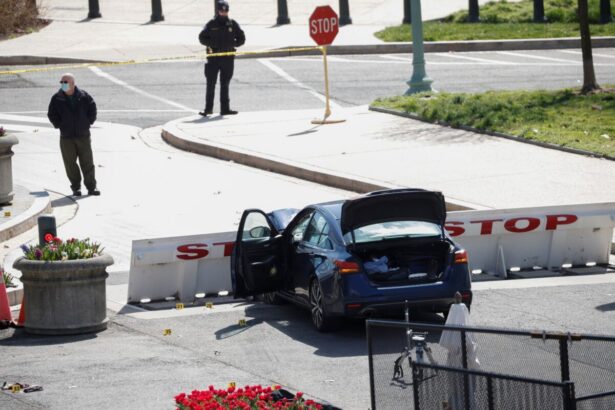 Green can be seen walking around the store, looking at various items while wearing a white sweatshirt, jeans, and a blue surgical mask. After 22 minutes, he chose the knife authorities said he carried with him during the attack.
Swanson said the knife is used to cut meat and sports a blade that is about 11 inches long.
A photograph of the knife was released by Washington police on Monday.
Green, 25, is accused of ramming into two Capitol Police officers just after 1 p.m. on April 2 before slamming into a barricade.
Green then exited the vehicle, wielding the knife, and "charged toward another United States Capitol Police Officer," a police incident summary stated.
The officer fired their service weapon, striking Green. The suspect was pronounced dead at a nearby hospital.
One officer, 41-year-old William Evans, died in the attack. Another was released from the hospital after being treated for non-life-threatening injuries.
Evans will lie in honor in the Capitol Rotunda next week, congressional leaders announced Tuesday.
"In giving his life to protect our Capitol and our country, Officer Evans became a martyr for our democracy," House Speaker Nancy Pelosi (D-Calif.) and Senate Majority Leader Chuck Schumer (D-N.Y.) said in a joint statement. "On behalf of the entire Congress, we are profoundly grateful."
Green had posted a series of missives on Facebook proclaiming himself a follower of the Nation of Islam, an Islamic group that regularly promotes anti-white and anti-Semitic messaging, and said he'd left his job in part to seek a spiritual journey.
From The Epoch Times