Florida Gov. Ron DeSantis has received the endorsement of Rep. Bob Good (R-Va.) for the 2024 Republican presidential nomination, prior to even announcing his White House bid.
In a statement released by "Never Back Down," the super PAC backing DeSantis and calling on him to enter the race, Good argued that DeSantis is the GOP's best option, adding he thinks the Florida governor would "restore the conservative America-first agenda."
"America is hungry for the courageous conservative leadership that has been demonstrated in the free state of Florida over the past four years," Good said on Tuesday. "DeSantis has been the model for battling against the harmful Leftist policies that have been oppressing his state and our country, and Floridians responded by awarding him a 20-point victory this past November."
"We simply must win the White House back in 2024, as the country cannot afford another four years of the disastrous Biden-Harris administration," he added. "DeSantis gives us the best opportunity to win and restore the conservative America-first agenda. We need eight years of his leadership in Washington, and I stand ready to help elect the first former member of the House Freedom Caucus to the presidency."
The endorsement comes amid speculation that DeSantis will announce whether he will run for president in the near future after he hinted at a news conference on May 4 that a decision will be made "very soon," telling reporters to "stay tuned."
"You're just going to have to stay tuned on all this. … You'll get there one way or another very soon," DeSantis said when asked to provide an update on his potential White House bid.
Good is the fourth member of the House GOP to preemptively endorse DeSantis after joining his fellow Reps. Chip Roy (R-Texas), Thomas Massie (R-Ky.), and Laurel Lee (R-Fla.).
Democrats decried Good's endorsement in a statement on Tuesday, labeling the Virginia congressman as an "anti-choice extremist who wants a complete federal abortion ban."
"Good's endorsement comes as no surprise—DeSantis himself has repeatedly supported extreme anti-choice measures and signed an abortion ban last month that bans abortion before many women know they are pregnant. Today's endorsement is yet another reminder that if MAGA Republicans like Ron DeSantis get their way in 2024, they will ban abortion nationwide," the DNC War Room asserted.
Meanwhile, former President Donald Trump—the Republican front-runner in national polls—continues to dominate the field in early endorsements. So far, Trump has picked up at least 71 noteworthy endorsements, including from ten U.S. Senators and two governors, according to Ballotpedia's endorsement tracker.
A poll released by Morning Consult this week shows that Trump is an early favorite in the Republican presidential race, besting DeSantis by a significant 41-point margin. However, DeSantis is still in second place to Trump well ahead of other GOP candidates.
Good's History With Trump
Over the years, Good has signaled his support for Trump, and he was also one of the 147 Republicans who objected to certifying the Electoral College results of the 2020 presidential election.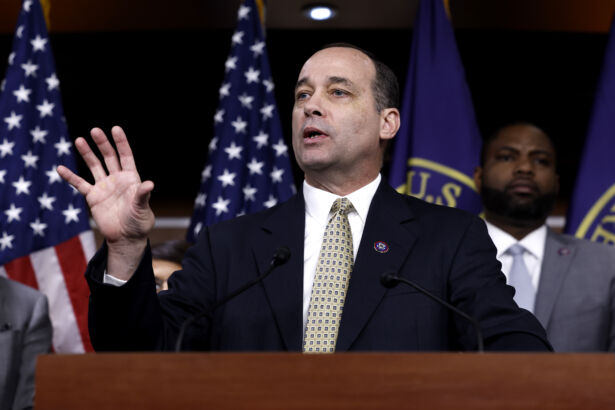 In 2020, Trump endorsed Good running for Congress in the 5th Congressional District of Virginia, saying in a post on Twitter that Good will be a "terrific" congressman, touting his strong support for law enforcement, and veterans, as well as his position on protecting unborn's and the Second Amendment.
"I'm thankful to have received the support of our President and look forward to working alongside him on his America First Agenda," Good said in a statement upon receiving the endorsement.
"I am committed to bringing back the strong economy that President Trump created during his first term by keeping taxes low, ensuring that burdensome regulations are removed from businesses, and focusing on job growth in our district," he added.
'Never Back Down'
The "Never Back Down" super PAC was founded by former Trump ally and administration official Ken Cuccinelli. Cuccinelli says on the PAC's website that he believes DeSantis is the "FUTURE" and that he will "NEVER BACK DOWN."
Cuccinelli is the former Virginia attorney general and the state's 2013 GOP gubernatorial nominee who later served as acting deputy homeland security director during the last two years of the Trump administration.
The group told Fox News in April that it had raised $30 million in fundraising since its launch in early March.
"Never Back Down has seen a massive surge in support for the movement to make Gov. DeSantis become President DeSantis," Erin Perrine, the super PAC's communications director, wrote on Twitter.
Perrine was the communications director for Trump's 2020 reelection campaign prior to joining the DeSantis PAC.
In an interview in late March, DeSantis touted his ability to beat President Joe Biden in 2024 if he were to enter the presidential race, but he stopped short of announcing if he would run.
Epoch Times reporter Chase Smith contributed to this report.