A Virginia sheriff announced on Tuesday that her office has dropped its voluntary cooperation with U.S. Immigration and Customs Enforcement (ICE).
In a letter to various pro-immigration organizations, Beth Authur said her office will stop taking nonmandatory actions against illegal immigrants starting from Dec. 20.
"The ACSO (Arlington County Sheriff's Office) will no longer recognize any 'voluntary action' requests from ICE nor place the information in our records management system," she wrote. "The sheriff's office will no longer contact ICE for any releases from our facility, to include felony charges."
However, Arthur said her office will continue to follow Virginia law that requires sheriffs at correctional facilities and jails to ask if a person was born outside the United States or is a citizen of a country other than the United States when they are taken into custody for a felony offense.
Her office will also continue to implement judicially signed warrants from ICE, she said.
The sheriff said she made the policy changes after she attended a community event organized by some pro-immigration organizations including La ColectiVa, Legal Aid Justice, and the National Immigration Project of the National Lawyers Guild.
"I listened to the concerns and impacts with an open mind, and I have also consulted with my attorney, and carefully considered all the information that was given to me," she said in the letter before he elaborate on the details of his policy changes.
The Epoch Times reached out to Virginia Gov. Glenn Youngkin's office for comment.
Border Arrests Reach Record Level
U.S. border agents apprehended a record number of illegal immigrants at the border with Mexico in November.
Agents logged 233,740 apprehensions, arresting 204,155—easily smashing previous records for both categories. Some illegal immigrants were apprehended multiple times after crossing into the United States.
Apprehensions began spiking in early 2021, after Biden was sworn in, and have not slowed down since. Under Biden, the United States has already set new records for apprehensions in a calendar year and a fiscal year. And in the first two months of the fiscal year 2023, which includes November, the numbers are higher than ever.
Troy Miller, acting commissioner of the U.S. Customs and Border Protection (CBP)—in place after Biden ousted former Commissioner Chris Magnus—said in a statement that the new figures show the agency is working hard.
"This month's operational update reflects CBP's dedicated workforce diligently enforcing our laws concerning immigration while seizing fentanyl and other contraband, ensuring America's economic security, and facilitating travel and trade," Miller said.
House Republican Leader Kevin McCarthy (R-Calif.) noted the new numbers, saying in a statement that the administration "wants to bury the story of our worsening border crisis with this Friday night news dump, right before Christmas."
Illegal Immigrants Dropped Near Harris's Home
The huge number of illegal border crossings has added a lot of pressure to the border states, and some Republican governors including Texas Gov. Greg Abbott and Florida Gov. Ron DeSantis have been transporting the illegal immigrants to Democrat-run cities to shift some of the pressure to the politicians across the aisle.
The destinations the Republicans chose include New York City, Philadelphia, and the District of Columbia.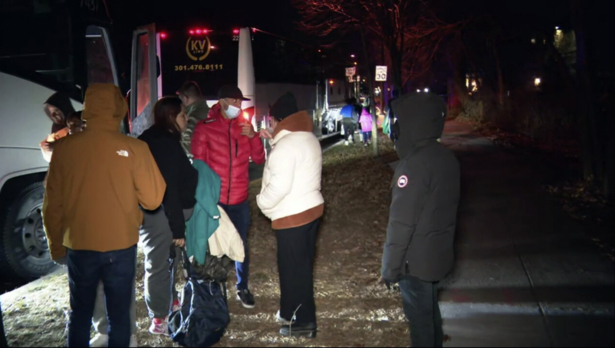 Three buses of illegal immigrant families from Texas were recently dropped off near the home of Vice President Kamala Harris on Christmas Eve.
The buses that arrived late on Saturday outside Harris's residence were carrying around 110 to 130 people, according to Tatiana Laborde, managing director of SAMU First Response, a relief agency working with the city of Washington to serve thousands of migrants who have been dropped off in recent months.
Laborde said employees had blankets ready for the people who arrived on Christmas Eve and moved them quickly onto waiting buses for a ride to an area church.
A local restaurant chain donated dinner and breakfast.
Zachary Stieber and the Associated Press contributed to this report.
From The Epoch Times