Five Republican candidates gathered for a third debate in Miami, Florida on Wednesday, the day after the GOP suffered yet another string of election losses.
Among the different elections held across the country, former President Donald Trump-endorsed GOP candidate Daniel Cameron lost his fight for Kentucky governor to Democrat Andy Beshear. Virginia's Republican governor watched both the state House of Representatives, and the state Senate turn blue. And the pro-life cause suffered a major defeat in Ohio, with voters there saying "yes" to a constitutional amendment that guaranteed a woman's right to an abortion.
"We've become a party of losers," said businessman Vivek Ramaswamy in his opening statement.
The entrepreneur and youngest Republican candidate in history put the blame for the losses on the party establishment, calling for the Republican National Committee (RNC) Chairwoman Ronna McDaniel to resign.
"Since Ronna McDaniel took over as chairwoman of the RNC in 2017, we have lost 2018, 2020, 2022," he said. "We got trounced last night in 2023, and I think that we have to have accountability in our party.
"For that matter, Ron, if you want to come on stage tonight, you want to look the GOP voters in the eye and tell them you resign, I will turn over and yield my time to you."
Ms. McDaniel did not step up.
Losing the Battle on Abortion
Mr. Ramaswamy also spoke on the abortion vote that occurred in his home state of Ohio.
"They passed a constitutional amendment that now effectively codifies a right to abortion all the way up to the time of birth without parental consent," he said, blaming it on what he called "the Republican culture of losing."
"The Republicans did not have an alternative amendment or vision on the table," he said. "It's representative of the country."
His fellow candidates were also asked to give their comments on the abortion ruling.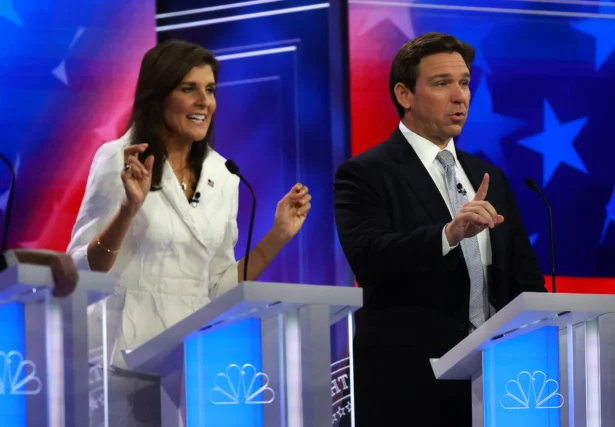 "You got to do a better job on these referenda," said Florida Gov. Ron DeSantis. "All the stuff that's happened to the pro-life cause, they had been caught flat-footed on these referenda, and they had been losing the referenda.
"A lot of the people who were voting for the referenda are Republicans who would vote for a Republican candidate. So you got to understand how to do that."
While disappointed in the ruling, both he and former U.N. Ambassador Nikki Haley acknowledged that since Roe v. Wade was overturned and the decisions on abortion were moved back to the people of each state, different states would choose to respond in different ways.
"There are some states that are going more on the pro-life side," she said. "I welcome that. There are some states that are going more on the pro-choice side. I wish that wasn't the case. But the people decided.
"But when it comes to the federal law, which is what's being debated here, be honest, it's going to take 50 Senate votes, a majority of the House, and a president to sign it. So no, we haven't had 60 Senate votes in over 100 years. We might have 45 pro-life senators. So, no Republican president can ban abortions anymore. No Democrat president can ban the state law. So, let's find consensus."
Former New Jersey Gov. Chris Christie also called for Republicans to be as pro-life after a child is born as they are before it, calling for more financial support for adoption efforts and pregnancy centers.
"We have an opportunity in his nation to stop that reckless behavior from states like California, New York, and Illinois," he said of states that allow abortions up to birth.
'We're in the Middle of a War'
Debate moderators kept most of the conversation on the foreign wars in Ukraine and Gaza, the crisis at the U.S.–Mexico border, and escalating tension with communist China. But Mr. Ramaswamy brought it back to what he saw as an interior conflict in his closing remarks.
"We're in the middle of a war right here at home," he said. "It's a war not between black and white or Democrat and Republican. It's between those of us who believe in our founding ideals and love this country and a fringe minority who hates the United States of America. And I think it's going to take a commander-in-chief to lead us to victory in that war."
And that commander-in-chief, he believes, needs to be somebody from "the next generation."
From The Epoch Times