An organization of U.S. Army veterans has helped to provide safe passage to more than 200 Americans in Israel after the Palestinian terrorist group Hamas launched its deadly cross-border attacks on Oct. 7, killing more than 1,400 people and taking at least 222 hostages.
In a statement on Oct. 23, the Washington, D.C.-based non-profit organization called Special Operations Association of America (SOAA) said a total of 288 U.S. citizens requested support, and so far, 208 Americans have been evacuated from Israel as Tel Aviv has massed tanks and troops on its border with Gaza Strip ahead of an expected ground offensive.
The organization added that it has secured seats on chartered flights to nearby countries for Americans who need to get out by working side-by-side with non-government partners as well as the U.S. government.
"Because our network of team members on-the-ground and in nearby countries all have a background in Special Operations, we have a clear understanding of the boundary line between government duties and where we can act as force multipliers, providing support for evacuation," SOAA said. "With highly competent and trained veterans, many of whom have backgrounds in counterterrorism and hostage rescue, we're filling a gap between military and government intervention and the bureaucracy involved in escaping out of a war zone."
David Cook, the organization's executive director, told Fox News in an interview published on Oct. 23 that they're also in contact with U.S. citizens trapped in Gaza, further pointing out that they're working on how to safely evacuate them from the densely populated enclave.
"With Hamas currently in control of Gaza it is incredibly dangerous to evacuate trapped Americans. We're working with local authorities and the State Department to make sure Americans reach safety, but to do this without risk of innocent life we are favoring a slightly slower, but more deliberate and safe response," Mr. Cook said.
For those currently trapped in Gaza, SOAA provides the individuals with information and advice based on veterans' experiences on how to stay safe while navigating them to safe locations to ensure special ops teams can reach them.
"It is a massive logistical lift that SOAA, alongside our partners at Save Our Allies, have been able to execute alongside the U.S. Government," Mr. Cook said.
It isn't the first time SOAA has assisted with evacuating Americans from conflict zones, the organization also helped to pull out U.S. nationals from Afghanistan and Ukraine.
Palestinian Dual Citizens Hoping to Leave Gaza
According to the Biden administration, there are an estimated 500 to 600 Palestinian-American dual citizens awaiting evacuation from Gaza, but they're being blocked by the U.S.-designated terrorist group from crossing into Egypt.
"We have several hundred Americans and other nationalities, other civilians from other countries who want to leave Gaza. We've had people come to Rafah, the crossing with Egypt. And to date, at least, Hamas has blocked them from leaving," Secretary of State Antony Blinken said in a televised interview that aired on Oct. 22.
Egypt and Jordan, two countries that flank Israel on opposite sides and share borders with Gaza and the occupied West Bank, respectively, have been wary of opening their doors to those fleeing Gaza largely because they don't want a massive refugee crisis within their borders.
Last week, Egyptian President Abdel Fattah el-Sissi said the current war was not just aimed at fighting Hamas, "but also an attempt to push the civilian inhabitants to … migrate to Egypt." He warned this could wreck peace in the region.
Jordan's King Abdullah II gave a similar message last week, saying: "No refugees in Jordan, no refugees in Egypt," declaring it a "red line."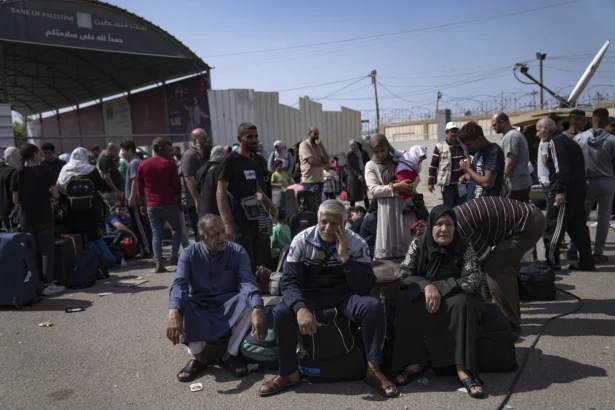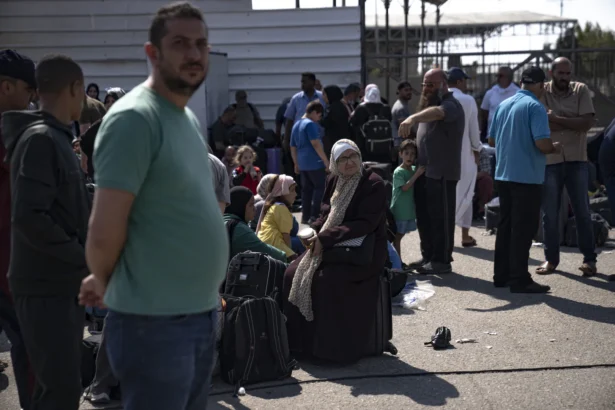 The U.S. Department of State said David Satterfield, who was recently appointed special envoy for humanitarian issues in the Mideast, is currently in Israel to engage in negotiations with Tel Aviv, Egypt, and the United Nations to get Rafah to open for American citizens, dual nationals, and employees of international organizations.
"We do believe that Egypt is ready to process American citizens if they can make it to Egyptian authorities," Mr. Satterfield told reporters on Oct. 24. "Hamas just has to stop blocking their exit."
Under Western pressure, Mr. el-Sissi agreed to open the gates of Rafah for the first time on Oct. 18 since Hamas launched a massive series of rocket barrages into Israel on Oct. 7, allowing "up to 20 trucks" of humanitarian aid to pass into Gaza. However, he has rejected any suggestions Egypt should host refugees from Gaza.
The Associated Press contributed to this report.