Early voting in Georgia's Senate runoff election started Saturday following a court ruling issued by the state's highest court to determine whether Democrats can expand their majority in the upper chamber.
A top Georgia election official, Gabriel Sterling, wrote that 69,297 people voted on Saturday, the first day of early voting for the Dec. 6 election between Sen. Raphael Warnock (D-Ga.) and GOP candidate Herschel Walker. Sterling, who drew criticism for his claims following the 2020 election, added that Day 2 of voter turnout will top 100,000.
"We will break 6 figures in voting today cumulatively, and likely may already have," he wrote on social media Sunday.
Last week, the Georgia Supreme Court ruled in favor of Democrats and Warnock in allowing early voting to start on Saturday. Officials in the Georgia Secretary of State's office had attempted to implement a rule to prevent early voting Saturday, which comes after a state holiday on Friday, and Thanksgiving.
The runoff was triggered after the first round of voting on Nov. 8 in which neither Walker, a former NFL running back, nor Warnock got more than 50 percent of the vote. Warnock was ahead of Walker by about 37,000 votes out of 4 million during the Nov. 8 contest.
The Libertarian Party candidate, Chase Oliver, garnered about 2 percent of the vote—around 81,000 votes—and was a distant No. 3 behind Warnock and Walker. In the Dec. 6 runoff, Oliver will not be included.
Neither President Joe Biden nor former President Donald Trump opted to campaign for either Warnock or Walker, respectively, in Georgia ahead of the runoff. However, it was announced that former President Barack Obama would campaign in favor of Warnock, while several top Republicans including Sen. Ted Cruz (R-Texas) and Sen. Lindsey Graham (R-S.C.) have attended events to boost Walker.
Filings with the Federal Election Commission earlier this month show that Warnock has significantly more campaign cash than Warnock, according to reports. As of Nov. 16, Warnock had $29 million on hand while Walker had about $10 million, the filings show.
Regardless of the outcome next month, Democrats will still have a majority in the Senate after netting 50 seats after GOP candidate Adam Laxalt conceded Sen. Catherine Cortez Masto (D-Nev.) on Nov. 15 in the race for Nevada's Senate seat. All Democrats need are 50 seats because Vice President Kamala Harris can serve as the tie-breaker.
Stakes are still high because a Warnock victory would provide Democrats with a majority outright and would give the party a majority on committees. That would, in part, allow them to advance President Joe Biden's judicial nominees more quickly.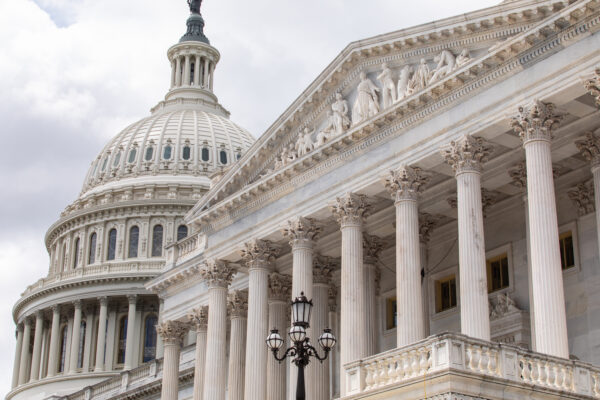 Senate Minority Leader Mitch McConnell (R-Ky.) told reporters on Wednesday that the GOP has "a second chance in Georgia to get it right," adding, "50 is better than 49 and we're going to give it everything we've got."
A victory by Warnock would mean that Democrats could lose the support of one member of the caucus and still obtain floor votes. However, the party will still have to contend with Republicans having a majority in the House of Representatives.
During this election cycle, Republicans were defending 21 Senate seats, as compared with Democrats' 15. And in the 2024 elections, Democrats will be defending 21 seats to the Republicans' 10.
Two of those seats are in Republican-leaning states West Virginia, Montana, and Ohio. Another five are in the swing states of Pennsylvania, Nevada, Wisconsin, and Arizona, all of which will be in play during the presidential election. Given the chamber's narrow divide, the Georgia seat could be a needed bulwark.
Campaign
Both candidates have been heavily campaigning across the Peach State since the midterms ended. Walker took out an advertisement that criticized Warnock for voting against an amendment that would block biological males from competing in women's sports.
"Warnock's afraid to stand up for female athletes," Walker said in the ad alongside Riley Gaines, a female swimmer who competed against the biologically male swimmer Lia Thomas.
Last week, Warnock said that Walker isn't qualified to be a senator.
"That brother could razzle dazzle you on that football field," the Democrat senator conceded, referring to Walker. "But tonight we're on a different field," Warnock told a crowd in Wrightsville. "And the people of Georgia need a true champion."
Georgia's Supreme Court issued a unanimous, one-sentence ruling (pdf) on Nov. 23 to uphold a lower court decision that blocked Secretary of State Brad Raffensperger's directive to prohibit counties from voting on Saturday, Nov. 26. The court did not provide an explanation for its decision.
The Georgia Republican Party, the National Republican Senatorial Committee, and the Republican National Committee filed a petition with the state's highest court and asked it to issue an emergency stay of the lower court's ruling. Early, in-person voting ends on Dec. 2, or about four days before the runoff election.
Warnock was elected to the Senate in early 2021 to fill the remaining two years of former Sen. Johnny Isakson's (R-Ga.) term after he resigned at the end of 2019 for health reasons.
Reuters contributed to this report.
From The Epoch Times