With the nation's eyes upon them, Sen. Raphael Warnock and Herschel Walker wound up their campaigns with a flurry of activities over the weekend, as Georgia voters head to the polls on Tuesday for the runoff to see which of the two will go to the U.S. Senate.
Warnock campaigned in Atlanta, Athens, Augusta, and Gainesville. Walker campaigned in Loganville on Sunday, and had five stops planned for Monday in Flowery Branch, Ellijay, Dawsonville, Calhoun, and Kennesaw. 
About 1.869 million out of Georgia's 7.007 million active and registered voters—nearly 27 percent—had already voted, according to the Georgia Secretary of State's website. The state had accepted back more than 154,000 absentee ballots, and 1.713 million had turned out for early voting, which in most counties took place from Nov. 28 to Dec. 2. A few counties, all heavily Democratic, started earlier. 
Walker and Warnock each failed to receive 50 percent of the popular vote in the Nov. 8 midterms, forcing the runoff. The new Senate is currently split 50-49 in favor of the Democrats. If Warnock wins, they have a clear majority. If Walker wins, the 50-50 split forces a power sharing arrangement between the two parties, although Vice President Kamala Harris would continue to have the tie-breaking vote.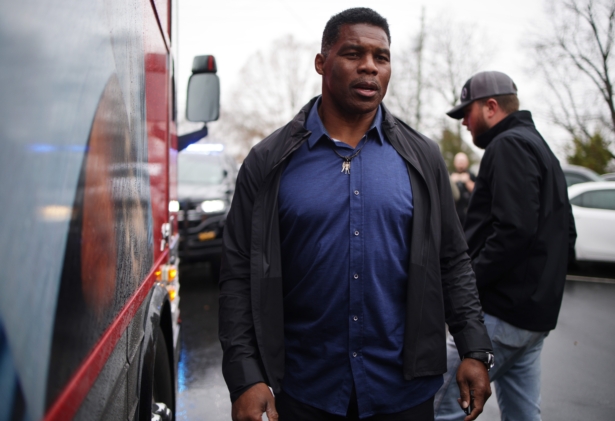 It's been a long, contentious, and expensive race. Warnock's ads blanketing Georgia's airwaves have accused the former football player of numerous scandals. Many are allegations of domestic violence involving Walker's ex-wife or former girlfriends, and while he or his campaign have denied most of them, he has acknowledged mental health issues, which he says are behind him. He's been accused of paying for abortions and of his company's exploiting prisoner labor, allegations he has denied. New charges have continued into the campaign's final days. 
Warnock has run one of the most expensive Senate campaigns in history. He raised more than twice as much money as any other congressional candidate in the country this election cycle, almost $176 million through Nov. 16, according to Federal Elections Commission filings. He's spent nearly $169 million of that. Walker has raised almost $59 million and spent about $49 million.
Warnock is urging his voters to turn out "One More Time," an allusion to the five times in less than two years he has been on the ballot for the same office. Warnock ran in a special election in November 2020, the January 2021 runoff, and then this year's primary, general election, and runoff. 
Walker labels every campaign rally as a stop on the Evict Warnock Tour. It's a reference to Warnock's church, the historic Ebenezer Baptist Church once led by Martin Luther King Jr., having issued eviction notices to tenants for being behind in rent payments by as little as $28.55 in an apartment complex in which the church holds a 99 percent interest, according to the Washington Free Beacon. The church meanwhile pays Warnock over $7,400 a month in housing allowances, as reported by the Atlanta Journal Constitution. 
Walker's campaign has run ads showing police bodycam video from a domestic violence call made by Warnock's ex-wife, Ouleye Ndoye, in March 2020, when she alleged Warnock had run over her foot with his car. Police determined she wasn't injured and did not charge Warnock.
Walker's wife, Julie, greets the crowd at most of his rallies, a reminder that she stands by her man. Warnock, who is divorced, is being sued for child support by his ex-wife.
When it comes to the issues, Warnock points to his work capping the cost of insulin, his advocacy of capping the cost of prescription drugs for seniors on Medicare, his advocacy for "climate justice," and work on Georgia agriculture and business concerns.  
Walker has tied Warnock to President Joe Biden's lack of popularity in the polls and the nation's troubled economy, noting that Warnock has voted with Biden 96 percent of the time. Walker supports secure borders, energy independence, family values, the military and law enforcement, small business and constitutional values.  
Walker's campaign decries the Biden administration's actions discharging service members for refusing to get COVID vaccinations. Tying Warnock to the administration, the campaign called the directive "immoral" and "treasonous." About 8,000 active-duty military have been discharged, another 14,000 National Guard members are scheduled to be discharged. Meanwhile the Army in October reported a 25 percent recruitment shortfall, missing its target by about 15,000 soldiers.
Walker appeared with Sens. Tim Scott (R-S.C.) and John Kennedy (R-La.) in Loganville, on Atlanta's eastern outskirts, on Sunday. 
Kennedy, a favorite with conservatives for his folksy zingers, didn't disappoint. He kept the crowd of 500 or so gathered in the Maxie Price Chevrolet parking lot, entertained with his colorful invective.  
"Dear Lord, save us from the IQ stupid people. They may be smart, but they don't have any sense. They're all over Washington, DC."
"They think they're smarter and more virtuous than the American people. They hate George Washington, they hate Thomas Jefferson, they hate Dr. Seuss and they hate Mr. Potatohead. They walk around with Ziploc bags full of kale."
From The Epoch Times