Washington Gov. Jay Inslee signed multiple gun control bills into law, including prohibiting the sale of semiautomatic rifles on Tuesday.
"Today, Washington state is putting the gun industry in its place and improving the health, safety, and lives of our residents. I want to thank the many legislators and advocates who have worked for years to deliver some of these policies to the governor's desk," Inslee said in a statement.
"These are three victories, not one, and it is clear why we need to take this action," Inslee added before signing the bills into law. "These weapons of war of assault weapons have no reason other than mass murder. Their only purpose is to kill humans as rapidly as possible in large numbers."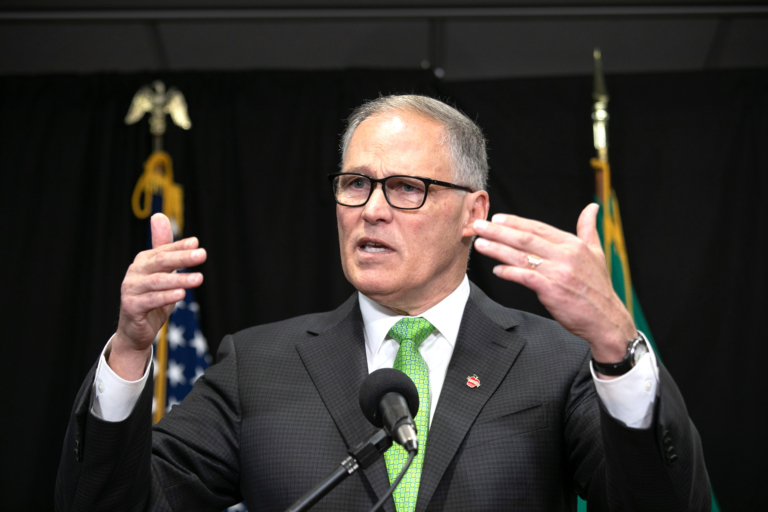 The bill (pdf) bans the popular AR-15 rifle, among other semiautomatic rifles, and prohibits the manufacture, importation, distribution, and sale of assault-style weapons in Washington, with an exception for sales made to armed forces and law enforcement.
Gun shop owners will have 90 days to sell their inventory from today's date.
"The legislature finds and declares that gun violence is a threat to the public health and safety of Washingtonians," the bill states. "Assault weapons are civilian versions of weapons created for the military and are designed to kill humans quickly and efficiently."
The White House praised Inslee for his semiautomatic rifle ban in a statement after the bills were signed.
"President Biden commends the leadership of Washington Governor Jay Inslee, and legislative leaders, as well as the advocates, survivors, and elected officials who fought for years to make today a reality," White House press secretary Karine Jean-Pierre said in a statement. "In so doing, they have made every community in the state—from Seattle to Spokane and everywhere in between—safer and more secure."
Inslee also signed two other gun-related bills into law Tuesday.
SB 5078 (pdf) will allow people whose family members are killed to sue if a manufacturer or seller "is irresponsible in how they handle, store or sell those weapons."
While HB 1143 (pdf) will require gun buyers to show they've taken firearm safety training before purchasing a firearm, along with a 10-day waiting period for all gun purchases.
Washington's newest gun control laws come as Americans are split on how to stop the rising mass shootings across the nation, with a reported 173 mass shootings so far this year, according to data from the Gun Violence Archive.
Washington becomes the tenth state to enforce strict restrictions on semiautomatic rifles, joining California and New York, among others, according to the Giffords Law Center to Prevent Gun Violence.
California Gov. Gavin Newsom implemented additional gun control safety measures after multiple mass shootings in the Golden State earlier this year.
"Only in America do we see the kind of carnage and chaos of gun violence that destroys our communities and our sense of safety and belonging," Newsom said in a statement. "America is number 1 in gun ownership and we far surpass every developed nation on Earth in gun deaths—it's not complicated. In California, we've passed common sense gun safety laws, and they work: We have a 37% lower gun death rate than the national average. We're doubling down on gun safety and strengthening our public carry law to protect it from radical Republican attacks."
The Second Amendment Foundation (SAF) filed a complaint (pdf) in the U.S. District Court for the Western District of Washington, accusing lawmakers of violating the Second Amendment with an outright ban on semiautomatic rifles not long after Inslee signed his bills into law.
"The state has put politics ahead of constitutional rights, and is penalizing law-abiding citizens while this legislation does nothing to arrest and prosecute criminals who misuse firearms in defiance of all existing gun control laws," SAF founder Alan M. Gottlieb said in a press release. "It is absurd."
Washington's Senate Republicans said in a Twitter post last week that "banning certain weapons is not the solution to gun violence. We must deal with those who are using guns and other weapons to commit violent acts."
From The Epoch Times