Texas Department of Public Safety (DPS) is urging individuals to avoid traveling to Mexico after three Texans went missing in Mexico.
"We have a duty to inform the public about safety, travel risks, and threats. Based on the volatile nature of cartel activity and the violence we are seeing there; we are urging individuals to avoid travel to Mexico at this time," DPS Director Steven McCraw said.
Lt. Chris Olivarez from DPS especially warned Spring breakers to avoid Mexico.
"It is too dangerous with the increase in violence and kidnappings that are taking place in Mexico. So very important and I can't stress enough to those who are thinking about traveling to Mexico, especially for Spring breakers," Olivarez told the Fox News Network.
Texas officials issued the warning after three Texas women were reported missing.
Maritza Trinidad Perez Rios, 47, Marina Perez Rios, 48, and Dora Alicia Cervantes Saenz, 53 went missing after a trip on Feb. 24 to a flea market in the city of Montemorelos in Nuevo Leon State, Nuevo Leon Attorney General Office said.
Montemorelos is a city about a three-hour drive from the border.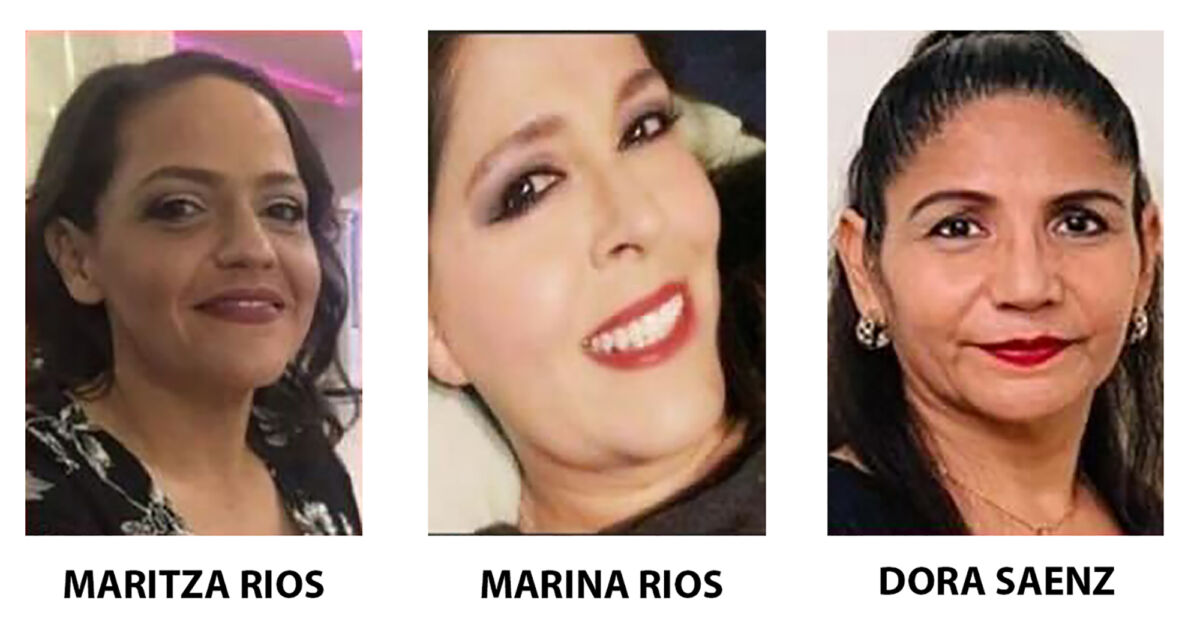 The three were traveling in a green mid-1990s Chevy Silverado before lost contact with their families.
The husband of one of the women spoke to his wife by phone while she was traveling in Mexico but grew concerned when he couldn't reach her afterward, Penitas Police Chief Roel Bermea said.
"Since he couldn't make contact over that weekend, he came in that Monday and reported it to us," Bermea said.
The three women haven't been heard from since.
Bermea said their families have been in touch with Mexican authorities, who are investigating their disappearance.
The FBI said Friday it is aware that two sisters from Penitas, a small border city near McAllen, Texas, and their friend have gone missing.
The State Department said they're aware of reports of three U.S. citizens missing in Mexico.
"We work closely with local authorities as they carry out their search efforts, and we share information with families however we can," a State Department spokesperson told The Epoch Times.
FBI didn't respond to a media inquiry from The Epoch Times by the time of publishing.
Deadly Cosmetic Surgery Trip
Four Americans were kidnapped and two of them killed in early March during a trip to Matamoros, located just south of the border from Brownsville, Texas.
The two victims, Shaeed Woodard and Zindell Brown, and the two survivors, Latavia "Tay" McGee and Eric Williams, traveled to the Mexico border city on March 3 so that McGee could have cosmetic survey.
About midday, they were fired on in downtown Matamoros and then loaded into the pickup truck. Another friend, who remained in Brownsville, called the police after being unable to reach the group that crossed the border.
A Mexican woman, Areli Pablo Servando, 33, was also killed, apparently by a stray bullet.
Mexican officials arrested six persons in relation to the case.
In a statement on Twitter, Tamaulipas Attorney General Irving Barrios Mojica confirmed the arrests of five suspects "linked" to the March 3 incident in Matamoros "for the crimes of aggravated kidnapping and intentional simple homicide."
Another person who was recently arrested was linked to the kidnappings and murders, he wrote.
The Scorpions faction of the Gulf cartel believed to be responsible for the kidnappings reportedly handed over the five members who were arrested by the authorities and penned an apology letter to the local residents, Mexican national Servando, and the four America women and their families.
"We have decided to turn over those who were directly involved and responsible in the events, who at all times acted under their own decision-making and lack of discipline," the letter reads, adding that those individuals had gone against the cartel's rules, which include "respecting the life and well-being of the innocent."
However, relatives of the abducted Americans said that the purported apology has done little to dull the pain of their loved ones being killed or wounded.
The cousin of Williams, who was shot in the left leg during the kidnapping, said his family feels "great" knowing he's alive but does not accept any apologies from the cartel.
"It ain't gonna change nothing about the suffering that we went through," Jerry Wallace said.
He called for the American and Mexican governments to better address cartel violence.
McGee and Williams were transported back into the United States to a Brownsville hospital for treatment on March 7.
U.S. Ambassador Ken Salazar told reporters on Friday that U.S. officials had contacted President Andrés Manuel López Obrador directly over the weekend to say that the cartel in Matamoros "must be dismantled."
Jack Phillips and The Associated Press contributed to this report.
From The Epoch Times