SAN FRANCISCO—House Select Committee on China Chairman Mike Gallagher (R-Wis.) assured U.S. allies in the Indo-Pacific that Congress has their back in the face of coercive and aggressive behaviors by the Chinese Communist Party (CCP).
On Nov. 11, Mr. Gallagher took part in a pro-democracy event in San Francisco, where the Asia-Pacific Economic Cooperation (APEC) summit is being held. The focal point will be a face-to-face meeting between President Joe Biden and CCP leader Xi Jinping on Nov. 15.
Five APEC members and U.S. allies, Australia, Japan, the Philippines, South Korea, and Taiwan, have dealt with China's pressure tactics. On Saturday, Mr. Gallagher was asked what would be his message to them.
"My message is that at least in Congress, we have your back," Mr. Gallagher said. "I think one of our great strengths, relative to the Chinese Communist Party, is the network of allies and partners that we've built up throughout the years. That's a key source of our strength."
Japan is the latest victim of China's economic coercion, as Beijing has imposed a ban on Japanese seafood citing "safety" concerns after Japan started releasing treated wastewater from its crippled Fukushima nuclear plant in August. To counter China's ban, the U.S. military stationed in Japan has been buying Japanese seafood in bulk to feed its soldiers.
Mr. Gallagher called China's ban an "economic warfare" against Japan, and added that Beijing's concerns about the quality of the fish were "absolutely ridiculous."
South Korea has been dealing with China's influence campaign for years, and now Seoul's two major theaters are refusing to feature New York-based Shen Yun Performing Arts, which is known for its mission of reviving traditional Chinese culture. An Epoch Times investigation has found that the CCP uses its embassy in Seoul to pressure the theaters from hosting the performance.
This year, like so many years before, Taiwan's president is not allowed to participate in the APEC summit in person, due to objection from Beijing which claims the island to be a part of its territory. Morris Chang, founder of the world's largest contract chipmaker TSMC, is acting as Taiwan President Tsai Ing-wen's representative to the summit in San Francisco.
China has been relentless in its effort to intimidate Taiwan in recent years, regularly holding military drills and sending jets and Navy vessels to areas near the island. Its goal is to influence the Taiwanese government's policies and swing voters to support candidates seeking public office who do not see Beijing as a foe.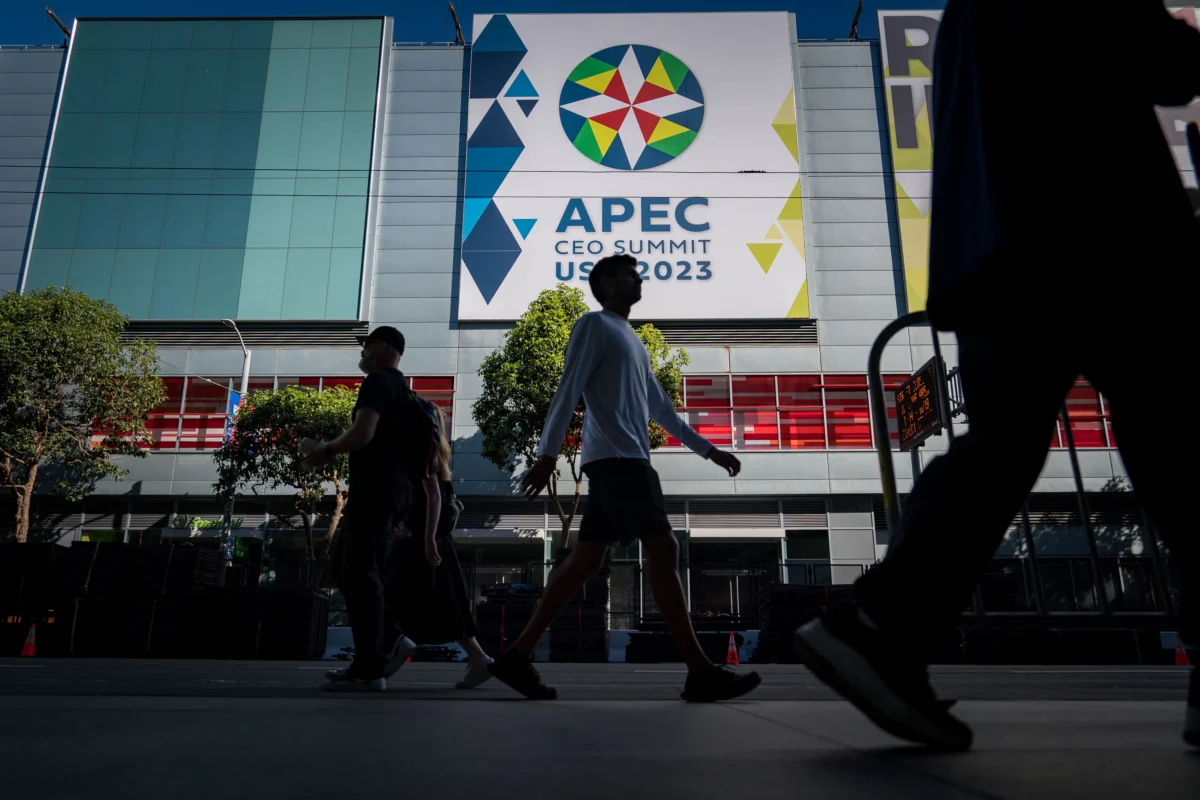 'Leverage for Coercion'
For Mr. Gallagher, nations and companies must know the risks of being dependent on China.
"I think the most important thing, however, is to reduce the source of leverage for coercion in the first place," Mr. Gallagher said. "The fact is, we've become too dependent on China in a variety of areas, whether it's critical mineral processing or advanced pharmaceutical ingredients, we're gonna have to figure out a way to reclaim our economic independence before it's too late.
"Because imagine if we found ourselves in a kinetic confrontation with China over Taiwan, they would weaponize supply chains, they would weaponize those points of leverage to bring us and our allies to our knees," he added.
In January, Taiwan's foreign minister Joseph Wu warned that China is "more likely" to invade Taiwan in 2027.
According to senior administration officials, Taiwan is one of the issues that President Biden and Mr. Xi will talk about. Other issues include the Israel-Hamas war and the Ukraine war.
Mr. Gallagher had a similar message for companies doing business in China, arguing that they could also become victims of China's coercion.
"My message to the business community is that it's time to take off the golden blindfolds," he said. "You may think that by silencing any criticism of the CCP, you're buying your company access to a low-cost supply chain, or you're buying it three more years of manufacturing presence on the ground in China. I just think you're delaying a more painful resolution of this later."
Ahead of the Biden-Xi meeting, Mr. Gallagher and other Republicans on the Select Committee on China wrote a letter to President Biden, asking him to "reverse [his] misguided policy and challenge Beijing to demonstrate its seriousness about improving" bilateral ties.
Releasing all U.S. citizens wrongfully detained in China and ceasing all present and future harassment of Philippine naval re-resupply efforts around a contested shoal in the South China Sea are among the things that Beijing can do to "demonstrate it truly wants a better relationship with the United States and the world," their letter stated.
On Nov. 10, the State Department issued a statement saying the United States "stands shoulder-to-shoulder with our Philippine ally," after an incident where a Chinese Coast Guard vessel used a water cannon against one of the Filipino ships during a resupply mission to the Second Thomas Shoal, a disputed atoll in the South China Sea.
NTD reporter Iris Tao contributed to this report. 
From The Epoch Times