While the world is awakening to the threat of TikTok, WeChat is another Chinese social media platform that is infiltrating and monitoring a huge population of Chinese people overseas.
Lydia Liu is a Chinese American who found herself becoming a victim of the Chinese Communist Party's (CCP) censorship through WeChat, a Chinese-owned social media video-sharing app.
She founded the MoshangUSA account as a source of news and commentary about life in America for Chinese Americans. She had been careful about the CCP's so-called "red line," and the official account she registered on WeChat only covered issues related to America.
When WeChat banned her official account, she felt the CCP had deprived her of her rights as an American to speak freely about American affairs. "The CCP's long arm has stretched way too far," she told The Epoch Times on March 21.
A Complex of Social Control
WeChat's application covers almost every aspect of Chinese daily life online, with features from text messaging and video conferencing to making calls, paying bills, making bookings, sharing photos and videos online, and disseminating news. However, the app is not exactly a haven for free speech or political debate.
Zhang Junjie, a history major at Mt. San Antonio College in California, is a WeChat user. He said that the app is the only way for him to communicate with people inside China. "Because they cannot use foreign software such as Facebook and Line, so I can only use WeChat," he told the Chinese-language edition of The Epoch Times on March 20.
By excluding foreign players such as Twitter, Facebook, WhatsApp, Instagram, and PayPal from the Chinese market, the CCP has exploited WeChat—a complex amalgamation of the above-mentioned apps' features—as a powerful tool for social control. The app dictates what users see, what they say, and even their purchasing power in the Chinese-speaking world.
Zhong Shan, a Silicon Valley engineer, said that technically, WeChat is a highly capable tool for controlling information. After conducting his own tests, he said that "WeChat's monitoring may have covered all the keywords in the past 12 years. That is to say, WeChat has blocked all adverse keywords associated with Chinese societal events since 2010."
WeChat tracks, analyzes, and censors users, as well as handing data over to the communist regime. This is because it is regulated by the Chinese Communist Party (CCP), with algorithms tweaked to advance the Party's anti-American narrative. It censors any information to the contrary, and spreads the CCP's ideology globally—and injects it directly into the lives of overseas Chinese, in particular.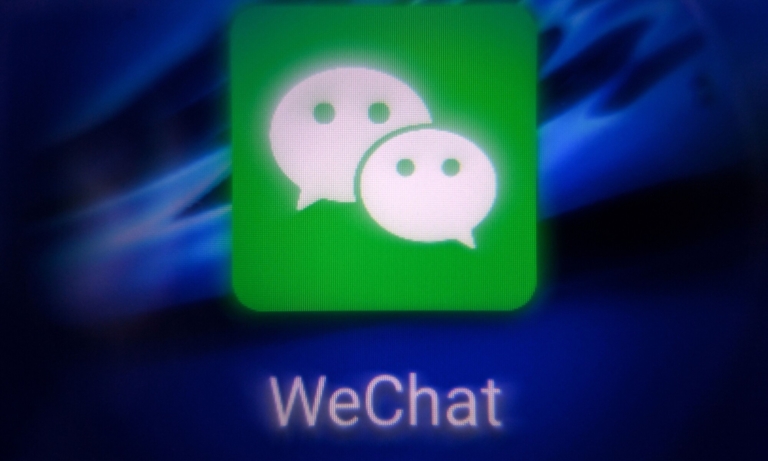 CCP's Global Censorship System
The WeChat multi-functional social media app had more than 1.3 billion monthly active users as of the end of 2022. That implies that most Chinese people's families, relatives, friends, and co-workers are all users.
Many overseas Chinese—students, immigrants, and first-generation overseas Chinese—rely on the China-based WeChat as their source of information, as well as to stay in touch with their friends and family in China.
In a 2018 survey on how much influence the regime wields on the Mandarin-speaking community in Australia, 60 percent of survey participants identified WeChat as their primary source of news and information. Only 21 percent sourced news directly from media outlets' own websites.
Zhong Shan said that there are relatively few overseas Chinese who are truly tech-savvy, highly educated, and skilled in English. He said, "In my Chinese-speaking circles, English is not the tool for accessing information for the majority of them. They can't live without WeChat's official account. There's also a high proportion of mainlanders in Taiwan using WeChat."
WeChat has established a Chinese information ecosystem for Beijing's propaganda and censorship machine to gain a foothold in the overseas Chinese community. Inexorably, many overseas Chinese have formed viewpoints similar to the regime's proffered view, and many WeChat users are likely to unconsciously exercise self-censorship to avoid the wrath of the app's censorship and surveillance capabilities.
Zhang Junjie is all too familiar with WeChat's censorship. He said anyone who expresses or shares opinions on Chinese politics or other hot topics—such as China's social issues—will experience it. "Especially for those who are in current affairs groups with a large number of participants," Zhang said.
WeChat adopted a "One App, Two Systems" policy that allows the company to treat its domestic and international users differently, as indicated by research carried out in 2016 by the Citizen Lab at the Munk School of Global Affairs & Public Policy at the University of Toronto.
However, since the 2019 Hong Kong anti-extradition movement, overseas users have experienced similar censorship, as well as account shut-down policies just like those suffered by mainland users.
A 2019 report showed how China's Communist Party exerts its influence to censor people in the United States through WeChat.
According to technology website The Verge, Bin Xie, an information security analyst at Texas Children's Hospital, had his account shut down after he wrote "The pro-China candidates totally lost" in reference to pro-democracy protests in Hong Kong in 2019.
Zhang Junjie echoed the experience reported by Bin Xie. He said, "During Hong Kong's democratic movement in 2019, WeChat went wild with its censorship. I was banned three times: first it was for my opposition to the Chinese Foreign Ministry's remarks, while the second and third were due to my sharing of sensitive content."
His sharing of the White Paper movement in Shanghai was censored by the App's message filtering technology, and no one could see it. He also shared a short film about the movement, but the film was gone from his account in an hour.
Zhang tried several times to share a video of how Hu Jintao was removed during the CCP's 20th national meeting, but none of his contacts could see it. "You can see that WeChat censorship is very strict on the content of this video," said Zhang.
MoshangUSA founder Lydia Liu also had her public account shut down in October 2022, when WeChat disabled hundreds of thousands of accounts during the Sitong Bridge protest, which took place in Beijing in October, 2022. She said, "I neither liked nor commented, but my account was also blocked that day."
WeChat's Dual Censorship
The most common way WeChat censors overseas users is to hide their content without their knowledge. The users do not know their content has been censored unless they test it themselves.
Aaron Chang, a Chinese student at Sydney University in Australia, said that he's experienced how his friends inside China won't be able to see his sensitive comments until a few days later—after the sensitive content is removed. "However, I have been able to see the content myself," he said.
Zhang Junjie explained that WeChat's sensorship is very specific and accurate. His friends inside China sometimes won't see his comment, while those with an overseas account can still see his comment. "That shows that the censorship of the chat group has been specifically aimed at domestic users," he said.
Lydia Liu said it is a kind of "shadow banning," meaning that in theory, foreign users can see the posts, but domestic users cannot. However, Liu said she no longer sees any difference in WeChat's censorship of Chinese users abroad compared to that imposed on its users within China.
Mr. Chen is a WeChat user in San Francisco. He described the censorship as even more insidious than simply deleting posts. "When the posts are deleted, we'll seek different ways of expression," he said. "But this invisible practice has stopped us from making adjustments and made our efforts completely useless."
When the CCP imposed its lockdowns during the pandemic, Chen was in China. His post describing the inhumane lockdown was blocked from his friends' WeChat accounts, and he was the only one who could see it. He tried to take a screenshot of the word document, but it was blocked again. He then took a picture of a handwritten message, but it still didn't work.
After he returned to the United States, he found himself on WeChat's monitoring list. He can no longer send out any comments on politics—not even using humor or innuendo.
WeChat has become an information firewall that only allows a unidirectional information flow. It gives domestically censored information free access to the outside world, but blocks outside information from coming in. In this sense, it facilitates the CCP's censorship of the world.
Anti-American Algorithm
Lydia Liu had her first post blocked during the last Olympics Games. WeChat disabled her account for two weeks because of her comment about the U.S. team winning more gold medals than the Chinese.
Another of her articles—encouraging others not to panic about the COVID-19 pandemic—saw her account blocked for six months.
Her self-censorship did not stop WeChat from disqualifying dozens of her articles before publishing, with some 40-plus articles now deleted. Even the comments area was censored.
Her accounts have experienced extensive online harassment and attacks.
Liu's experience with her public account has convinced her that WeChat not only restricts any and all adverse comment about the CCP, but also targets advocates of freedom and democracy.
She realized that from 2020, WeChat would ban any account—and often for quite inexplicable reasons.
According to her observation, WeChat would eliminate accounts with very little commentary on the CCP, perhaps at a rate of 5 percent, before gradually expanding its effect. The censorship goes "from personal accounts, to groups accounts, and WeChat official accounts," she said.
As for the surviving WeChat official accounts, online trolls would often interfere with the account by posting nasty comments. Liu said that as an individual, it's hard to fight alone against the CCP's "massive human and material resources invested in this information warfare against Chinese Americans."
A Chinese blogger who goes by the handle "Thisistheway" also said that WeChat permanently closed his account recently. This was because an article he wrote about the Chinese spy balloon in February explained that the American F-22 had fired just one Sidewinder at the balloon, rather than what the CCP's nationalist cyber-propaganda machine had claimed were "three missiles."
A previous article of his titled, "Start from ping pong, End with balloon," described the U.S.-China relationship and how it has evolved such that "even a stray balloon can't be tolerated." The article didn't make it through WeChat's content filtering.
Thisistheway is fully aware of the sensitivity of that article, he explained. But he said he never knew that even the number of missiles could not be discussed.
Although WeChat will censor or disparage content that is to the advantage of the United States, negative posts about life in the United States go viral every day, including articles claiming that the United States treats Chinese people as second-class citizens, that white people always discriminate against Chinese people, that gun violence in the United States is out of control, etc.
Zhang Junjie gave some examples. He said that WeChat would surely delete any comment in favor of America, such as how the American police would treat a mother carrying a child compared to how the Chinese police would, or the difference in air quality between the United States and China.
Regarding how WeChat has taken advantage of free expression in the West to exert its ideological infiltration, Lydia Liu wrote on Twitter that WeChat should be "fined and regulated in the United States. WeChat needs to pay Chinese Americans reparations for vicious community invasion and mentally enslaving us for the interests of China."
Song Tang and Yi Ru contributed to this report.
From The Epoch Times