A controversial District of Colombia police bill will become law after President Joe Biden vetoed a congressional effort to block the measure on May 25, according to the White House.
In a White House press briefing, press secretary Karine Jean-Pierre confirmed to reporters that on the morning of May 25, Biden vetoed the measure. She made reference to the death of George Floyd exactly three years ago, which sparked months of riots, protests, and arson incidents across major U.S. cities.
"This morning, the president also vetoed a congressional Republican-led disapproval resolution that would have nullified crucial police reforms, many enacted in the District of Columbia on an emergency basis in 2020, after George Floyd's murder," Jean-Pierre said. "[These include] banning chokeholds, setting important restrictions on use of force and deadly force, improving access to body-worn camera recordings, and requiring officer training on deescalation and use of force."
The district's council last year passed a measure that prohibited the use of neck restraints, increased access to police body camera footage, and revised procedures on how to discipline officers.
All local legislation in Washington is subject to congressional oversight, and the Republican-led House passed a disapproval resolution in April before the Senate approved the measure and sent it to Biden's desk.
"The president has repeatedly said we have an obligation to make sure that all people, all Americans, are safe and that public safety depends on public trust," Jean-Pierre said. "It is a core policy of this administration to provide law enforcement the resources they need for effective, accountable community policing."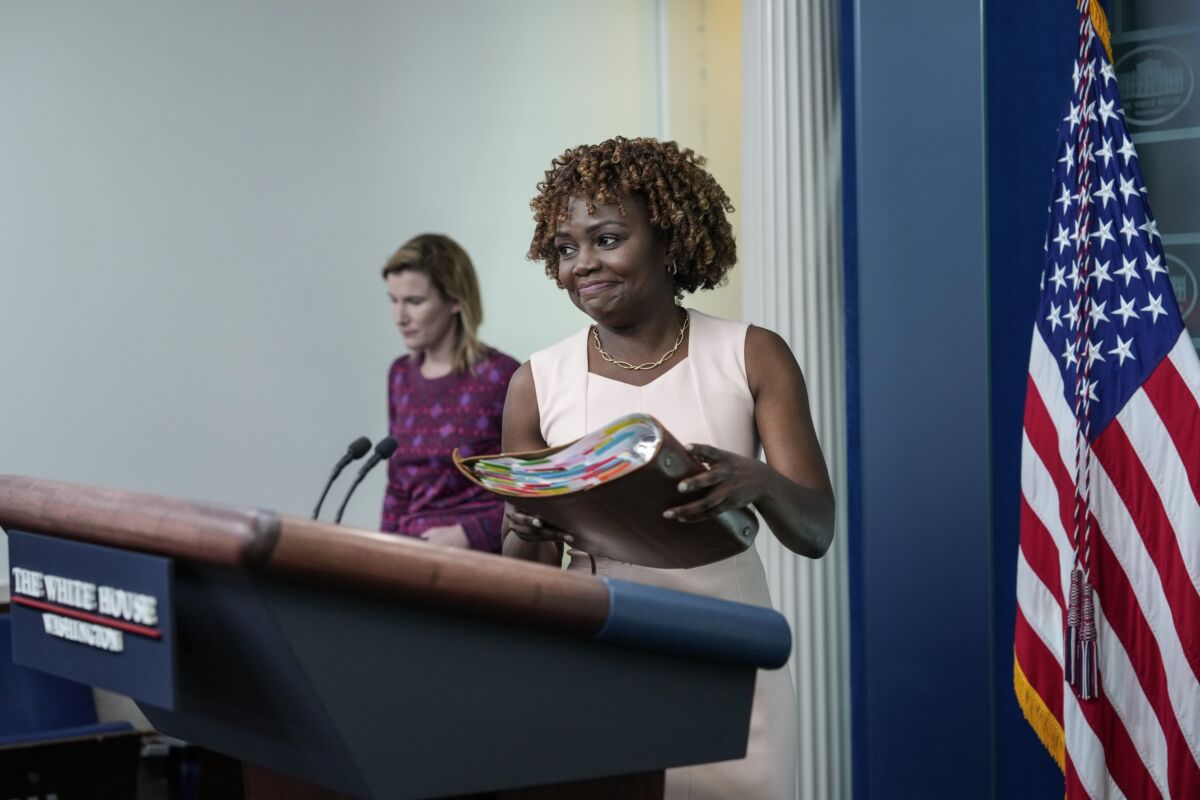 Washington is not a state, and it lacks the same rights that states have to make and amend laws. While Congress has allowed the city's residents some powers of "home rule," it has retained the power to overturn district government actions. District residents also do not have voting members of Congress.
In March, Biden did not oppose Congress when it blocked a major overhaul of the district's criminal code, which hasn't been updated substantially since it was first drafted in 1901.
The Senate approved the House bill that sought to overturn the criminal code changes. Biden signed that resolution, ultimately blocking the law. The president and members of both parties expressed concern about rising violent crime rates in cities nationwide and said the revisions would likely lead to rising crime.
In Washington, homicides in the city had risen for four years straight before they dropped about 10 percent in 2022. The 2021 murder count of 227 was the highest since 2003.
The rise in crime was perhaps punctuated by an assault targeting Rep. Angie Craig (D-Minn.), who was punched in the face by a male suspect in February. Kendrick Hamline, 26, was arrested in connection to the incident.
"I was assaulted violently, punched in the face. He grabbed my neck. He wasn't going to let me out of that elevator if I hadn't fought my way out," Craig told media outlets after the incident. "He grabbed my neck. He grabbed me from behind and one point, tried to pull me away again from the buttons, from my collarbone. … I had a cup of hot coffee in my hand because that is why I was in the lobby to begin with and I reached over, poured the hot coffee on him as he was attempting to pull me back away from the buttons," she said.
White House Wants George Floyd Bill Passed
Also on May 25, Jean-Pierre said that Congress should instead pass the George Floyd Justice in Policing Act, which was passed by the Democrat-led House in 2021. It included provisions to ban police chokeholds, end certain types of profiling, eliminating qualified immunity for officers, and mandate data collection of police encounters.
The revisions would have redefined some crimes, changed criminal justice policies, and reworked how sentences should be handed down after convictions. It also would have done away with mandatory minimum sentences for many crimes and would have reduced the maximum penalties for burglary, carjacking, and robbery.
Critics, including some police groups, have derided the bill as a left-wing attempt to target individual police officers at the state and local level. Proponents of the measure, including the White House, said that it would increase public trust and advance transparency in law enforcement.
"Restricting certain restraints, ending qualified immunity, and creating national databases will only make police more vulnerable. Law enforcement will become less effective in dangerous situations for fear of prosecution or civil liability, putting the lives of officers and communities at greater risk, all the while gathering even more power into the federal government at the expense of local autonomy," wrote the American Police Officers Alliance.
But Jean-Pierre said that the bill needs to be passed after the Senate failed to take it up after House Democrats passed the measure.
"It is up to Congress to send this bill to his desk, and once they do, he will sign the law," Jean-Pierre said.
The Associated Press contributed to this report.
From The Epoch Times