White House national security spokesman John Kirby rejected accusations from a top Russian official who claimed on Thursday that the United States was behind a reported drone attack targeting the Kremlin residence of Russian President Vladimir Putin.
Kremlin spokesman Dmitry Peskov made the allegation in a briefing to reporters, claiming without providing any evidence that Ukraine had acted on U.S. orders with the alleged drone attack on the Kremlin citadel Wednesday night.
"We know very well that decisions about such actions, about such terrorist attacks, are made not in Kyiv, but in Washington. And Kyiv does what it is told to do. We know that often even the goals themselves are not determined by Kyiv, but they are determined in Washington and then taken to Kyiv so that Kyiv implements them," Peskov said.
Responding to Peskov's accusation during an interview on "Morning Joe" early on Thursday, Kirby denied any U.S. involvement and accused the Kremlin spokesperson of lying.
"I can assure you that there was no involvement by the United States in this. Whatever it was did not involve us," Kirby said. "We had nothing to do with this," he added.
Kirby also said that it remains unclear what exactly happened at Putin's residence. "We still don't really know what happened," Kirby said, adding that Washington is assessing the situation.
According to a statement released by Russia's presidential press service on May 3, a drone attack occurred Wednesday night. Both drones fell on the grounds of the Kremlin in Moscow—without causing casualties or material damage—after being disabled by "electronic warfare measures," according to the statement.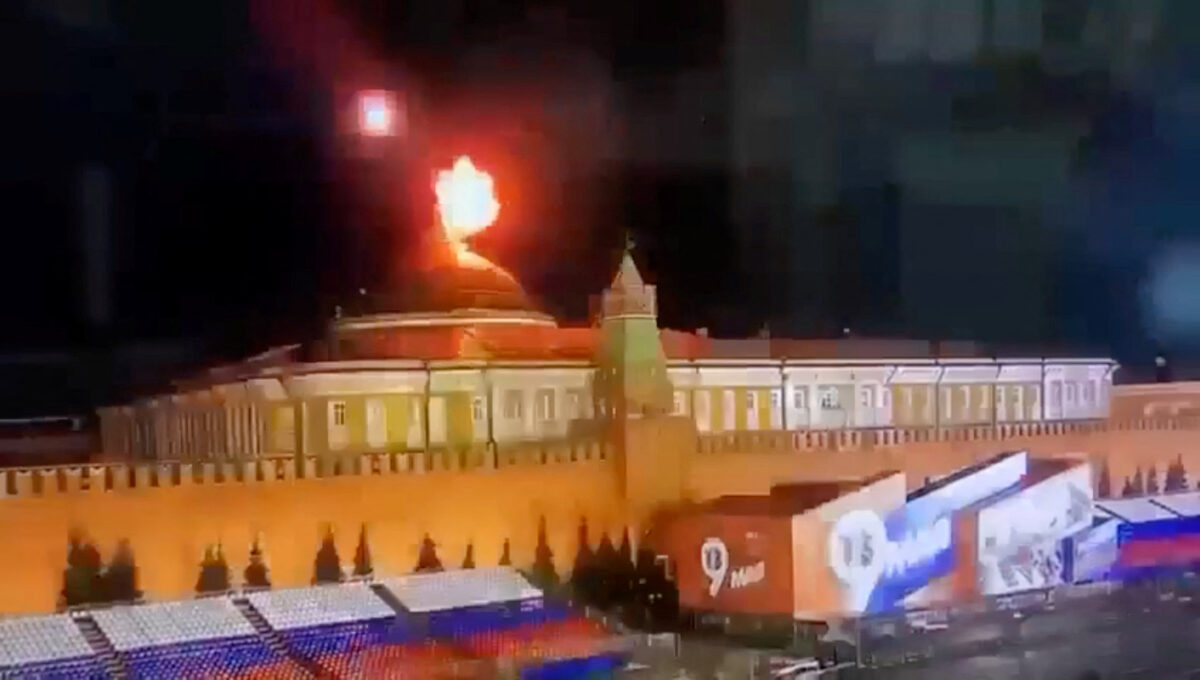 Putin was not in the Kremlin complex when the alleged attacks occurred, Peskov told reporters Wednesday night. On Thursday, he said Putin was in the Kremlin building and staff were working normally.
"The president always maintains calmness, composure, [and] clarity in assessments and in the commands that he gives in such difficult extreme situations," he said.
Shortly after the reported incident, Moscow Mayor Sergei Sobyanin announced a ban on all unauthorized drone flights–effective immediately–throughout the Russian capital.
Zelenskyy Responds
Ukraine, meanwhile, has denied any involvement in the reported attack, which was captured in an unverified video showing two flying objects approaching the Kremlin and one exploding with a bright flash. The video's authenticity has yet to be confirmed.
"We don't attack Putin or Moscow," Ukrainian President Volodymyr Zelenskyy said at a news conference, rebutting Moscow's accusation. "We fight on our territory. We're defending our villages and cities."
Ukraine presidential adviser Mykhailo Podolyak claimed Russia's allegation of Ukraine launching a drone strike over the Kremlin was an attempt "to justify massive strikes on Ukrainian cities, on the civilian population, on infrastructure facilities."
In a conversation with The Washington Post on Wednesday, Secretary of State Antony Blinken said that Russia accusing Ukraine of attempting to assassinate Putin by trying to strike the Kremlin with drones should be taken "with a very large shaker of salt."
Blinken said he has "seen the reports," but noted that he cannot validate them. "I would take anything coming out of the Kremlin with a very large shaker of salt," he added.
Reuters contributed to this report.