News Analysis
For over a year now, airwaves and newspapers have been filled with the unproven narrative that Donald Trump colluded with Russia to win the elections.
But despite multiple investigations, collusion remains unproven. In fact, those with insight into the investigations have said that no evidence of collusion has been found.
Former Director of National Intelligence James Clapper, who was tasked by then President Barack Obama to oversee an investigation into alleged Russian interference in the 2016 elections, has said on multiple occasions, including under oath before Congress, that he is not aware of any evidence of collusion.
Ranking member of the Senate Judiciary Committee Dianne Feinstein (D-Calif.) has also said on multiple occasions that she had not seen evidence of collusion.
"There are all kinds of rumors around. There are newspaper stories, but that's not necessarily evidence," Feinstein told CNN's Wolf Blitzer on May 18.
Even Rep. Maxine Waters (D-Calif.), a fierce critic of President Donald Trump, admitted in an interview last year that she had not seen any evidence that Trump colluded with Russia.
So why is it that media organizations have chosen to relentlessly pursue this narrative without seemingly any evidence?
One answer might be found in the origins of the so-called Trump dossier.
Paid for by the Clinton campaign and the Democratic National Committee (DNC), the dossier became the driving force of the allegations that Trump colluded with Russia.
The contents of the dossier, which Fusion GPS itself admitted it did not verify, were described by former FBI Director James Comey as both "salacious and unverified."
Despite all this, the dossier was actively spread, in secret, among politicians and media organizations.
The dossier only became public after Buzzfeed published it in January 2017. Buzzfeed at the time said the dossier "has been circulating among elected officials, intelligence agents, and journalists for weeks."
In reality, at that point it had been circulating for months.
We now know from UK court documents, that Christopher Steele, the former British spy hired by Fusion GPS to produce the Trump dossier, gave at least two briefings to media organizations about the contents of the dossier.
The media Steele briefed include The New York Times, The Washington Post, The New Yorker, CNN, and Yahoo! News.
Steele's counsel writes in the court documents—as a result of Steele being sued by a Russian business man mentioned in the report—that Steele conducted the briefings on instruction of Fusion GPS.
But it goes further than that.
Court documents filed by the House Intelligence Committee show that Fusion GPS made direct payments to a number of journalists covering Russia-related issues.
Fusion GPS denied in a statement to The Epoch Times that those payments were made in exchange for coverage, but those matters are now under investigation by the committee.
Both the briefings, and the payment, point to a potential conflict of interest by the media organizations involved. They were reporting on allegations based not on their own investigation, but on the contents of the dossier—which was a piece of opposition research.
Ironically, the report itself relied almost exclusively on Kremlin-linked sources. It was described by law professor Ronald Rychlak, a leading expert on Russian disinformation operations, as having all the hallmarks of a classic Russian disinformation campaign.
We now also know, through the reporting of award-winning national security reporter Sara Carter, that the FBI ended up using the Trump dossier for a FISA surveillance application.
A memo prepared by the House Intelligence Committee is expected to shed light on whether the application to the Foreign Surveillance Intelligence Court was made knowingly with flawed evidence, which is a criminal offense.
This could mean that the investigation by Special Counsel Robert Mueller into alleged Russian interference in the 2016 elections comes into question, as he might have used surveillance data that was based on flawed evidence.
So far Mueller's investigation has not produced any evidence of collusion. Former National Security Adviser Michael Flynn, was charged by Mueller for lying to the FBI, not for colluding with Russia. And Trump's former campaign manager Paul Manafort was charged with money laundering dating back to a time before he joined the Trump campaign, and that charge is unrelated to alleged Russian collusion.
So why are the media so feverishly hanging on to the Russia collusion narrative?
Why are they not looking at all the facts available to them, and presenting them to their readers in an objective way?
Perhaps it is because they are too deep into the narrative themselves, or perhaps they are blinded by their hate of Trump that they can't acknowledge all the facts?
In any case, the way the media covered the Russia collusion narrative, and in effect misled both America and the world, will deliver an unprecedented blow to their credibility.
There have already been examples of this.
Speaking under oath before the Senate Select Committee on Intelligence on June 8, former FBI Director James Comey discredited a Feb. 15 front page story in The New York Times, which claimed that members of Trump's 2016 presidential campaign "had repeated contacts with senior Russian intelligence officials in the year before the election."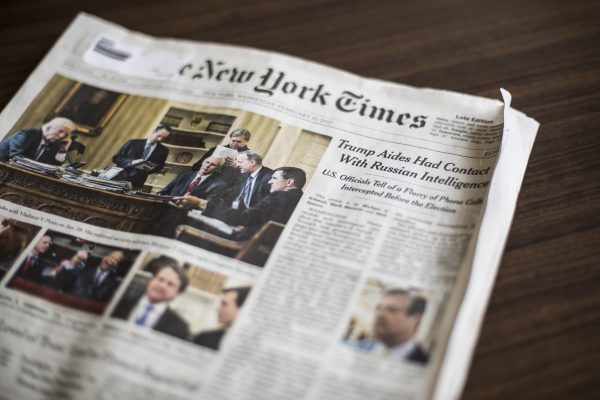 At the time, The Epoch Times noted many flaws in the report, which The New York Times used to push a narrative of collusion.
At the hearing, Sen. Tom Cotton (R-Ark.) pressed Comey further on the piece from The New York Times, asking, "Would it be fair to characterize that story as almost entirely wrong?", to which Comey replied, "Yes."
Comey went on to discredit other media reports, which have frequently cited unnamed intelligence and government sources to push their narrative that the Trump campaign colluded with Russia to influence the election.
"All of you know this. Maybe the American people don't," Comey said, addressing the Senate committee. He said when it comes to reporters writing stories about classified information, "people talking about it often don't really know what's going on."
He said there have been many stories about the Russia investigations "that are just dead wrong."
From The Epoch Times
RECOMMENDED VIDEO: American Uncovered with Chris Chappell
Russia Collusion and the Trump Dossier