It has been more than five years and Geng He still doesn't know whether her husband in China is still alive.
Her husband, Gao Zhisheng, a renowned human rights lawyer, went missing from his home in northern China's Shaanxi Province in August 2017. At that time, Gao had already been subjected to torture by Chinese police during his previous disappearances.
Geng was one of the witnesses testifying before a hearing held by a subcommittee of the House Foreign Affairs Committee on April 20, which marks Gao's 59th birthday. The hearing was titled "China's Political Prisoners: Where's Gao Zhisheng?" to raise awareness of the fact that Gao's whereabouts remain unknown.
"There has not been any information about my husband for the last 2,067 days, which is equivalent to about five years and eight months," Geng told NTD, sister media to The Epoch Times, following the hearing. "I am very sad."
Geng, who fled China to the United States with their two children in 2009, said Chinese authorities have prevented her family members from leaving their place of residence in China to look for Gao.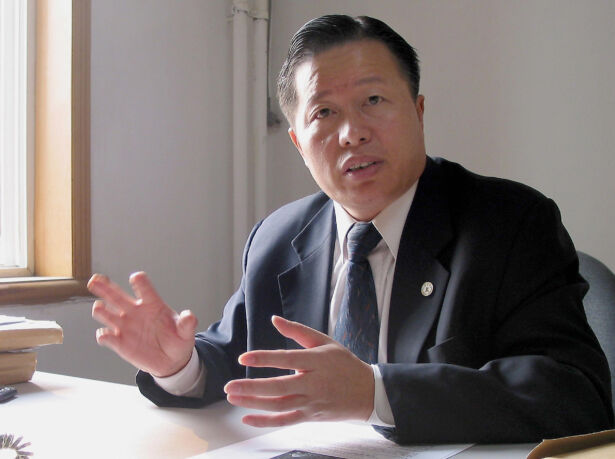 Nobel Peace Prize Nominee
During her testimony, Geng spoke about her husband's aspiration to see China one day become a "free, democratic, and constitutional country" like the United States. She added, "This dream has motivated him to strive for 20 years."
Gao, a self-taught lawyer and a devoted Christian, has been nominated for the Nobel Peace Prize three times. He began practicing law in 1996, defending victims of government land seizures; families of miners, who were seeking compensation after their loved ones died in coal mining accidents; as well as persecuted Christians and adherents of Falun Gong.
Before his disappearance, Gao was placed under house arrest, after being released from prison in August 2014, having served prison time for his conviction of "inciting subversion of state power" in 2006. The subversion charge is a catch-all charge the Chinese regime often uses against dissidents.
Geng emphasized that Gao has not violated any of China's laws but he is being persecuted by the Chinese Communist Party (CCP).
"I implore you to help me," Geng told the subcommittee. She expressed her desire to see U.S. embassy officials in China to visit Gao and asked the U.S. Congress to urge China to allow Gao to be put on a public trial and grant Gao's family visitation rights.
"If these cannot be achieved, it's okay to have Gao Zhisheng give me a call and tell me he's still alive, just knowing he's alive is enough," Geng said during her testimony.
When speaking to NTD, Geng elaborated that it would send China a "powerful" message if U.S. embassy officials visit her family in China.
Decouple From China
Another witness at the hearing, Sophie Luo, pointed to Gao's case, as well as the recent sentencings of her husband Ding Jiaxi and legal scholar Xu Zhiyong in China, to highlight what the Chinese regime really is.
"The CCP is a barbaric government that does not respect any rule of law," Luo said during her testimony.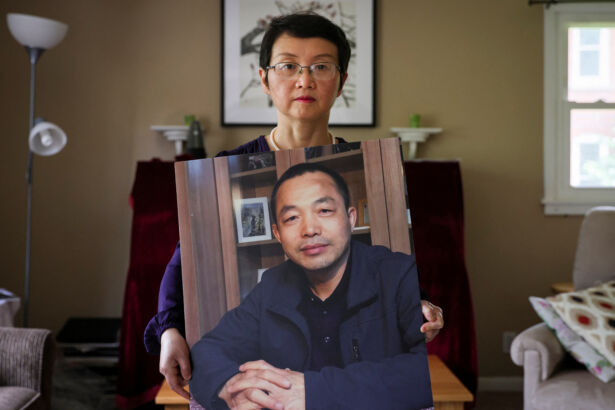 Xu and Ding, both human rights lawyers and prominent figures in the New Citizens Movement, were sentenced to 14 and 12 years respectively at a Chinese court on April 10, after being convicted of subversion of state power.
The New Citizens Movement campaigns for great transparency regarding the wealth of CCP officials; it is dedicated to the promotion of civic rights and seeks the peaceful transition of China toward constitutionalism.
Xu and Ding were detained after they organized and attended a private gathering to discuss civil society and political reforms with other like-minded friends in Xiamen, a city in southern China's Fujian Province, in December 2019. About half a year later, they were put on closed-door trials.
During the months in detention, Luo told the subcommittee that the two were subjected to torture and ill-treatment, including prolonged sleep deprivation, interrogation while being forced to sit on a restraining device called the "tiger chair," food and water restrictions, and deprived of access to showers.
"The authorities have been handling these two cases completely against the Chinese Constitution and criminal laws from the beginning to the end," Luo said in her testimony.
Both the U.S. and Canadian governments have issued statements calling for Xu and Ding's unconditional release.
She urged members of Congress, the Biden administration, American companies, and civil societies not to work with Beijing, saying that doing so "is the only way to stop any more human rights abuses in China."
In an interview with NTD following the hearing, Luo elaborated on her recommendation, saying that the United States should decouple economically from China in order to prevent the Chinese regime from committing more human rights violations.
"I am going to try to pitch this idea [of decoupling from China] at different institutions," Luo said, emphasizing that she wanted to convince business leaders that "human rights issues must come first when doing any business in China."
'Renewed Attention'
Rep. Chris Smith (R-N.J.), chairman of the House subcommittee, said it was important to bring "renewed attention" to what's happening in China, in an interview with NTD following the hearing.
"All of us need to become much more aware of the brutality, that every day is being forced upon wonderful Chinese men and women and children, either because of their faith or because of their political, or because of their ethnicity," Smith said.
He named the Tibetans, Uyghurs, Falun Gong practitioners, and Christians, as victims of China's persecution.
"And so this hearing was to bring renewed attention to two wonderful political prisoners, men who have just stood up for everyone else's rights, and now their rights have been completely abridged by the Chinese Communist Party, and to push for their release," Smith added.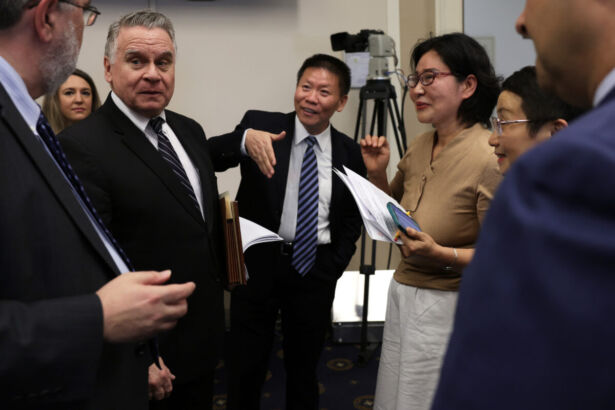 Bob Fu, president of Texas-based China Aid Association and another witness at the hearing, said the U.S. President, Vice President, and Secretary of State "should publicly meet with prisoners of conscience," starting with Geng and Luo.
"They are in the United States. The White House doesn't have any legal or any other hurdles from scheduling a meeting with [Geng and Luo]," Fu added. "Leaders' actions matter. The CCP are [sic] watching. [Chinese leader] Xi Jinping himself is watching, whether those human rights and prisoners of conscience matter to our foreign policy."
In response to Fu's suggestion, Smith said, "We will follow up on that and make an official request with the White House to meet with them, and maybe a few others."
Rep. Rich McCormick (R-Ga.), a member of the subcommittee, told NTD following the hearing that Americans should know about China's human rights records.
"It's so interesting to talk about the egregious things that happen in America, we have no concept of what's happening around the rest of the world," McCormick said. "This stuff is real life and death, they have no idea if their family members are alive or dead, they cannot communicate with them, they can be killed, they can be starved to death."
Forced Organ Harvesting
China's state-sanctioned practice of forced organ harvesting also came up during the hearing.
"The CCP's long practice of forced organ harvesting that frequently targets political prisoners and prisoners of conscience continues without condemnation," Andrew Bremberg, president of the Victims of Communism Memorial Foundation, said during the hearing.
Bremberg applauded the House for passing the Stop Forced Organ Harvesting Act of 2023 and urged the Senate to "quickly take up this bill, pass it, and send it to the President."
The House bill, passed by a vote of 413–2 on March 27, would sanction anyone involved in the act and require annual government reporting on the illicit activity in foreign countries.
Bremberg cited the findings by the China Tribunal, an independent people's tribunal chaired by Sir Geoffrey Nice QC, in his written testimony (pdf).
The tribunal has concluded "unanimously, and sure beyond reasonable doubt—that in China, forced organ harvesting from prisoners of conscience has been practiced for a substantial period of time involving a very substantial number of victims," he wrote, citing the tribunal's 2018 interim judgment (pdf).
The tribunal also concluded that the Chinese regime had been harvesting organs from prisoners of conscience for years "on a significant scale," with Falun Gong practitioners being the primary source of the organs.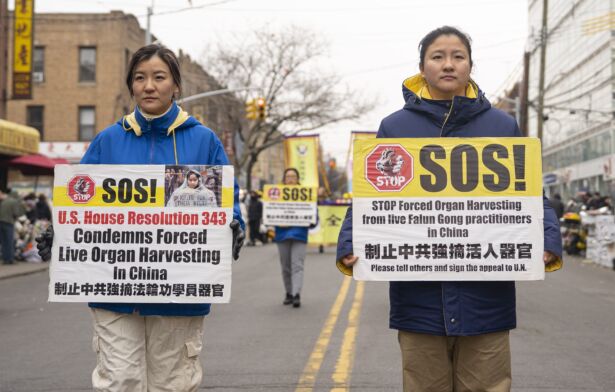 Falun Gong, or Falun Dafa, is a spiritual practice that combines meditative exercises and moral teachings. According to estimates, there were 70 million to 100 million adherents in China by 1999, seven years after the practice was introduced to the public.
Deeming the practice's popularity a threat to its rule, the Chinese regime launched a brutal campaign to eradicate the practice in July 1999, targeting innocents in a violent, deadly suppression that experts have described as a genocide.
Many human rights lawyers, including Gao, have defended Falun Gong practitioners in courts in China. Nevertheless, at least 633 Falun Gong practitioners were sentenced for their faith in 2022, according to Minghui.org, a U.S.-based website that tracks the persecution of Falun Gong in China.
Smith expressed confidence that the Senate will pass the measure's companion version.
"That bill, I believe, will pass the Senate and we'll get to the White House," Smith said at the hearing. "We've worked with the State Department. It's a collaborative bill, and it's totally bipartisan."
"We need to stop this horrible practice."
From The Epoch Times