BINCHE, Belgium—Around a thousand performers clad in traditional costumes featuring white wax masks and hats adorned with huge ostrich feathers paraded to the sound of drums in Belgium's most famous carnival on Tuesday, the first to be held in three years.
Their wooden shoes thudding rhythmically on the cobbled streets of the medieval town of Binche, the entertainers waved willow sticks in the air to chase away bad spirits and the winter in a tradition dating back as far as some 800 years, now part of UNESCO's intangible world heritage.
Some 55,000 visitors came to the town each of the three festive days culminating in Mardi Gras, said a spokesman for the carnival in Binche, about 50 kilometers (30 miles) southwest of Belgium's capital Brussels.
"That is more visitors than the year before the COVID pandemic," said the spokesman, Patrick Haumont. "For two years in a row, there was no carnival and people missed all this, they missed the carnival, they missed the party."
"It's a very emotional, very touching day for us."
To the cheers and applause of spectators, the merrymakers toddled down the historic streets with baskets full of oranges, throwing the fruit at the revelers during what UNESCO says is one of Europe's oldest surviving street carnivals.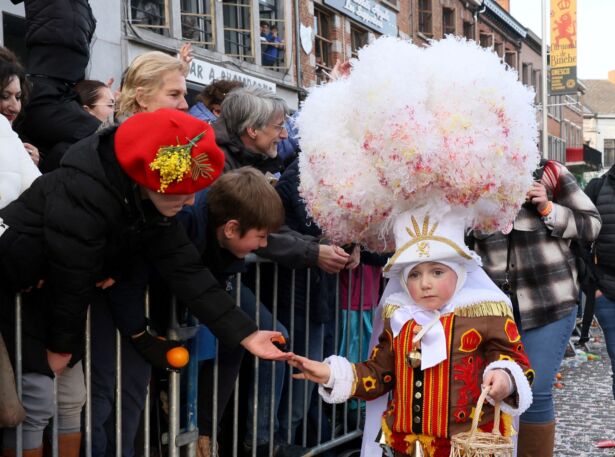 Catching an orange is believed to bring good luck, although a metal net was also stretched across many vitrines down the carnival's route as protection from strays that make it past would-be receivers.
Binche's lead character is the Gille, a figure wearing a brown, red, and golden costume, with a white cap and small green spectacles featured on its face mask. On reaching the town's main square for the parade's big finale, the Gilles don elaborate ostrich feather hats weighing several kilograms.
Sasha Trento, a 16-year-old from the nearby city of Mons, said he came to watch and try to catch an orange, adding that that was not always easy.
"I saw multiple people get hit on the head with the oranges so I'm surprised it hasn't happened to me yet," U.S. tourist Lynn Pickering said. "The hats look very heavy and they are impressive. I know they're quite expensive to make."
Pierrots, sailors, harlequins, and peasants follow in the procession, small bells sewn to their costumes ringing as local brass bands play the streets.
Taking part in the parade is an important family tradition passed through generations, Haumont said. A list of 2023 participants enlisted in local fraternities featured people from ages six to 70-years old.
"The two years when there was no carnival, it was heartbreaking. We were all sad," said one of the Gilles, Jean-Francois Simoulin. "Folklore is important in Binche."
By Gabriela Baczynska