Authorities are trying to identify a group of looters who have been seen on surveillance video beating a New York woman after she tried to stop them looting a small store in Rochester.
The footage shows 24-year-old Madison Mavity being severely beaten by a group of male looters who are hitting her with metal and wooden objects while the young woman is pleading and screaming to the thugs to leave.
The clip sparked outrage among social media users after it went viral, with millions of views in the first few hours, though many media outlets haven't covered Mavity's story.
Mavity told Spectrum News she and her husband were trying to protect Kim Dao Repairs, a shop that is connected to her home and was vandalized earlier.
"They [Kim Dao Repairs] were broken into and vandalized. We were helping fix their window when more people came and rebroke everything. I was just trying to get them away," she told the outlet.
The surveillance footage was posted on Twitter by Rochester Police Department Patrol Investigations (RPDPI), which showed more than a dozen pictures and videos of incidents that happened over the weekend in the city, asking the public to help identify the vandals.
"These men violently attacked a store owner [and] her husband who were trying to protect their business from being looted," the department wrote in the caption of the video.
Do you know any of these men❓Yesterday, May 30, these men violently attacked a store owner & her husband who were trying to protect their business from being looted. Please look at the video & still images. If you know any of them, please call Crime Stoppers @ 423-9300. pic.twitter.com/ECSNcfIcDc

— Patrol_Investigations_RPD (@PatrolRpd) May 31, 2020
Here are still images of the men we need your help to identify. pic.twitter.com/bT1pxfWNIl

— Patrol_Investigations_RPD (@PatrolRpd) May 31, 2020
Mavity's husband was also present, pleading to the group of men to stop hurting his wife as he swung a golf bat toward them and shouted, "Get away from my wife!"
The couple went to the hospital following the incident, with Mavity telling WHAM13 she thought she had suffered a concussion, and her husband had injured his hand while attempting to protect his wife.
"I thought I maybe had a concussion; there was a ringing in my ears but that went away. The whole left side of my body is bruised," Mavity told the outlet.
Mavity said she has no regrets about standing up to the group of men. She moved to a friend's house where she is currently recovering while authorities are working to identify the men.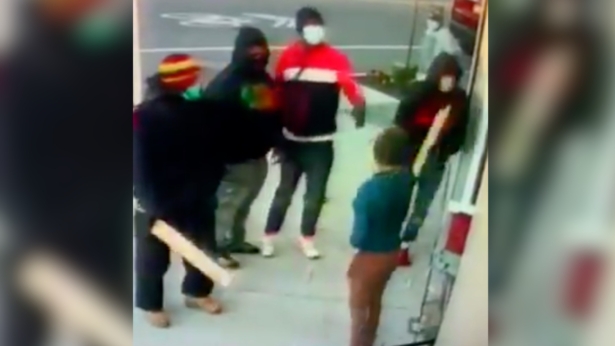 Rochester Mayor Lovely Warren told news outlets the violent looters and vandals that are causing unrest are not from the city. Many of the protesters in the city had marched peacefully to various locations.
The RPD said they are launching an investigation and are asking anyone with information to call Crime Stoppers at 423-9300.
'Violent and Chaotic'
What is meant to be a peaceful nationwide protest to honor George Floyd turned out violent and chaotic. Numerous lootings and property destruction have been reported by citizens across all parts of the United States.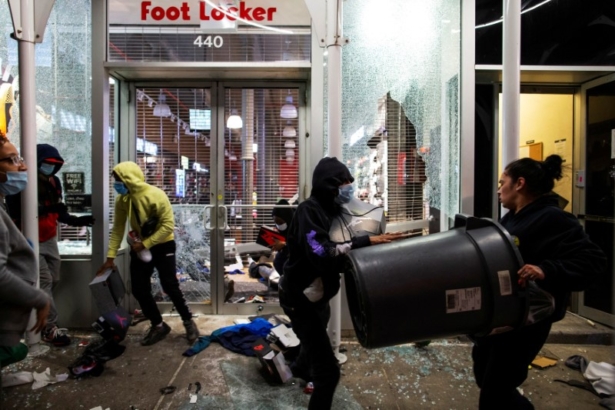 Floyd is an African-American man who died on May 25 after a Minneapolis police officer pressed his knee on his neck for nearly 9 minutes during an arrest. The officer, Derek Chauvin, was arrested last week. He has been charged with third-degree murder and second-degree manslaughter. Chauvin was held at Ramsey County Jail before being taken to the Hennepin County Jail on Sunday.
At least five people have been killed and dozens injured so far across the United States as demonstrations turned violent. National Guard troops were deployed in 15 states and Washington in an attempt to quell the violence.