Rep. Dean Phillips's (D-Minn.) campaign account on X, formerly Twitter, has been reinstated after it was suspended by the company.
Mr. Phillips announced his presidential bid for 2024 on Oct. 27, competing against President Joe Biden. His X account promoting his candidacy was suspended by the company, with a message that it had violated the company's rules.
"X suspends accounts which violate the X Rules," was the only message on the suspended @Dean24Official account.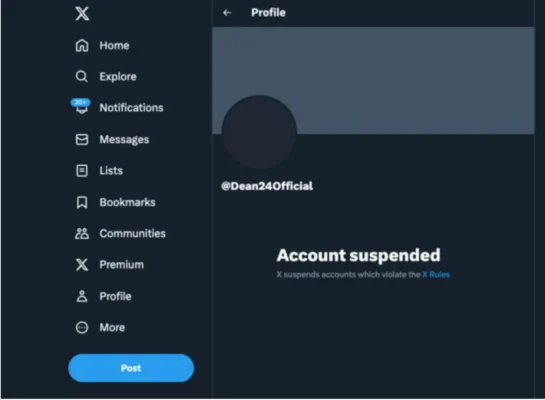 Mr. Phillips's X page has been reinstated, with videos of him talking about his candidacy available to watch.
According to X, reasons for a suspension include spam or fake accounts, which constitute the majority of the suspensions. It says that sometimes a real person's account can be suspended by mistake, and in those cases, the account becomes available again after contacting the owner.
Another reason is that the account's security might be at risk—for example, a hacked or compromised account. Abusive posts, posts risking the safety of users, and privacy violations can also cause a suspension.
Mr. Phillips's other three social media accounts on Facebook, Instagram, and YouTube remained active.
Mr. Phillips did not return a request for comment.
Dean Phillips
Mr. Phillips' campaign announcement confirmed nearly a month's worth of speculation that Mr. Phillips was eyeballing a bid for the presidency.
In late September, he resigned from his leadership position as co-chair of the House Democratic Policy and Communications Committee in protest of President Biden's decision to seek reelection.
The three-term Democrat had earlier in August told CNN that there are "ample well-prepared, competent people of great character" available to challenge Biden for the party nomination.
In an interview with CBS, Mr. Phillips said: "I think President Biden has done a spectacular job for our country. But it's not about the past. This is an election about the future."
"I will not sit still and not be quiet in the face of numbers that are so clearly saying that we're going to be facing an emergency next November," Mr. Phillips said, referring to former President Donald Trump winning the 2024 election.
X Under Scrutiny
Last year, the European Union adopted the Digital Services Act (DSA), which sets forth rules for preventing the spread of harmful content, banning or limiting certain user-targeting practices, and sharing some internal data with regulators and associated researchers, among other things.
Critics say that the European law, which targets X among others, is defining "harmful content" as anything a government might want to oppose, and is a move to stifle free speech on the social media platform.
The EU's "2022 Code of Practice on Disinformation" calls on tech companies and ad firms to financially choke publishers identified as spreading content deemed to be "disinformation."
According to insider anonymous information reported by Reuters, X owner Elon Musk was considering withdrawing the company from Europe as a response.
In response to Mr. Benz's post, Mr. Musk said: "Is this true [Thierry Breton]? If so, the people of Europe deserve an explanation." Mr. Breton is the.
Thierry Breton, commissioner for the European Union's Internal Market, issued a warning to Mr. Musk in October and accused X of not blocking posts around the Israel–Hamas war. He said that regulations about "illegal content" could lead to penalties, including a 6 percent reduction of the firm's annual revenue.
The platform said it has removed hundreds of accounts associated with Hamas and has taken down thousands of posts after the attack on Israel.
Alice Giordano and Naveen Athrappully contributed to this report.