The United States could default on its financial obligations as early as June 1 unless Congress takes action to raise the nation's $31.4 trillion debt ceiling, according to Treasury Secretary Janet Yellen.
Yellen announced the news in a letter to House Speaker Kevin McCarthy (R-Calif.) on May 1.
"After reviewing recent federal tax receipts, our best estimate is that we will be unable to continue to satisfy all of the government's obligations by early June, and potentially as early as June 1, if Congress does not raise or suspend the debt limit before that time," Yellen wrote.
The secretary had warned Congress on Jan. 13 that a breach of the debt ceiling was days away but would be forestalled by taking "extraordinary measures" to manage the nation's bills.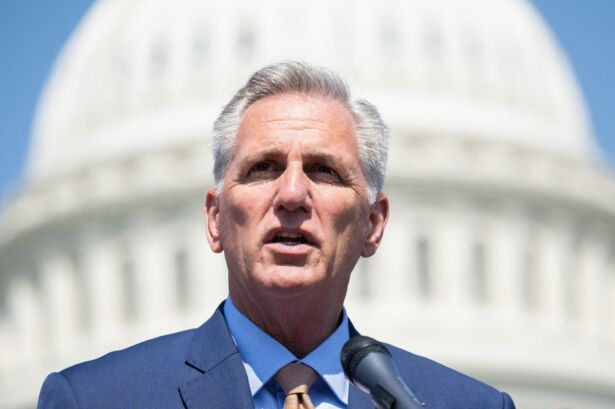 At the time, Yellen estimated that those tactics would keep the Treasury under the limit through early June. The Congressional Budget Office later forecast an X Date sometime in late summer.
Now, due to lower-than-expected tax receipts this spring, Yellen has restated the earlier forecast.
This news comes days after Republicans passed the Limit, Save, Grow Act, a bill that would raise the debt limit by $1.5 trillion, enough to carry the government into early 2024.
However, the increase was accompanied by a number of spending cuts and caps that Democrats have said are unacceptable.
President Joe Biden has refused to negotiate on raising the debt ceiling, saying that to do so would put the "full faith and credit" of the United States at risk.
"It's up to you now," McCarthy told reporters on April 26, as if addressing Biden. "Whether the economy gets in any trouble, it's you. Because Republicans raised the debt limit. You have not. Neither has [Senate Majority Leader Chuck] Schumer."
However, the following day, White House Press Secretary Karine Jean-Pierre, when asked whether the president was ready to negotiate, repeated Biden's refusal to discuss the debt ceiling.
"The United States has never failed on its debt obligation," Jean-Pierre said at the press briefing on April 27.
"House Republicans are threatening a default and crashing the economy. As the president said yesterday, he is happy to meet with Speaker McCarthy but not to negotiate the debt limit."
McCarthy has repeatedly said that Republicans will not allow the country to default on its financial obligations, but raising the debt limit should be accompanied by serious discussions about curbing federal deficit spending.
Yellen also said that the Treasury would stop issuing State and Local Government Series (SLGS) Treasury securities.
"Treasury will take this action to manage the risks associated with the debt limit, but it is not without costs, as it will deprive state and local governments of an important tool to manage their finances," she wrote.
The secretary noted that 11th-hour actions on the debt ceiling risk harm to consumer confidence and can cause the country's credit rating to be lowered.
"If Congress fails to increase the debt limit, it would cause severe hardship to American families, harm our global leadership position, and raise questions about our ability to defend our national security interests," she wrote.
"I respectfully urge Congress to protect the full faith and credit of the United States by acting as soon as possible."
From The Epoch Times