U.S. Treasury Secretary Janet Yellen on Saturday called on the Chinese regime to communicate "directly" if there are concerns about specific economic practices, reiterating the importance of communication amid a "complicated global economic outlook."
Ms. Yellen's remarks were delivered during a meeting with China's Vice Premier He Lifeng, a long-time ally of Chinese leader Xi Jinping, during the third day of her trip to Beijing. The visit through Sunday is aimed at mending the strained economic relations, though critics argued that the Treasury chief has not spoken from a position of strength while engaging with Chinese officials.
Speaking at the Diaoyutai State Guest House on Saturday, Ms. Yellen told Mr. He, "Where we have concerns about specific economic practices, we should and will communicate them directly," according to a text released by her department.
"It is my belief that a wide swathe of our economies can interact in ways that are uncontroversial to both governments," Ms. Yellen told Mr. He."The fact that despite recent tensions we set a record for bilateral trade in 2022 suggests there is ample room for our firms to engage in trade and investment."
Saturday's meetings came as the U.S.-China ties heading in a downward spiral over a spate of affairs, including a Chinese surveillance balloon flying over several states before being shot down by the U.S. military.
Refereeing that incident, Mr. He told Ms. Yellen that he regretted that the bilateral ties were hurt by "unexpected incidents."
"Unfortunately, due to some unexpected incidents, such as that involving the airships, there were some problems in the implementation of the consensus reached by the leaders of the two countries" at the G-20 summit in Bali, Indonesia, last November, Mr. He said.
Ms. Yellen's discussion with Mr. He came hours after she called on Beijing to work with Washington to do more in addressing climate change during a roundtable with Chinese officials and experts in Beijing. She also met with a group of female economists and entrepreneurs, discussing women's representation in the workforce and the Chinese economy.
Ms. Yellen's trip has been billed as a high-profile diplomatic effort to ease tension between Beijing and Washington, as the Biden administration seeks to deepen communication with the Chinese Communist Party (CCP). However, her trip has drawn much criticism, including questions over the timing of her trip and the remarks she has made while meeting Chinese officials.
The Treasury Department described Ms. Yellen's meeting with China's new Premier Li Qiang on Friday as "candid and constructive," during which the secretary said the Sino-U.S. competition was not about "winner-take-all" and both nations needed to compete based on a "fair set of rules."
According to China's state-run media, Mr. Li told Ms. Yellen that Beijing opposed "hegemony and bullying," and asked the U.S. side to be "rational and pragmatic" when dealing with China.
Following the Friday meeting, Sen. Tom Cotton (R-Ark.), who sits on the Senate Armed Services Committee, took to Twitter to remind Ms. Yellen of China's global ambitions.
"Xi Jinping has said he wants China to replace America as the world's leading power. I can guarantee he wants a 'winner take all' fight," Mr. Cotton wrote while tagging Ms. Yellen's Twitter handle.
Gordon Chang, a senior fellow at the Gatestone Institute, dismissed Ms. Yellen's remarks, including her call urging China to adopt market reforms.
"Secretary #Yellen manages to repeat every aspirational statement from the last three decades about doing business in #China," Mr. Chang wrote on Twitter on July 7. "Isn't it time, however, to recognize that #XiJinping's #CCP will never play fair and now get our businesses off #Chinese soil?"
Anders Corr, principal at the New York-based political consultancy firm Corr Analytics and an Epoch Times contributor, criticized Ms. Yellen for showing weakness.
"Yellen is weak on China. Her boss [President Joe] Biden is weak on China. They are weak because they prioritize special interests beholden to short-term corporate profit in China, rather than American values like democracy, liberty, human rights, free markets, and our Republic," Mr. Corr wrote on Twitter on July 7.
Climate Change
Prior to her talks with Mr. He, Ms. Yellen told a group of climate finance experts that it was important for China and the United States to work together on challenges posed by climate change.
"Climate change is at the top of the list of global challenges, and the United States and China must work together to address this existential threat," Ms. Yellen said in a prepared text.
She pointed to the 2015 Paris Agreement as an example of successful bilateral cooperation, and said continued cooperation was "critical."
Former President Donald Trump pulled the United States out of the Paris Agreement, but Biden reentered the agreement after taking office in 2021.
China is the world's biggest emitter of carbon dioxide and has promised to achieve a carbon peak before 2030 and carbon neutrality by 2060. According to a February report from the Centre for Research on Energy and Clean Air and the Global Energy Monitor, China permitted more coal power plants in 2022 than any other year since 2015.
"The coal power capacity starting construction in China was six times as large as that in all of the rest of the world combined," the report says.
Experts have long questioned the communist regime's sincerity in reducing carbon emissions, while critics have argued that Beijing is using climate change to expand its global influence.
"Climate finance should be targeted efficiently and effectively," Ms. Yellen added. "I believe that if China were to support existing multilateral climate institutions like the Green Climate Fund and the Climate Investment Funds alongside us and other donor governments, we could have a greater impact than we do today."
She added that she looked forward to hearing recommendations from the different working groups, including the Sustainable Finance Working Group which is co-chaired by the United States and China, at the upcoming G20 summit in India in September.
U.S. climate envoy John Kerry is scheduled to visit China later this month and meet his Chinese counterpart Xie Zhenhua. In an interview with the New York Times about his coming China trip, Mr. Kerry said he would like to see the two nations have "genuine cooperation" on climate change.
The upcoming trip marks Mr. Kerry's third trip to China as climate envoy. On July 6, Sen. Marsha Blackburn (R-Tenn.) took to Twitter to criticize the Biden administration for arranging the trip.
"While Communist China engages in slave labor, John Kerry is headed to China to discuss climate change," Ms. Blackburn wrote. "Why does the Biden administration want to cozy up to these human rights abusers?"
In 2021, Mr. Kerry drew criticism for brushing off a question on the Chinese regime's crimes against Uyghurs, which the U.S. government has declared a "genocide" and "crimes against humanity."
'Urgency to This Trip'
Peter Earle, a research fellow at the American Institute for Economic Research, suggested the timing of the Treasury chief's trip to Beijing appeared not to be random.
Ms. Yellen's trip came two days after China rolled out new export restrictions on gallium and germanium, two minerals that are critical to the manufacturing of semiconductors.
Ms. Yellen landed in Beijing on June 6, exactly five years after the Trump administration began to tax more than $300 billion worth of products imported from China, tariffs that were kept by the Biden administration.
"Yellen's visit also is probably not randomly taking place five years after the day," he told NTD on July 6.
"I think there's some urgency to this trip."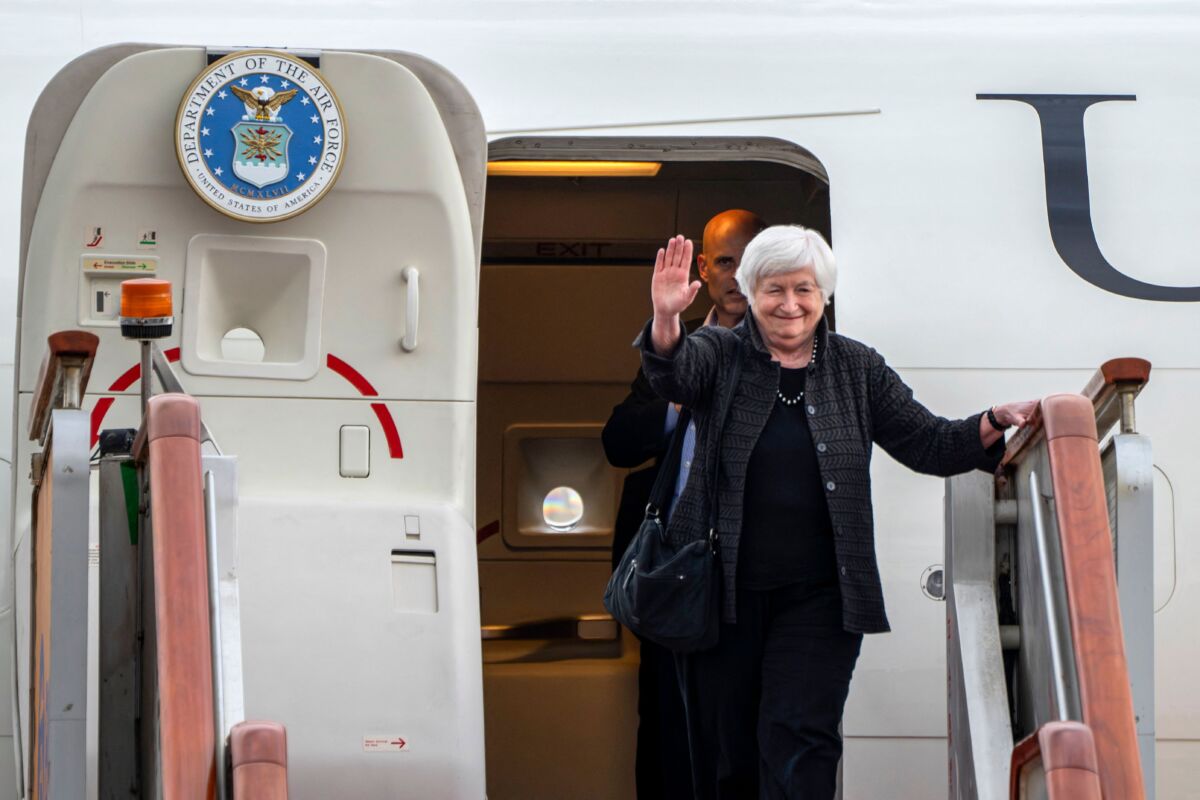 After announcing the export control measure, China's state media quoted a former Chinese official as saying the latest ban is "just the beginning of China's countermeasures, and China's toolbox has many more types of measures available."
According to Mr. Earle, China produced 94 percent of gallium and 83 percent of germanium in the world.
"So they really are starting with something that's very critical to the U.S.," he said.
"This is kind of giving the U.S. a taste of what could be in … in store for many more goods and services if tensions over trade and about Taiwan continue," he said.
'Aware of Its Own Mortality'
The United States is in a "no-win" situation coming out of Ms. Yellen's trip, according to Gregory Copley, president of the International Strategic Studies Association.
"The Biden administration has committed itself to 'diplomacy with Beijing.' It's not going to achieve a lot other than to give the optics that it's the U.S. which is negotiating and that Xi is being unreasonable," Mr. Copley told NTD on July 6.
He added, "The PRC [People's Republic of China] is seen to be winning, and that the U.S. is forced to go to Beijing to kowtow to the communist party.
"It's really a no-win situation for the United States. It's not going to save or protect any investment," he said.
Secretary of State Antony Blinken got a muted reception when he arrived in China for a visit last month when a lone Chinese foreign ministry official met him at the airport and China offered no red carpet. Miles Yu, principal China policy advisor to former Secretary of State Mike Pompeo told The Epoch Times that the airport greeting for Blinken was a deliberate snub, while former White House trade advisor Peter Navarro said his trip was a "great propaganda coup" for the CCP.
A week after Mr. Blinken's visit, China's hawkish state-run media Global Times published an opinion article declaring that his visit was "insufficient" to improve bilateral ties. The article questioned the U.S. government's sincerity and said "The U.S. must match words with deeds."
"So right now, the deadlock between Beijing and Washington continues. It's unlikely to improve anytime soon, particularly because Xi Jinping is facing the internal implosion of the mainland Chinese economy," Mr. Copley said.
Recently, weak consumer spending, youth unemployment, and an exodus of wealth are signs that the Chinese economy is faltering.
"The world now does not see the inevitable rise of the Chinese economy or of the Communist Party of China," Mr. Copley continued. "So right now, the Communist Party of China knows that it is facing its own mortality."
"It knows that all things being equal, the Communist Party of China has only a few years left to live," he added. "Now that tends to make someone like Xi Jinping, who's already paranoid, far more likely to act precipitously by launching a war against Taiwan or against one of its other neighbors, simply to bolster domestic public support so that the whole mass of the Chinese population doesn't turn at once on the communist party."
"But right now, the communist party is aware of its own mortality."
From The Epoch Times