U.S. Treasury Secretary Janet Yellen is set to hold economic talks with her Chinese counterpart in San Francisco this week before a potential meeting between the top leaders of the world's two largest economies.
Ms. Yellen is scheduled to meet with Chinese Vice Premier He Lifeng on Nov. 9 and 10, the Treasury Department announced on Nov. 6. The meetings will take place before the start of the Asia-Pacific Economic Cooperation (APEC) summit in San Francisco, where Ms. Yellen will host the top finance officials and ministers from the 21 member states of APEC from Nov. 11.
The Yellen-He meeting was also confirmed by China's foreign ministry. Mr. He will visit the United States from Nov. 8 to 12, the ministry's spokesman, Wang Wenbin, said on Monday.
The announcement came shortly after state media revealed that Mr. He became the head of two separate Chinese Communist Party (CCP) committees that Chinese leader Xi Jinping created in March, a move to bring the financial system under the Party's direct control.
'Serious Concerns'
The upcoming Yellen-He meetings follow a series of diplomatic engagements between Washington and Beijing amid rising tensions. The U.S.-China relationship has been strained over issues ranging from the CCP's military aggressions in the Taiwan Strait and the South China Sea to the U.S. export controls and investment bans on advanced technologies to counter the regime's military modernization.
Ms. Yellen said ahead of the meeting with her Chinese counterpart that the United States is seeking "a stable and healthy economic relationship" with China that requires a "rules-based, level playing field."
"This week, I will speak to my counterpart about our serious concerns with Beijing's unfair economic practices, including its large-scale use of non-market tools, its barriers to market access and its coercive actions against U.S. firms in China," Ms. Yellen wrote in an op-ed published by The Washington Post on Monday.
"In certain sectors, these unfair practices have resulted in the overconcentration of the production of critical goods inside China," she wrote. The United States has responded by seeking to diversify its critical supply chains with a target of not triggering "a disorderly, wholesale private-sector pullback from China."
During her four-day trip to Beijing in July, Ms. Yellen told Chinese officials that the United States would not allow its national security to be compromised. "We continue to take targeted actions to secure our vital security interests," she said.
At the same time, Ms. Yellen emphasized that direct conversations with the regime's senior officials could help reduce the risk of misunderstanding and miscalculation. To facilitate the communications, the U.S. Treasury Department and China's finance ministry in September launched two joint working groups to deal with economic and financial issues.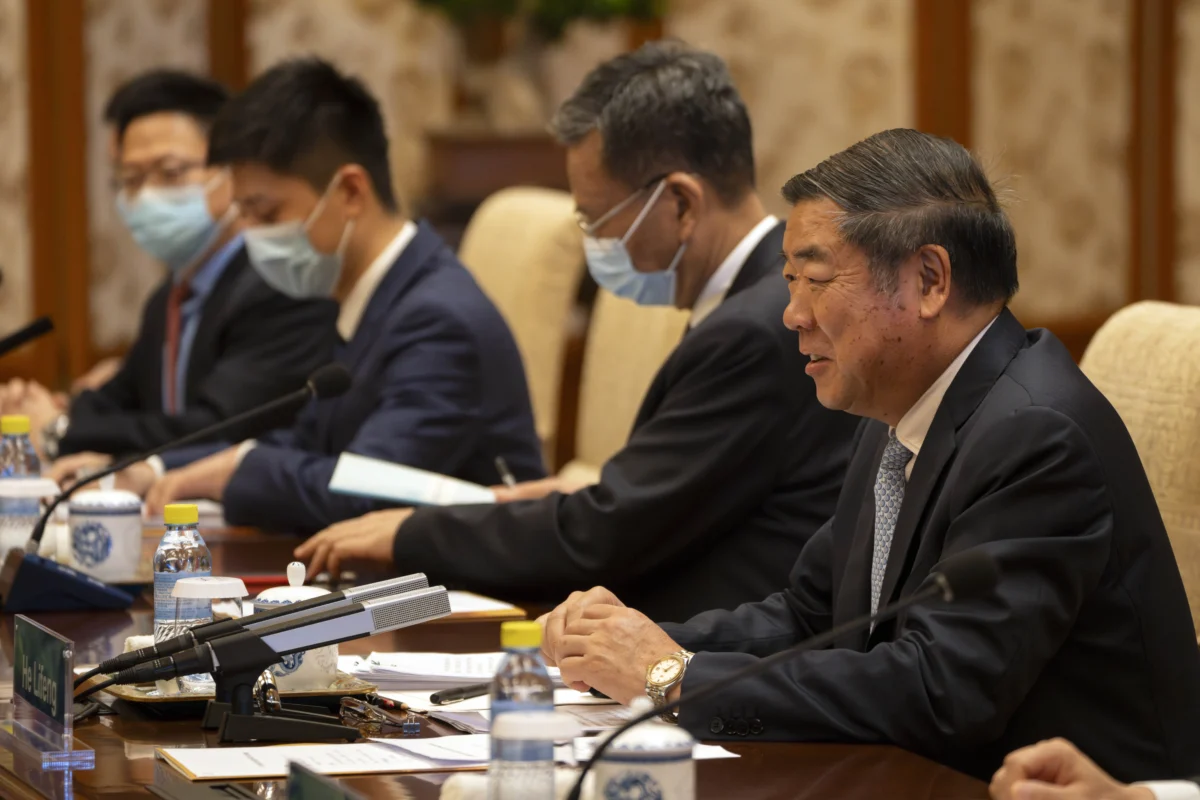 China's New Economic Czar
Mr. He was recently appointed as the head of the office of the Central Financial Commission, a Party organ responsible for making policies and supervising the nation's $61 trillion financial sector, state-run news agency Xinhua reported on Monday.
Separately, Mr. He also assumed the leadership role of the Central Financial Work Commission, a super financial watchdog that is tasked with strengthening the CCP's ideological role in the finance sector, the agency said.
The new appointments make Mr. He, a trusted ally of Mr. Xi, become China's new economic czar, heading the country's top decision-making bodies in both economic and financial sectors.
Mr. He first met with Ms. Yellen in July, when the Treasury chief traveled to Beijing to meet the regime's senior officials as part of the Biden administration's efforts to reopen the high-level communication lines between Washington and Beijing.
No 'Smooth Sailing' for Biden-Xi Meeting
Following visits by four senior U.S. officials, as well as a bipartisan Senate delegation, to Beijing this year, the CCP sent its top diplomat, Wang Yi, to Washington in October. During the three-day visit, President Joe Biden hosted Mr. Wang at the White House after talks with Secretary of State Antony Blinken. White House national security adviser Jake Sullivan also met with Mr. Wang.
President Biden is expected to meet Mr. Xi during the APEC summit, which would mark the first in-person meeting between the two leaders in a year.
However, Beijing has yet to confirm whether Mr. Xi will travel to Washington for the summit.
Mr. Wang, who also serves as China's foreign minister, said that the Biden-Xi meeting will be challenging.
Speaking on the last day of his trip in Washington, Mr. Wang told the U.S. strategic community that arranging a meeting between President Biden and Mr. Xi "will not be smooth sailing," and the two sides cannot rely on "autopilot" to make it happen.
From The Epoch Times