Buffalo Bills safety Damar Hamlin was discharged from the hospital on Wednesday, the Bills confirmed, coming about a week after he collapsed due to cardiac arrest during a nationally televised game against the Cincinnati Bengals.
"We have completed a series of tests and evaluations, and in consultation with the team physicians, we are confident that Damar can be safely discharged to continue his rehabilitation at home and with the Bills," Dr. Jamie Nadler, said in a statement that the Bills released Wednesday on Twitter.
And in a news release issued by the team, doctors at the Buffalo General Medical Center carried out a "comprehensive medical evaluation" of his condition. They have not confirmed what caused Hamlin's cardiac arrest, which is often fatal and can lead to severe neurological impairment, and did not say what tests were performed.
"Special thank-you to Buffalo General it's been nothing but love since arrival! Keep me in y'all prayers please!" Hamlin wrote on Tuesday via Twitter.
Before being sent to Buffalo, Hamlin was treated for about a week at the University of Cincinnati Medical Center after collapsing during a "Monday Night Football" game that was being broadcast by ESPN. UC Medical Center doctors, too, did not determine what caused his condition.
"He's certainly on what we consider a very normal to even accelerated trajectory from the life-threatening event that he underwent," Dr. Timothy Pritts, chief of surgery at the University of Cincinnati Medical Center, stated on Monday. "He's making great progress." Pritts noted that recovery from cardiac arrest can take weeks to months.
The UC Medical Center doctors said that Hamlin did not suffer any cervical spine injuries and is "neurologically intact."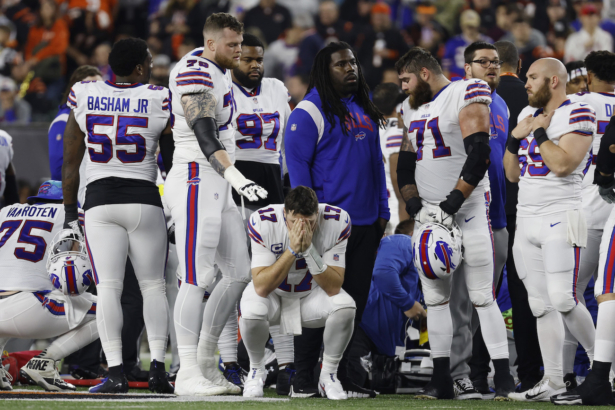 Hamlin's heart suddenly stopped beating after he made a routine tackle against Bengals receiver Tee Higgins during the first quarter. After getting up, Hamlin adjusted his helmet and collapsed, prompting the NFL to suspend the game before ultimately canceling it.
"Obviously grateful first and foremost that he's home and with his parents, his brother, which is great," Bills head coach Sean McDermott said at a Wednesday news conference. "I'm sure it's felt like a long time since he's been able to be home."
It's up to Hamlin on when he feels ready to return to the Bills' facility in Orchard Park, the coach said. "We'll leave it up to him," McDermott said. "His health is first and foremost on our mind as far as his situation goes, and then when he feels ready, we'll welcome back."
The 24-year-old second-year player spent the first two days in hospital under sedation. He was awakened and able to grip people's hands at his bedside, and eventually taken off a ventilator and able to address his teammates on Friday.
His doctors said Hamlin's progress in recovering from cardiac arrest, considered a life-threatening event, has been normal to accelerated, and that he was able to cheer on the Bills from his hospital bed during their win over the New England Patriots last weekend.
The Bills wore No. 3 Hamlin patches on their jerseys Sunday and honored their teammate by raising three fingers in the closing minutes. It was part of a league-wide outpouring of support for the second-year player out of the University of Pittsburgh, whose collapse during the Monday night game and the aftermath was seen by millions of television viewers. With an ambulance standing by on the field, medical personnel frantically worked on Hamlin for several minutes as anguished teammates looked on, some of them in tears.
In the days that followed, $8.6 million in GoFundMe donations poured into Hamlin's toy drive fundraiser, which will be used to support young people through education and sports. He also will use proceeds from the sale of new T-shirts, emblazoned with "Did We Win?" along with his hands in the shape of a heart, to raise money for the trauma center in Cincinnati that initially treated him.
The Bills are set to host the Miami Dolphins in the AFC wild card round of the playoffs starting this weekend.
The Associated Press contributed to this report.
From The Epoch Times