Elon Musk has called on the U.S. justice system to pursue Democrats and Republicans in a non-partisan fashion, as the tech CEO reacted to remarks on this week's arraignment hearing of former President Donald Trump.
On Tuesday, Trump was charged in New York City with 34 counts of felony falsifying business records to the first degree. He pleaded not guilty to all charges, which were unveiled at a courtroom in Manhattan.
Musk's comment was in reaction to a tweet from Senate Majority Leader Chuck Schumer (D-N.Y.), who contended on the micro-blogging website that Trump "will have a fair trial" that will follow "the facts and the law."
"There's no place in our justice system for any outside influence or intimidation in the legal process," Schumer said. "As the trial proceeds, protest is an American right, but all protests must be peaceful."
Musk responded to Schumer's post that it's crucial for the U.S. justice system to "pursue Democrats and Republicans with equal vigor" in order to avoid losing the trust of the American people.
"Whichever party most puts justice before nepotism is the one that deserves trust," the Tesla executive said.
To avoid losing the trust of the American public, it is important that our justice system pursue Democrats and Republicans with equal vigor.

Whichever party most puts justice before nepotism is the one that deserves trust.

— Elon Musk (@elonmusk) April 4, 2023
Musk, a frequent critic of some of President Joe Biden's policies, has echoed similar sentiments as many Trump supporters and Republican lawmakers, who've said the criminal charges against the former commander-in-chief would only reversely boost his 2024 presidential campaign.
The SpaceX founder predicted last month that Trump would be reelected in a "landslide victory" if he were to be arrested, especially if he would be handcuffed and fingerprinted at the courthouse in downtown Manhattan.
Legal Jeopardy
While delivering remarks from his Mar-a-Lago estate in Florida hours after pleading not guilty in Manhattan, Trump said he "never thought anything like this could happen in America," warning that the United States had sunk to the level of the "old Soviet Union."
"As it turns out, everyone who has looked at this case, including RINOs, and even hardcore Democrats, says there is no crime and it should never have been brought. Never have been brought," Trump told an invite-only audience of about 500 people.
"It's an insult to our country," he added, "and the world is already laughing at us."
According to a 16-page indictment, released on April 4, the charges against Trump stem from falsified records related to multiple payments made to keep negative information about him concealed, including a $130,000 payment made to Stormy Daniels, an adult film actress who has claimed Trump had an affair with her. Trump has denied claims of an affair.
Trump's day in court marked a watershed moment in American history as the Republican figure became the first U.S. president to ever be prosecuted after leaving office, which some analysts believe may hurl the country into a state of chronic dysfunction.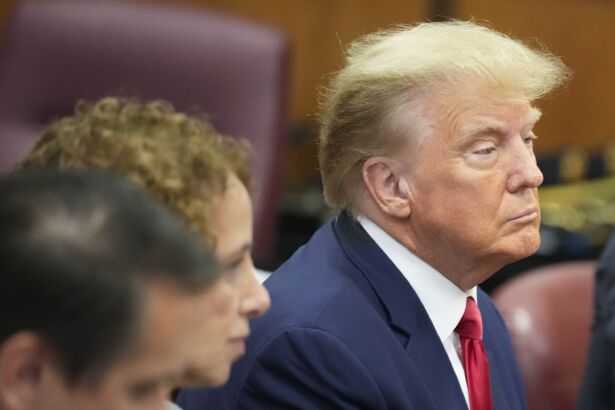 According to former Assistant U.S. Attorney Kevin O'Brien, the charge against Trump in Manhattan District Attorney Alvin Bragg's case may facilitate the progression of other probes against Trump that may lead to a criminal charge, because it allows the other prosecutors to do without hesitation of pursuing an unprecedented persecution of a former president.
"It kind of breaks the spell, and maybe other prosecutors' offices will get more active," O'Brien said. "So you can see it can be done in this case, then it sort of emboldens other prosecutorial officers."
In addition to Trump's legal troubles in Bragg's case, the former president is currently also facing three other lawsuits and investigations with potential criminal liabilities.
As the leading Republican presidential candidate for 2024, Trump has characterized these legal challenges as part of a political "witch hunt" and attempts to hurt his candidacy. Across the aisle, Trump's critics describe the investigations as the proper application of the rule of law.
While most of the attention was recently on the courthouse in lower Manhattan, investigations from Atlanta to Washington are pressing forward. Here, Trump is potentially facing charges related to election interference in Georgia; a probe into Trump's handling of classified documents at his Mar-a-Lago property; and an investigation into Trump's alleged interference with the transfer of power after the last presidential election.
Gary Bai contributed to this report.