Former Trump White House chief of staff Mark Meadows, who is facing election interference charges in Georgia, told a federal appeals court on Nov. 3 that its recent ruling defining what constitutes a federal officer bolsters his appeal.
Georgia prosecutors took the opposite tack, saying in a filing that the ruling helps their side.
Mr. Meadows, former President Donald Trump, and 17 co-defendants were indicted by a state grand jury in Fulton County on Aug. 14 over the former chief executive's challenge to the election in Georgia.
Mr. Meadows and all the defendants in the case are accused of violating the Georgia RICO (Racketeer Influenced and Corrupt Organizations) Act from Nov. 4, 2020, which is the day after the presidential election, to Sept. 15, 2022, for their allegedly illegal efforts to challenge the presidential election results in Georgia, a state that Democrat President Joe Biden ultimately won.
Three of the co-defendants—attorneys Sidney Powell, Kenneth Chesebro, and Jenna Ellis—entered into plea bargains last month with Fulton County, Ga., District Attorney Fani Willis, a Democrat, to avoid jail time in exchange for testifying against others.
Mr. Meadows argues his prosecution should proceed in federal court because he is immune to state prosecution and because whatever he did to aid President Trump's efforts to contest the 2020 presidential election in Georgia, it was done in his official capacity as a federal officer, and he had federal defenses available to him.
U.S. Judge Steve C. Jones of the Northern District of Georgia ruled on Sept. 8 that he lacked jurisdiction to remove the state case to federal court. Judge Jones was appointed in 2011 by President Barack Obama, a Democrat.
Mr. Meadows's "political activities," such as "working with or working for the Trump campaign," went beyond "the outer limits of the Office of the White House Chief of Staff."
The judge also expressed concern that "when questioned about the scope of his authority, Meadows was unable to explain the limits of his authority."
Mr. Meadows is appealing to the U.S. Court of Appeals for the 11th Circuit the judge's decision to remand the racketeering prosecution to the Georgia state court.
Acting on its own initiative, on Oct. 17, the appeals court asked both defense counsel and state prosecutors to file briefs regarding a ruling it handed down in a different case on Oct. 11.
Specifically, the 11th Circuit asked for an answer to the following question:
"What effect, if any, does United States v. Pate … have on analysis of whether 28 U.S.C. [Section] 1442(a)(1) permits a former 'officer (or any person acting under that officer) of the United States or of any agency thereof, in an official or individual capacity,' to remove a criminal prosecution from state court to federal court?"
In the Pate ruling, which the 11th Circuit handed down on Oct. 11, the court noted that Timothy Pate, also known as Akenaten Ali, has described himself as an "heir to the kingdom of Morocco."
He filed liens against property owned by several people he claimed had wronged him. One of them was a former commissioner of the IRS and another was a former secretary of the U.S. Treasury. Both men had already left their respective federal posts at the time the liens were registered against them.
Mr. Pate was subsequently convicted of violating 18 U.S.C. Section 1521, which makes it a crime to file retaliatory liens against the property of "an individual described in" 18 U.S.C Section 1114, meaning "any officer or employee of the United States."
The circuit court ruled that a former civil servant does not count as an "officer or employee of the United States" within the meaning of Section 1114 and, therefore, also of Section 1521.
The court then vacated Mr. Pate's convictions.
The court gave attorneys for Mr. Meadows and Georgia prosecutors until 5 p.m. on Nov. 3 to file briefs.
Mr. Meadows argued in his new brief that the Pate precedent bolsters his case.
"[I]n light of important differences in 'statutory text, context, and structure' between the two statutes … Pate has no material impact on this case. If anything, Pate further supports the application of [Section] 1442(a) to former officers sued for official acts."
The law known as 28 U.S. Code Section 1442 is also known as the Federal Officer Removal Statute. Mr. Meadows is arguing he is immune from state prosecution under the U.S. Constitution's Supremacy Clause, which elevates federal law over state law, and that his case should be "removed" to federal court.
While the 11th Circuit handed down a split decision in Pate, "no judge thought what mattered was the officer's status at the time of indictment," the brief said.
"Rather, Pate—about a criminal statute prohibiting malicious liens—quite naturally focused on the officer's status at the time of the actus reus, i.e., at the filing of the lien. By contrast, [Section] 1442(a) is a civil statute which provides a federal forum to federal officers sued in state court 'for or relating to' acts under color of federal office."
Actus reus is Latin for "guilty act" and refers to action or conduct that is a constituent element of a crime. A related legal term often used in tandem is mens rea, which is Latin for "guilty mind," and refers to the mental state or intent of a person accused of a crime.
The brief continued: "The focus is quite naturally on the officer's status at the time of the official act that underlies the suit. Just as in Pate, status at the time of indictment is irrelevant. Thus, a former officer—executive, legislative, or judicial—sued for prior official acts can remove while a current officer sued for prior non-official acts cannot."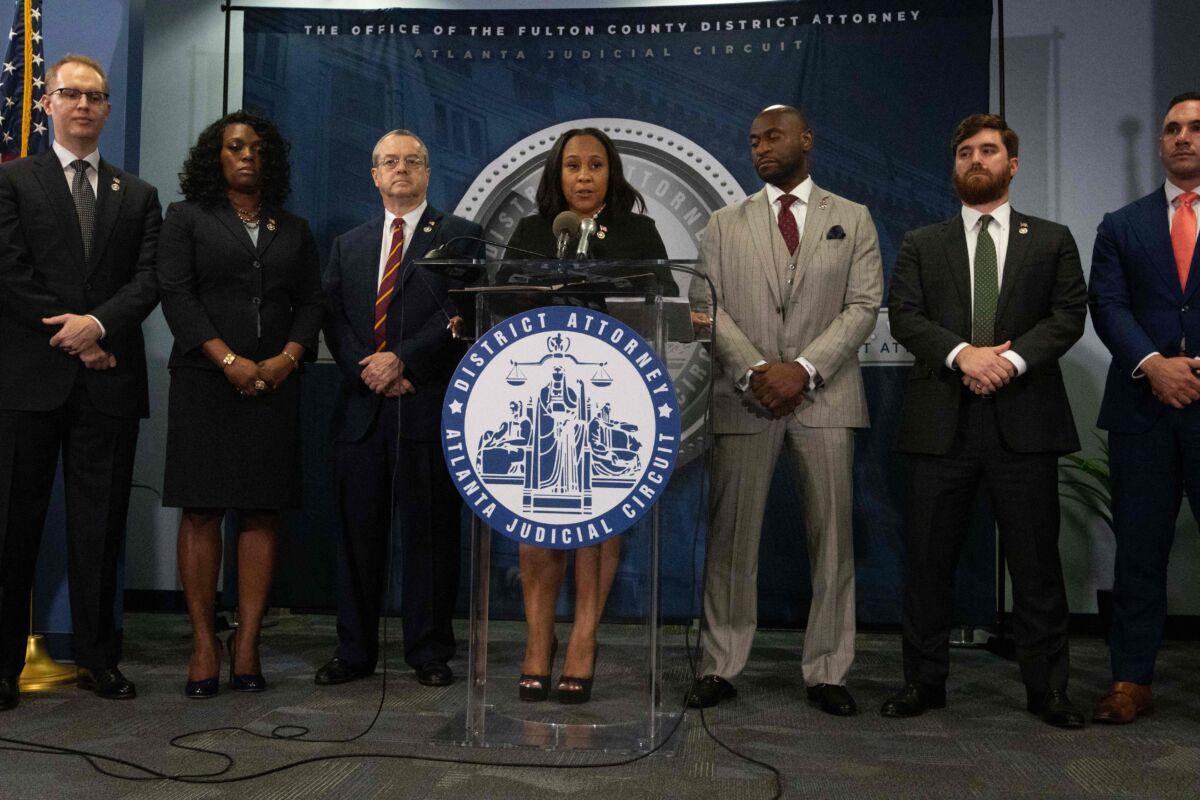 Ms. Willis argued in her brief that the Pate decision supports her side.
"An examination of this Court's reasoning in Pate reinforces the State of Georgia's earlier arguments regarding Section 1442(a)(1)'s application in this case … only current federal officers may remove state actions to federal court under the authority granted by Section 1442(a)(1)."
"Following the principles outlined by this Court in Pate, analyzing the plain language of the statute and applying well-established canons of construction, 28 U.S.C. [Section] 1442(a)(1) cannot be interpreted to authorize removal of a criminal prosecution commenced in a state court against a former federal officer," the brief stated.
The analysis in Pate of "statutory text, existing precedent, and the relevance of a statute's purported purpose all point to the same conclusion: former officers cannot remove their cases under Section 1442(a)(1)."
The 11th Circuit is scheduled to hear oral arguments in Mr. Meadows's appeal in Atlanta on Dec. 15.
From The Epoch Times