Around a quarter of the world's pigs are expected to die from African swine fever as the disease spreads worldwide, the World Organization for Animal Health's (OIE) president said Thursday.
The disease rapidly spread across China last year, which has half of the world's population of pigs, said Dr. Mark Schipp, the organization's president, at a briefing in Sydney, Australia. The disease has also spread in Mongolia, the Korean Peninsula, Southeast Asia, East Timor, Vietnam, Cambodia, Laos, and the Philippines.
Reduction in the global pig population could lead to high pork prices, food shortages, and shortages in products made from pigs, including the blood-thinner heparin—a medication used to treat heart attacks and unstable angina, or chest pain.
"Most of it is sourced from China, which has been badly hit. There are concerns that this will threaten the global supply of heparin," said Schipp.
So far, Chinese officials have killed about 1.2 million pigs in an attempt to curb the epidemic in the country, which produces and consumes two thirds of the world's pork, since August last year.
"I don't think the species will be lost, but it's the biggest threat to the commercial raising of pigs we've ever seen," he added. "And it's the biggest threat to any commercial livestock of our generation."
African swine fever originated in South Africa before spreading to Europe and Asia. It is spread by contact among pigs, through contaminated fodder and by ticks. Though it can also be spread by a tourist who brings back a ham or sausage sandwich from a contaminated country, throws it away, and the garbage is reused by farmers to feed their pigs, OIE Director General Monique Eloit said on Wednesday.
The disease is fatal to pigs but no threat to humans and has appeared in 50 countries so far.
"We are really facing a threat that is global," Eloit said.
"In the short term, we are not going towards an improvement. We will continue to have more outbreaks in the infected countries. Neighboring countries are at high risk, and for some, the question is when they will be infected," she said, stressing that controls are difficult to implement.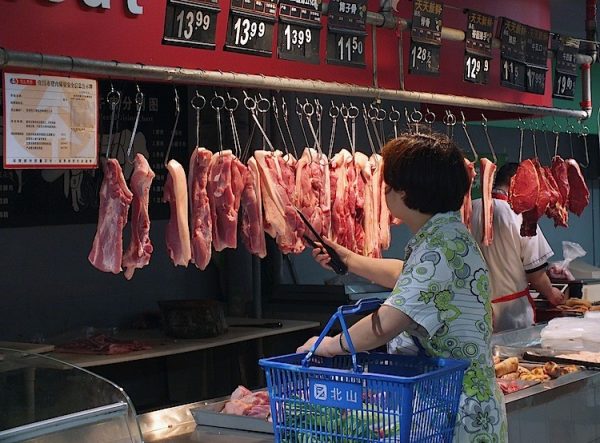 China Regulates Prices in Bid to Solve Pork Shortage Crisis
Chinese authorities have started regulating the price of pork in a bid to cope with a deadly outbreak that has devastated the country's hog herd and sent prices soaring in China and globally.
"There are some shortages in some countries, and there's been some substitutions using other sources of protein, which is driving up the prices of other proteins," said Schipp.
African swine fever has wiped out a third of the pig herd in China, causing pork prices to skyrocket over the first few months and have now nearly doubled from a year ago.
In response to the price surges, about ten provinces or cities in China, including Sichuan, Jiangsu, and Guangdong, have issued policies and released frozen reserves, according to the state-backed newspaper Beijing News.
The Chinese regime has described regulating pork prices as an "important political task" in maintaining social stability. According to a transcript obtained by the Financial Times, China's vice premier Hu Chunhua expressed worries that the increasing pork prices could "damage the image of the Party and the government."
The Associated Press, Reuters, and Epoch Times reporter Eva Fu contributed to this report.