Republicans' standalone bill granting additional funding to Israel amid its ongoing conflict with Hamas will likely receive widespread bipartisan support, according to newly elected House Speaker Mike Johnson (R-La.).
Mr. Johnson was elected the 56th House speaker on Wednesday and quickly got down to business on a number of issues, including the ongoing conflict in the Levant, Russia's invasion of Ukraine, and a looming government shutdown.
Speaking to Fox News' "Sunday Morning Futures," the newly elected speaker noted Republicans plan to pass a standalone bill regarding funding for Israel that will not be tied to funding for Ukraine, as has been requested by the Biden administration.
President Joe Biden earlier this month requested that a huge defense spending package amounting to nearly $106 billion in aid for Ukraine and Israel be passed by Congress.
Under that spending bill, the administration has requested $14.3 billion in additional assistance to Israel and $61.4 billion in supplemental aid to Ukraine.
Additionally, President Biden is seeking $9.15 billion in humanitarian assistance for Gaza, Israel, and Ukraine.
Some Republican lawmakers, however, have raised concerns regarding additional funding to Kyiv and called for increased transparency regarding where exactly the funding is being spent.
At least nine GOP lawmakers have urged funding for Israel to be passed separately to Ukraine and have criticized the Biden administration's attempts to leverage the support of aid to Israel in an attempt to get additional aid for Ukraine.
While the newly-introduced Republican measure allocates the $14.3 billion requested by President Biden for Israel, it also offsets an equal amount in IRS funding under the Inflation Reduction Act which was signed into law by President Biden last year, a move that will likely see it rejected by the Democratic-led Senate and White House.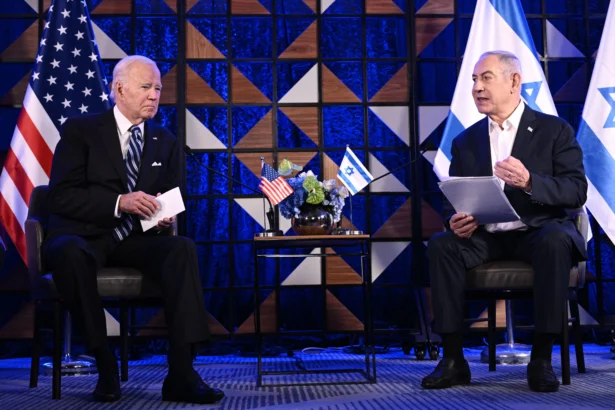 Israel Funding Bill a 'Pressing, Urgent Need'
Still, Republicans' bill, according to the Louisiana lawmaker, will likely garner bipartisan support.
"There are lots of things going on around the world that we have to address, and we will, but right now what's happening in Israel takes the immediate attention and I think we've got to separate that and get it through," Mr. Johnson told Fox News. "I believe there'll be bipartisan support for that and I'm going to push very hard for it," he added.
Mr. Johnson's comments followed an appearance at the Republican Jewish Coalition in Las Vegas on Oct. 29 where he promised that House Republicans will "work swiftly to pass legislation to provide Israel much-needed resources in their fight against these barbarians," and insisted there will only be a ceasefire in the conflict once "Hamas ceases to be a threat to Israel."
Speaking to Fox News on Sunday, the House speaker called Israel a "strong ally" and "great friend" of the United States, while condemning the attacks launched by Hamas on Israeli citizens.
"We cannot allow the brutality and the unspeakable evil that is happening against Israel right now to continue, we're going to stand with our friends," he said, adding that GOP lawmakers believe funding to Israel is a "pressing and urgent need."
Elsewhere, Mr. Johnson touched on the looming government shutdown, stressing that it is his "first priority" to reach an agreement on government funding before the Nov. 17 deadline.
The Senate passed a House bill on Sept. 30 preventing a government shutdown by keeping it temporarily funded at 2023 levels until mid-November, but that deadline is fast approaching ahead of Thanksgiving.
Mr. Johnson said GOP lawmakers will look at implementing another temporary relief measure if they are unable to reach an agreement on funding by mid-November.
"If indeed we come to Nov. 17 and we're unable to finish that because it's detailed work and it takes some time, we'll look at another stopgap measure," Mr. Johnson said. "But I think everyone will be on board with that because they understand we're really doing this work."
"If we run out of time on the calendar, we may need a little bit more to complete it," the House speaker added.
From The Epoch Times