The Judicial Watch group has filed an ethics complaint against Rep. Ilhan Omar amid a growing pile of evidence that indicates she may have committed marriage fraud.
The government watchdog group said in a letter delivered to David Skaggs, the chairman of the House of Representatives Office of Congressional Ethics, on July 23 that compelling evidence indicated Omar had committed multiple types of fraud.
"Substantial, compelling and, to date, unrefuted evidence has been uncovered that Rep. Ilhan Omar may have committed the following crimes in violation of both federal law and Minnesota state law: perjury, immigration fraud, marriage fraud, state and federal tax fraud, and federal student loan fraud," wrote Tom Fitton, president of Judicial Watch, in the letter.
"Rep. Omar actions in this suspected immigration fraud, marriage fraud, perjurious statements on her Minnesota divorce filings, and falsifications on her tax returns, merit your immediate investigation."
— David Steinberg ???????? (@realDSteinberg) February 13, 2019
Fitton cited evidence uncovered by reporters and writers David Steinberg, Scott Johnson, and Preya Samsundar in the past several years, which includes photographs posted on social media by Omar's ex-husband Ahmed Nur Said Elmi, a citizen of the United Kingdom, that indicates Omar committed perjury in her divorce papers in 2017.
"Documented-based reporting by Steinberg, et al. has developed the following information: Rep. Ilhan Abdullahi Omar, a citizen of the United States, married her biological brother, Ahmed Nur Said Elmi, a citizen of the United Kingdom, in 2009, presumably as part of an immigration fraud scheme. The couple legally divorced in 2017," Fitton wrote.
"In the course of that divorce, Ms. Omar submitted an 'Application for an Order for Service by Alternate Means' to the State of Minnesota on August 2, 2017, and claimed, among other things, that she had had no contact with Ahmed Nur Said Elmi after June 2011. She also claimed that she did know where to find him. The evidence developed by Mr. Steinberg and his colleagues demonstrates with a high degree of certainty that Ms. Omar not only had contact with Mr. Elmi, but actually met up with him in London in 2015, which is supported by photographic evidence."
Fitton noted that Steinberg, a PJ Media editor who has written extensively about Omar's alleged fraud, posted photographs from Omar's social media accounts that showed her with Elmi in London in 2015. Omar later deleted the pictures.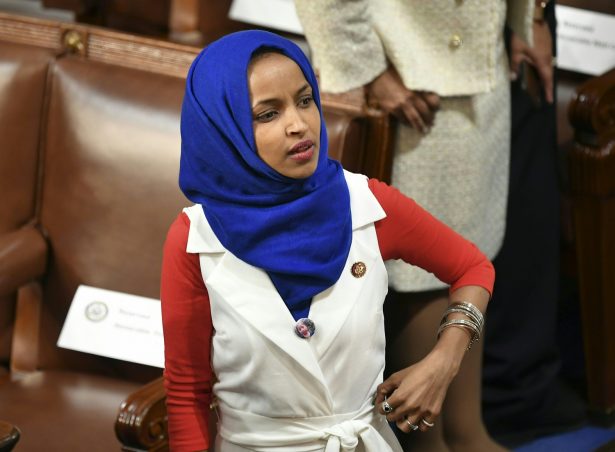 Elmi told another website, Alpha News, that he was in some of the photographs cited but claimed that he had never been married to anyone and did not know who Omar was.
"I can't even begin to recall who those people are, to be honest. I'm sure we were introduced, but I wasn't even aware that the picture existed," he said about a picture in which he and Omar are standing near each other smiling.
Steinberg also discovered address and school records that indicated Omar and Elmi went to the same college along with Omar's first and current husband.
"Rep. Omar's conduct may include immigration fraud. It appears that Rep. Omar married her brother in order to assist his emigration to the United Stated from the United Kingdom. The same immigration fraud scheme may have aided Mr. Elmi in obtaining federally-backed student loans for his attendance at North Dakota State University. Mr. Elmi and Rep. Omar simultaneously attended North Dakota State University and may have derived illicit benefits predicated on the immigration fraud scheme," Fitton wrote.
The Judicial Watch president referenced the recent findings by the Minnesota campaign finance and public disclosure board, which found Omar filed joint taxes with her current husband even though she was still married to Elmi.
"Rep. Omar's federal tax returns must be examined to determine whether any additional falsifications were made," Fitton wrote. "We call upon the Office of Congressional Ethics to launch an investigation into Rep. Omar's conduct immediately."