Rep. Ilhan Omar (D-Minn.) is refusing to address the myriad of questions surrounding her alleged fraudulent marriage even after an investigation by state authorities found she filed joint tax returns with one man even though she was still married to another.
Records showed that Omar and her current husband, Ahmed Hirsi, filed joint returns in 2014 and 2015 despite not getting married until 2018. Omar was married to Ahmed Nur Said Elmi, who is allegedly her brother, until 2017.
An editor for the Minneapolis Star-Tribune said Omar has been "unwilling to address" the marriage fraud allegations even after what the investigation uncovered came to light.
"Our public records searches determined that in at least one period after she married Elmi, all three (Omar, Elmi and Hirsi) used the same address in Minnesota. It raises questions about the nature of the relationship if she is living with both the person she's married to and her eventual husband," Kevin Diaz told the PolitiFact website this week.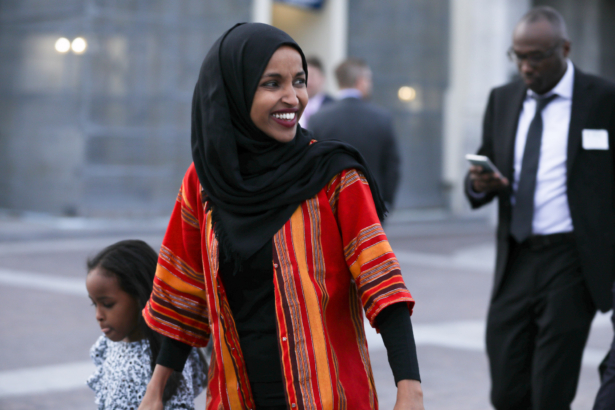 "What's really made it hard is that she's been unwilling to address any of these questions. That has fueled the controversy. We quoted her at length to say that these were mere accusations, that they were unfair, and that she shouldn't have to address them. Be that as may, there was an undisputed instance of her filing her taxes improperly. And if you're in Congress, you should explain that to your constituents," Diaz added.
Diaz said that a June 23 article, in which Star-Tribune reporters wrote that they "could neither conclusively confirm nor rebut the allegation that he is Omar's sibling," arose from the silence Omar has kept on the issue.
"My interest as an editor began with the silence she has maintained about her improper tax filings. That got my attention," Diaz added to PolitiFact.
"She would say only that she had corrected the 2014 and 2015 tax filings and would not divulge anything about why she had filed taxes with a man she was not married to when she was separated but still married to someone else. It was a natural question: Who is Elmi and how does he fit into her life? We were not getting a lot of answers."
The Omar story — from the Star Tribune. https://t.co/1f5EixXG7S

— David Harsanyi (@davidharsanyi) July 17, 2019
Here it is: @IlhanMN's long-rumored past, as described by multiple sources in the MN Somali community.

For verifiable evidence I found to confirm it, read my latest article at Scott Johnson's Powerline. Let us know if you think it's "probable cause":https://t.co/lHHQH0XG9x pic.twitter.com/NuqUJkqt3i

— David Steinberg ???????? (@realDSteinberg) July 18, 2019
President Donald Trump was asked about the issue this week and said he didn't know the truth of what really happened.
While the Star-Tribune said there wasn't enough evidence to conclude Omar committed marriage fraud, some reporters and researchers have said there is enough evidence.
PJ Media editor David Steinberg has written extensively about the issue, providing pictures and documents that indicate Omar may have committed the fraud in addition to perjury when she wrote on a document that she had not had contact with Elmi since 2011. Pictures showed them together in 2016, Steinberg reported, including screenshots of the social media posts.
Elmi confirmed to another website, Alpha News, that he was the man seen with Omar in some pictures but claimed that he had never been married to anyone and did not know who Omar was.
Answering follow-up inquiries, Elmi responded that he "can't stress enough how bizarre it feels to answer these questions."