Armita Geravand, a 16-year-old Iranian girl, has died following an alleged encounter with officers over violating the country's hijab law, the state-run IRNA news agency reported on Saturday.
"Unfortunately, she went into a coma for some time after suffering from brain damage. She died a few minutes ago," IRNA reported.
Armita had been pronounced brain dead on Oct. 22 after she fell into a coma on Oct 1.
The death of 22-year-old Mahsa Amini in the custody of morality police last September sparked months of anti-Iranian regime protests that spiraled into the biggest show of opposition to Iranian authorities in years.
Rights groups were the first to make Armita's hospitalization public, posting photos on social media that showed her unconscious and on life support, with a respiratory tube and her head bandaged. The Epoch Times could not verify the pictures.
Iran has denied that Armita was hurt after a confrontation on Oct. 1 with officers enforcing the mandatory Islamic dress code in the Tehran metro.
Women are required by law to cover their hair and wear long, loose-fitting clothes in Iran, where the secular and Western-backed Shah was deposed in a revolution in 1979.
Violators face public rebuke, fines ,or arrest yet defying the strict Islamic dress code, more women have been appearing unveiled in public places such as restaurants and shops since Amini's death.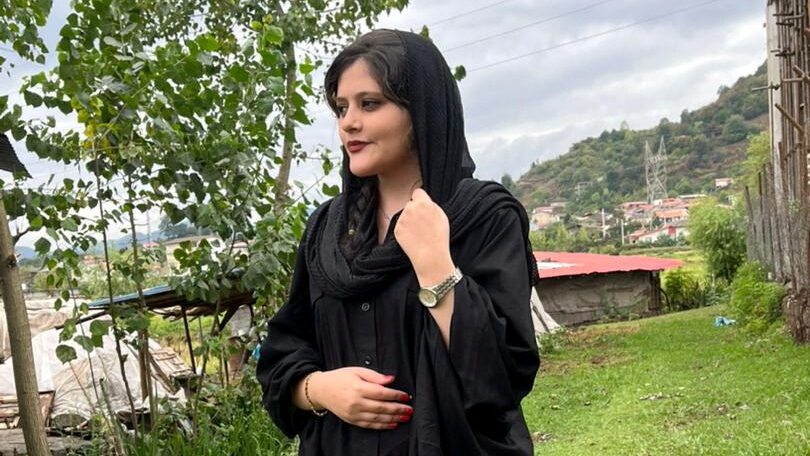 Armita's Oct. 1 injury and now her death threaten to reignite that popular anger, particularly as women in Tehran and elsewhere still defy Iran's mandatory headscarf, or hijab, law as a sign of their discontent with Iran's theocracy.
"Armita's voice has been forever silenced, preventing us from hearing her story," wrote the New York-based Center for Human Rights in Iran. "Yet we do know that in a climate where Iranian authorities severely penalize women and girls for not adhering to the state's forced-hijab law, Armita courageously appeared in public without one."
It added: "As long as the Iranian government enforces its draconian mandatory hijab law, the lives of girls and women in Iran will hang in the balance, vulnerable to severe rights violations, including violence and even death."
IRNA reported Armita's death, without noting the wider unrest surrounding the headscarf law. Armita suffered her injury at the Meydan-E Shohada, or Martyrs' Square, Metro station in southern Tehran.
"According to the official theory of Armita Geravand's doctors, after a sudden drop in blood pressure, she suffered a fall, a brain injury, followed by continuous convulsions, decreased cerebral oxygenation and a cerebral edema," the IRNA report read.
What happened in the few seconds after Armita entered the train on Oct. 1 remains in question. While a friend told Iranian state television that she hit her head on the station's platform, the soundless footage aired by the broadcaster from outside of the car is blocked by a bystander. Just seconds later, her limp body is carried off.
Iranian state TV's report, however, did not include any footage from inside the train itself and offered no explanation on why it hadn't been released. Most train cars on the Tehran Metro have multiple CCTV cameras, which are viewable by security personnel.
Armita's parents appeared in state media footage saying a blood pressure issue, a fall, or perhaps both contributed to their daughter's injury.
Activists abroad have alleged Armita may have been pushed or attacked for not wearing the hijab. They also demanded an independent investigation by the United Nations' fact-finding mission on Iran, citing the theocracy's use of pressure on victims' families and state TV's history of airing hundreds of coerced confessions.
The Epoch Times has not been able to confirm the exact circumstances of what caused Armita's injuries.
The Hengaw Organization for Human Rights, which reports on abuses in Iran's western Kurdish region and earlier published a photograph of Armita in a coma, renewed its calls Saturday for an independent international investigation citing "the practice of the Islamic Republic in concealing the truth."
"During the last 28 days, the Islamic Republic of Iran tried to distort the narrative of the government murder of this teenage girl," the group alleged.
The Oslo-based group Iran Human Rights similarly called for an investigation.
Supreme Leader Ayatollah "Ali Khamenei is personally responsible for Armita Garavand's death unless an independent international investigation proves otherwise," said Mahmood Amiry-Moghaddam, the group's director.
Armita's injury and subsequent death also comes as Iran has put its morality police—whom activists implicate in Amini's death—back on the street, and as lawmakers push to enforce even stricter penalties for those flouting the required head covering. Internationally, Armita's injury sparked renewed criticism of Iran's treatment of women and of the mandatory hijab law.
On Saturday, U.S. Deputy Special Envoy for Iran Abram Paley wrote online that he was mourning Armita's death.
"Iran's state-sponsored violence against women & girls has been devastating for so many families in Iran & abroad," he wrote.
Amini died in a hospital on Sept. 16, 2022, after she was detained by Iranian morality police on allegations of improperly wearing the hijab. Suspicions that she was beaten during her arrest led to mass protests that represented the largest challenge to Iran's theocratic regime since the revolution.
Since those large-scale protests subsided, many women in Tehran could be seen without the hijab in defiance of the law.
Meanwhile, imprisoned Iranian activist Narges Mohammadi won the Nobel Peace Prize earlier this month in recognition of her tireless campaigning for women's rights and democracy, and against the death penalty. The Iranian regime criticized her awarding of the prize as a political stunt, without acknowledging its own decadeslong campaign targeting Ms. Mohammadi for her work.
Iran remains squeezed by sanctions and faces ever-rising tensions with the West over its rapidly advancing nuclear program and its aid to regional terrorists groups, including a renewed focus on its relationship with the Hamas terrorist group following that group's unprecedented attack on and war with Israel.
Iran and neighboring Taliban-ruled Afghanistan are the only countries where the hijab remains mandatory for women.
Reuters and The Associated Press contributed to this report.