Japan is the latest country to tighten border controls for people who have visited mainland China, as the communist regime removes cross-border traveling restrictions despite a COVID-19 outbreak sweeping across the country.
Starting from midnight on Dec. 30, travelers from mainland China are required to present a negative COVID test result upon arrival, Japanese Prime Minister Fumio Kishida said on Dec. 27.
Visitors who test positive have to quarantine for seven days, Kishida told reporters. The government would also limit airlines increasing flights to China, he added.
Japan's new measures came as mainland China emerged from the nearly 3-year-old zero-COVID policy that has roiled the world's second-largest economy and fuelled the country's biggest show of public discontent in decades.
The subsequent abrupt and under-prepared retreat from the stringent curbs has overwhelmed China's hospitals and morgues as the highly contagious Omicron variant spread unabated across the country of 1.4 billion people.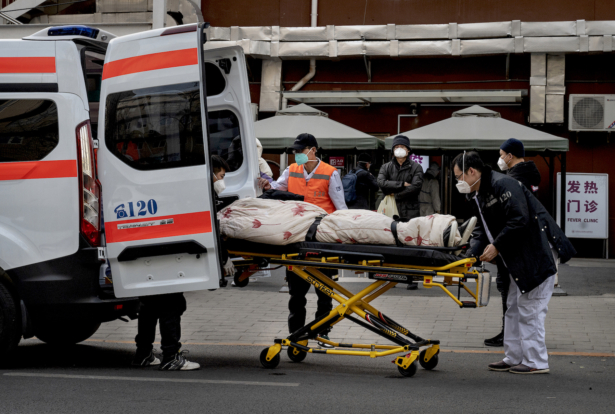 Despite the record surge of COVID infections that have disrupted businesses across the county, the Chinese Communist Party (CCP) appeared to be determined to dismantle the last vestiges of its zero-COVID policy.
Chinese authorities scrapped the mandatory quarantine requirements for inbound international travelers, which is set to start from Jan. 8, China's National Health Commission announced on Dec. 26.
Meanwhile, the authorities resume issuing new passports and travel permits to Hong Kong from Jan. 8, China's National Immigration Administration said on Dec. 27.
The relaxation of international travel curbs came after health authorities announced that the classification of COVID would be downgraded to the less strict "Category B" from the current top-level "Category A."
The downgrade, which will take effect from Jan. 8, means China moves toward opening its border, which has been shuttered for nearly three years.
But the discrepancies of the country's outbreak worry its neighbors.
Officially, there were 2,668 newly confirmed cases and no new deaths nationwide as of Dec. 25, the Chinese Center for Disease Control and Prevention said on Dec. 26.
However, the actual scale of the outbreak appeared to be far worse. Chinese provinces and cities reported that tens of thousands are infected with COVID. For example, Zhejiang, a coastal province located south of Shanghai, estimates it's seeing roughly 1 million infections every day, far surpassing the nationwide tallies.
"It is difficult to grasp the situation in China because the information on infections differs between the central and regional governments, as well as between the government and the private sector," Kishida told reporters, referring to mainland China, according to The Japan Times.
"There are growing worries in Japan," he said. The Japanese prime minister said the new curbs are not intended to stop international travel but to prevent a surge in infections in the country. He added Japan would make efforts to smooth cross-border travel.
Last week, India mandated a COVID negative test result for travelers arriving from mainland China, Hong Kong, Japan, South Korea, and Thailand. India's health minister said on Dec. 24 that passengers from those countries would be put under quarantine if they showed symptoms of COVID or tested positive.
A Surge in International Travel Searches
Chinese citizens, who have experienced relentless lockdowns and hardships under the CCP's draconian COVID measures, flocked to travel sites on Dec. 27.
Within half an hour of the news of the relaxation of the restrictions, searches for popular cross-border destinations had increased 10-fold on China's travel platform Ctrip. Macau, Hong Kong, Japan, Thailand, and South Korea were the most sought-after, Ctrip said.
Data from Trip.com showed outbound flight bookings were up 254 percent early on Tuesday from the day before.
Yet analysts didn't expect an immediate surge of Chinese tourists after reopening.
Liu Simin, an official with the tourism arm of the China Society for Futures Studies, a Beijing-based research institute, said international travel won't recover to pre-pandemic levels until 2024.
The current outbreak across the country affects many Chinese travel plans, according to Liu.
Another problem is money.
"It takes time for people to gain confidence after so many of them lost jobs or made less money during the pandemic," Liu said.
Reuters contributed to this report. 
From The Epoch Times