The war that began on Oct. 7 has become the deadliest of the five Gaza wars for both sides.
Here are the latest updates on the Israel–Hamas war:
______
Israel Says It Will Increase Attacks on Gaza
Israel plans to step up its attacks on the Gaza Strip starting Saturday as preparation for the next stage of its war on Hamas, Israel's military spokesman says.
Asked about a possible ground invasion into Gaza, Rear Adm. Daniel Hagari told reporters Saturday night that the military was trying to create optimal conditions beforehand.
"We will deepen our attacks to minimize the dangers to our forces in the next stages of the war. We are going to increase the attacks, from today," Mr. Hagari said.
He repeated his call for residents of Gaza City to head south for their safety.
______
Biden Speaks With 2 Freed Hostages
President Joe Biden has spoken on the phone with two freed Americans who had been held hostage by Hamas in Gaza.
Judith Raanan and her 17-year-old daughter, Natalie, were released Friday. It was the first such hostage release from among the roughly 210 people the terrorist group abducted from Israel during its Oct. 7 rampage.
Video of President Biden speaking with them by phone was posted Saturday on the X platform, formerly known as Twitter. He told the mother and daughter that he was glad they had been released.
"We're going to get them all out, God willing," he said.
Natalie thanked Biden for his "services" to Israel. Judith said they are in good health.
Hamas said it released the mother and daughter for humanitarian reasons in an agreement with the Qatari government.
Family members have said Judith and Natalie had been on a trip from their home in the Chicago suburb of Evanston to Israel to celebrate Judith's mother's birthday and the Jewish holidays.
______
Biden: US Committed to Ensuring Gazans Have Access to Water, Food
The United States is committed to ensuring that civilians in Gaza will continue to have access to food, water and medical care without it being diverted by Hamas, President Biden said on Saturday.
"We will continue to work with all parties to keep the Rafah crossing in operation to enable the continued movement of aid that is imperative to the welfare of the people of Gaza," he said in a statement after the first convoy of humanitarian supplies passed through the crossing into the enclave.
______
Italian Premier Goes to Israel
Italian Premier Giorgia Meloni has made a trip to Israel to meet with Israeli Prime Minister Benjamin Netanyahu, her office said.
The meeting Saturday came after Ms. Meloni participated in a summit in Cairo focused on ways to deescalate the raging Israel-Hamas war.
Ms. Meloni's office said that in her meeting she reiterated "the right of Israel to defend itself under international law and to live in peace" while also underlining "the importance of guaranteeing humanitarian access to Gaza and a prospect of peace for the region.''
Her office said she brought "a message of solidary and Italy's closeness" following Hamas's unprecedented attack on Oct. 7.
______
Israeli-American Reservist Killed by Hezbollah Missile in Israel: IDF
An Israeli reserve soldier with dual American citizenship was killed Thursday by an anti-tank missile fired from Lebanon, according to Israel Defense Forces.
The soldier was identified as Staff Sgt. Omer Balva, 22, from Herzliya, Israeli media reported. He was a commander in the 9203rd Battalion of the Alexandroni Brigade.
Mr. Balva was born to Israeli parents but grew up in Rockville, Maryland, where he attended the Charles E. Smith Jewish day school, the Times of Israel reported.
______
Fighting Intensifies Along Israel's Border With Lebanon
Israeli forces and Hezbollah terrorists exchanged fire Saturday in several areas along the Lebanon-Israel border as violence escalates over the Israel–Hamas war.
Tension has been picking up along the border over the past two weeks following the Oct. 7, attack by the Palestinian terrorist Hamas group on southern Israel that killed over 1,400 civilians and troops. Israel's strikes on Gaza since then have killed over 4,000 Palestinians.
An Associated Press journalist in south Lebanon heard loud explosions along the border close to the Mediterranean coast.
The state-run National News Agency reported that Israeli shelling hit several villages, adding that a car was directly hit in the village of Houla. There was no immediate word on casualties.
An Israeli army spokesman said a group of gunmen fired a shell into Israel adding that an Israeli drone then targeted them. He added that another group of gunmen fired toward the Israeli town of Margaliot and a drone attacked them shortly afterward.
"Direct hits were scored in both strikes," Israeli army spokesman Avichay Adraee posted on X, formerly known as Twitter.
_____
Dual Citizens Can't Get Out of Gaza
Palestinian-Americans and other dual citizens rushed to southern Gaza's Rafah crossing with Egypt on Saturday as 20 trucks loaded with humanitarian aid entered the besieged strip that has staggered under shortages of medicine and food.
Even as embassies asked their citizens in Gaza to stand ready at the border, crowds of disappointed Palestinians holding American, Canadian, German, and British passports waited hours in vain for at least the fifth time this week.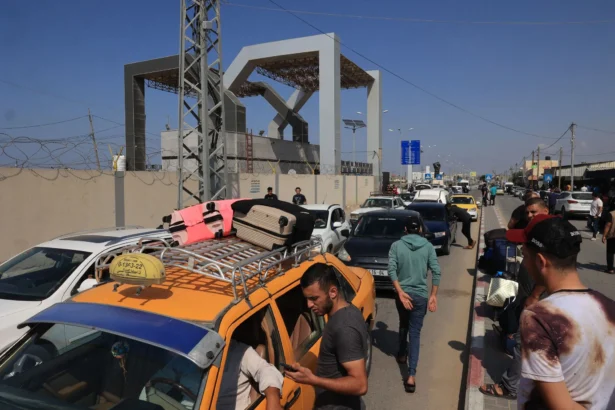 ____
Iraqi Prime Minister Warns of Effect on Oil if Conflict Spreads
Iraq's prime minister warned Saturday that if the war between Israel and Hamas spreads to other countries in the region it will affect the flow of oil to international markets.
Mohammed Shia al-Sudani was apparently referring to Iran-backed terrorists that have started launching attacks against U.S. bases in Iraq and Syria and have warned they will step in if Hamas is threatened.
Mr. Al-Sudani told an international summit held in Egypt that Baghdad rejects the emptying of the Gaza Strip because "the Palestinians have no other place but their land."
He called for an immediate cease-fire and an exchange of prisoners to end the current conflict.
_____
Iraqi Prime Minister Warns of Effect on Oil if Conflict Spreads
Iraq's prime minister warned Saturday that if the war between Israel and Hamas spreads to other countries in the region it will affect the flow of oil to international markets.
Mohammed Shia al-Sudani was apparently referring to Iran-backed terrorists that have started launching attacks against U.S. bases in Iraq and Syria and have warned they will step in if Hamas is threatened.
Mr. Al-Sudani told an international summit held in Egypt that Baghdad rejects the emptying of the Gaza Strip because "the Palestinians have no other place but their land."
He called for an immediate cease-fire and an exchange of prisoners to end the current conflict.
____
Biden Says Hamas Attacked Israel in Part to Stop Historic Agreement With Saudi Arabia
President Joe Biden said Friday he thought Hamas was motivated to attack Israel in part by a desire to stop that country from normalizing relations with Saudi Arabia.
"One of the reasons … why Hamas moved on Israel, is because they knew I was about to sit down with the Saudis," President Biden said at a campaign fundraiser. The U.S. president indicated that he thinks Hamas terrorists launched a deadly assault on Oct. 7 because "Guess what? The Saudis wanted to recognize Israel" and were near being able to formally do so.
Jerusalem and Riyadh had been steadily inching closer to normalization, with President Biden working to help bring the two countries together, announcing plans in September at the Group of 20 summit in India to partner on a shipping corridor.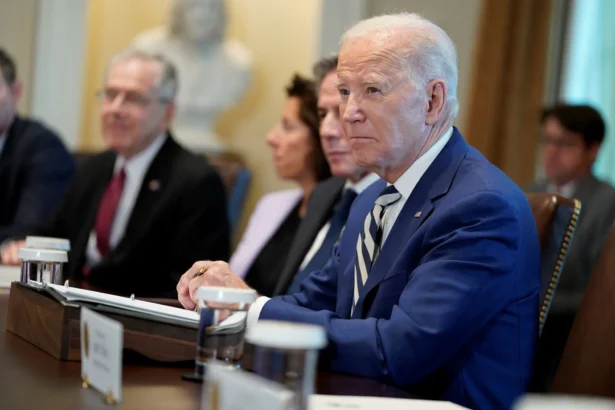 _____
Iran-Backed Extremists in Iraq Warn US Forces to Leave or Face More Attacks
A group of Iranian-backed terrorists in Iraq said U.S. forces "must leave immediately" or their bases in Iraq and elsewhere in the region will continue to come under attack.
Terrorist groups have launched rocket and drone attacks in recent days against U.S. bases in Iraq and Syria, most of which were claimed by the Islamic Resistance in Iraq. The group has said the attacks are retaliation for Washington's support of Israel and a warning not to intervene in the Israel-Hamas war.
"These are only warning messages to them, and serious work has not yet begun," the terrorists said in a statement.
The statement concluded by saying that if Israel launches a ground invasion into Gaza, "watch the border with Jordan carefully." It did not elaborate.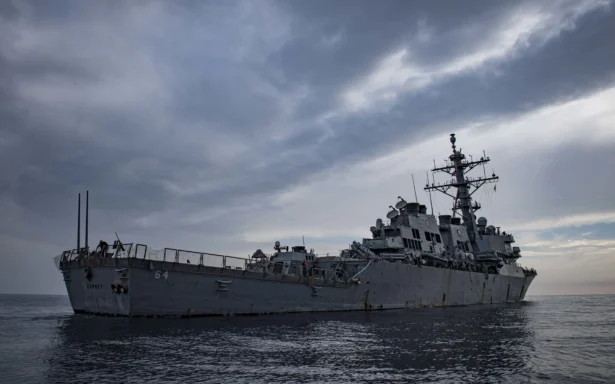 ______
Egyptian President Says Forcing Palestinians Into Egypt Isn't the Answer
Egyptian President Abdel Fattah el-Sissi has reiterated his government's rejection of forcing Palestinians in Gaza to flee into his country's Sinai Peninsula.
He said that the Palestinian cause won't be settled through forcing the Palestinians to leave their homes, and "end the statehood dream."
"The whole Egyptian people won't accept the liquidation of the Palestinian cause … and will never happen on the expanse of Egypt," Mr. el-Sissi said.
Speaking at a summit his government is hosting on the war Saturday, the Egyptian leader set out a roadmap to end the ongoing war which included ensuring the flow of aid to Gaza, negotiating a cease-fire, and embarking on peace talks between Israel and the Palestinians to establish a Palestinian state based on the borders before the 1967 Mideast war.
"We are facing an unprecedented crisis that requires full attention to avert expanding the conflict," he said.
_____
UN Chief: Hamas Attack Doesn't Justify Israel's 'Collective Punishment' of Palestinians
The United Nations' chief says Hamas' "reprehensible assault" on Israel "can never justify the collective punishment of the Palestinian people."
Secretary-General António Guterres called for the protection of civilians and the sparing of civilian infrastructure, including hospitals, schools, and U.N. premises, from the bombardment.
Speaking at a summit Egypt is hosting on the Israel-Hamas war, Guterres pointed to "the wider context" of war, saying that the two-state solution to the Israeli-Palestinian conflict is "the only realistic foundation for a true peace and stability."
"Israelis must see their legitimate needs for security materialized, and Palestinians must see their legitimate aspirations for an independent state realized," he said.
______
Arab Leaders Denounce Israel Attacks on Gaza as Risks of Regional Conflict Rise
Arab leaders condemned Israel's two-week-old bombardment of Gaza on Saturday and demanded renewed efforts to reach a Middle East peace settlement to end a decades-long cycle of violence between Israelis and Palestinians.
Speaking at a hastily convened gathering dubbed the Cairo Peace Summit, Jordan's King Abdullah denounced what he termed global silence about Israel's attacks on the enclave and urged an even-handed approach to the Israeli-Palestinian dispute.
"The message the Arab world is hearing is that Palestinian lives matter less than Israeli ones," he said, adding he was outraged and grieved by acts of violence waged against innocent civilians in Gaza, the West Bank, and Israel.
"The Israeli leadership must realize once and for all that a state can never thrive if it is built on a foundation of injustice. … Our message to the Israelis should be that we want a future of peace and security for you and the Palestinians," he said.
Palestinian President Mahmoud Abbas said Palestinians would not be displaced or driven off their land.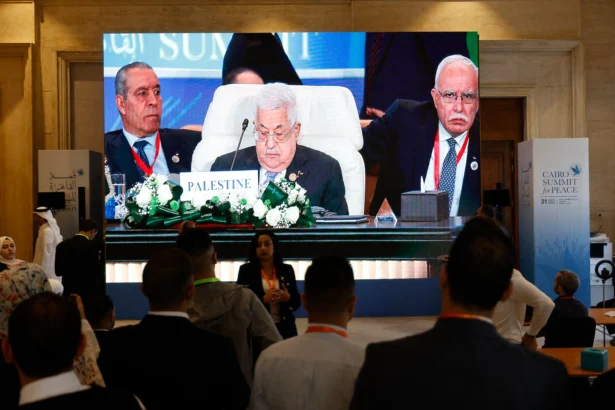 ______
Israel Tells Citizens Not to Travel to Egypt or Jordan
The Israeli government has increased its travel alert for Egypt and Jordan, telling its citizens not to travel there and that those already there should leave immediately.
"Hostility and violence have been displayed against Jewish and Israeli symbols. The rhetoric of global jihad has become more extreme, which is calling to harm Israelis and Jews around the world," the country's National Security Council said in a statement.
It also increased its warning for Morocco, telling Israelis to avoid all nonessential travel to the North African country. That advice has already been issued for a slew of other Muslim countries in the region.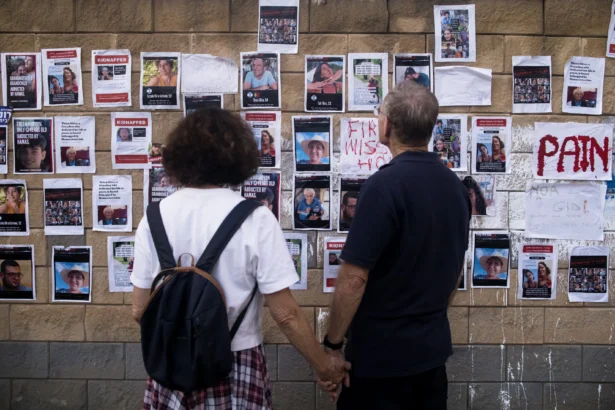 ______
First Aid Trucks Cross Into Gaza From Egypt
Trucks with humanitarian aid that have been stranded in Egypt entered the Rafah border crossing with the besieged Gaza Strip on Saturday after days of diplomatic wrangling over conditions for delivering the relief.
Television images showed trucks moving into the border crossing area from the Egyptian side. Rafah is the main route in and out of the Gaza Strip that is not controlled by Israel, and the focus of efforts to deliver aid to Gaza's 2.3 million residents.
Israel imposed a total blockade and launched air strikes on Gaza in response to a deadly attack on Israeli soil by terrorist group Hamas on Oct. 7.
Hamas, which has controlled Gaza since 2007, said a relief aid convoy of 20 trucks would enter on Saturday, carrying medicine, medical supplies, and a limited amount of food and canned goods.
The U.N. has warned of "humanitarian catastrophe" in Gaza, where food has been running out and supplies of fuel needed to keep hospital backup generators running have reached dangerously low levels.
U.N. Secretary-General Antonio Guterres visited the border on Friday in a push to get the aid in, saying a mechanism for inspection of the aid demanded by Israel was still being worked out.
Many of Gaza's residents have crammed into the south of the territory to avoid air strikes in the north.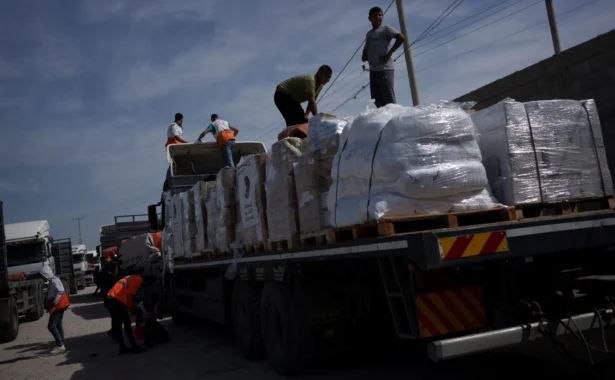 ______
Israel Evacuates Residents of Town Near Lebanon Border
Israel on Friday began evacuating Kiryat Shmona, a large town of more than 20,000 people located near its border with Lebanon, putting residents up in hotels elsewhere in the country.
The move comes after "repeated rocket and missile attacks by the Hezbollah terror group and other allied Palestinian factions targeting northern Israel," reported the Times of Israel.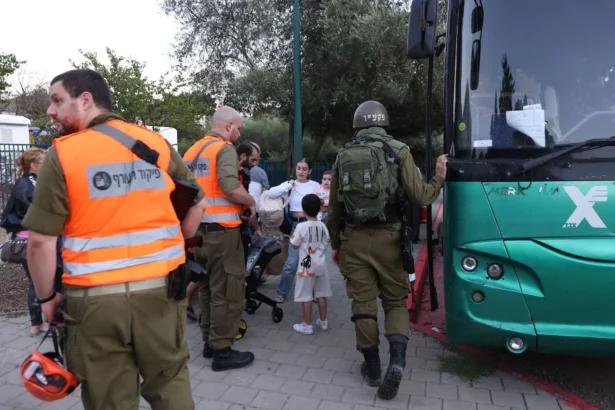 Lebanon's Hezbollah, like the Gaza Strip's Hamas, is backed by Iran. It has a massive arsenal of long-range rockets. Hezbollah has hinted it may join the war if Israel seeks to annihilate Hamas.
Israel is planning to carry out an operation in the Gaza Strip, which has been under Hamas's control since 2007.
Daniel Hagari, a spokesperson for the Israel Defense Forces (IDF), said: "This kind of evacuation, which has already been done in a number of towns on the northern border, allows the IDF to expand its operational freedom to act against the Hezbollah terrorist organization."
Israel's military said one of its drones "struck a terrorist in Lebanese territory" overnight. It also said it targeted Hezbollah assets in response to rockets fired from Lebanon.
Evacuees from Kiryat Shmona will be put up in state-subsidized guesthouses, Israel's Defense Ministry said, joining tens of thousands of Israelis who have already left their homes near the southern Gaza border.
______
Israeli Military Struck Over 100 Hamas Targets in Gaza Strip
The Israeli Defense Forces (IDF) said Friday it struck over 100 operational targets belonging to Hamas overnight, and "and killed a Hamas operative who took part in the murderous massacres in southern Israel."
IDF fighter jets struck "over a hundred terror targets" of Hamas, including "an underground tunnel, weapon warehouses, and dozens of operational command centers." The IDF also included a video of the strike.
"During the strikes, Amjad Majed Muhammad Abu 'Odeh, a Hamas naval operative was [sic] who took part in the massacre of Israeli civilians in southern Israel, was killed. In addition, a terror squad belonging to the Hamas aerial array was neutralized in a targeted strike Gaza City, after they attempted to fire rockets at a jet.
"In addition, terror assets and weapons located in a mosque in the Jabaliya neighborhood were destroyed, which was used as observation posts and staging ground by Hamas terrorists."
______
Previous Day's Notable News
No Plans for Israel to Control Life in Gaza: The Israeli military does not plan to control "life in the Gaza Strip" after it destroys Hamas, Israel's defense minister, Yoav Gallant, said on Friday. Mr. Gallant said Israel expects there to be three phases to its war with Hamas. He said it first would attack the group in Gaza with airstrikes and ground maneuvers, then it would defeat pockets of resistance, and finally, it would cease its "responsibility for life in the Gaza Strip."
Hamas Has Released 2 American Hostages: Hamas terrorists on Friday freed two Americans, a mother and her teenage daughter, who had been held hostage in Gaza since terrorists rampaged through Israel two weeks ago. The pair, who also hold Israeli citizenship, were the first hostages to be released. More than 200 are still being held. Read more here.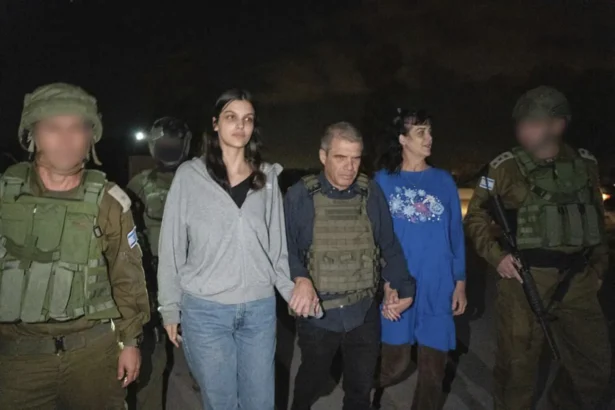 Biden Seeks $14.3 Billion for Military Assistance to Israel: U.S. President Joe Biden wants $14.3 billion to support Israel in its war with Hamas, the White House announced on Friday. The money is part of a supplemental funding request that totals more than $105 billion, including Ukraine, border security, and more. Read more here.
Israel Moves to Shut Down Al Jazeera Channel: Israel is moving towards banning Qatar-funded, pro-Hamas channel Al Jazeera due to concerns that the network is involved in propaganda against the country and is spreading the narrative of terrorist organizations. Read more here.
Israeli Authorities Arrest Hamas Spokesman: Israeli authorities have arrested over 60 Hamas terror operatives, including its spokesman, Sheikh Hassan Yousef, in "large-scale counterterrorism raids" launched across the West Bank on Oct. 19. Read more here.
Media Under Fire After Perpetuating Hamas Claims on Gaza Hospital Blast: As the Israel-Hamas war entered its second week, it had already evolved beyond physical violence into a war of information. The legacy news organizations are facing intense backlash after rushing into amplifying Hamas' side of the story. Read more here.
Geopolitical Strategist Breaks Down Israel–Hamas War's Impacts on Iran, Russia, and China: While the ongoing fighting between Israel and Hamas is part of a longstanding conflict between the Israeli and Palestinian people, a foreign policy analyst believes this latest episode in the conflict comes at a unique time for Iranian, Russian, and Chinese interests in the region and could sharply impact their broader Middle East ambitions. Read more here.
Israel Fears '3-Front War' as Tensions Mount in West Bank: Israeli military officials have voiced fears of a possible "third front" opening up in the next-door West Bank. Israeli army spokesman Jonathan Conricus told Reuters that Hamas seeks to "engulf" Israel in a "two- or three-front war." Read more here.
______
Casualties
According to Israel, more than 1,400 people have been killed and 4,450 have been injured on its side of the border. At least 201 people, including children, were captured by Hamas and taken into Gaza.
Separately, the Israel Defense Forces (IDF) said on Oct. 10 that at least 1,500 Hamas terrorists were killed in Israel while fighting Israelis and their soldiers since the start of the war.
The Hamas-backed Gaza Health Ministry has claimed that over 3,000 civilians have been killed and over 12,500 have been injured in Gaza. In previous Gaza wars, some Palestinian deaths in Gaza were later determined to have been caused by rockets from Hamas that fell short.
______
Summary of Events
The Israel Defense Forces (IDF) on Oct. 13 ordered hundreds of thousands of civilians living in northern Gaza to evacuate as it vowed to annihilate the terrorist group Hamas in response to its unprecedented attack on Oct. 7. Tens of thousands of people in Gaza have since fled south since Israel's warning to evacuate, the United Nations estimated.
Some 1,400 people in Israel were killed in the surprise attack on Oct. 7, which shook the country because of horrifying mobile phone video footage and reports from medical and emergency services of atrocities and potential war crimes in the towns and kibbutzes that were overrun. In response, the IDF swiftly announced "Operation Swords of Iron," which aims to eliminate the Hamas terror group so it can never again attack Israel.
Israel formally declared war on the Hamas Islamists on Oct. 8 and eased its gun license standards to enable more citizens to arm themselves. Israel's prime minister called on Gazan civilians to evacuate the region on Oct. 8, which was followed by a campaign of mass text messages urging civilians to evacuate before the planned assault on Hamas was well and truly underway.
Hamas is an Iran-backed Islamist terrorist group that took charge of the Gaza Strip from a rival Palestinian group, the secular Fatah, in factional fighting in 2007. The Fatah has in recent years expressed it largely supports peaceful negotiations for a two-state solution to secure Palestinians' territorial claims, whereas Hamas does not acknowledge Israel's right to existence and resorts to armed violence.
Hamas terrorists in Gaza are holding more than 200 hostages taken from Israel in its Oct. 7 assault, and on Oct. 9, threatened to kill the hostages if Israeli airstrikes hit Gaza civilians "without warning." The IDF had noted on Oct. 10 that Hamas terrorists have embedded themselves in civilian buildings and, as such, made those structures valid military targets. It blames Hamas for intentionally building its operation centers next to key civilian institutions, like hospitals and schools, to maximize international condemnation of any Israeli attempts to fight back against the terrorists.
Israel has no obligation to, but had been supplying some of Gaza's water and electricity. Since Hamas's Oct. 7 brutal attacks and kidnapping of hostages, Israel cut off supplies of food, fuel, electricity, and medicine into Gaza and vowed to maintain the complete siege until all hostages are freed by Hamas.
On Oct. 11, Israel established an emergency government and a special war cabinet to oversee its military response. It has also called up some 360,000 army reservists who have since gathered along the Gaza border.
Israel's military said it planned to target Hamas's sprawling network of tunnels built under Gaza City—protected by a layer of Palestinian civilian buildings on the surface. Meanwhile, the Hamas terrorist group has vowed to fight to the last drop of blood and has told Gazan residents to stay.
The United States began charter flights on Oct. 13, and boats on Oct. 17, to evacuate Americans out of Israel. President Joe Biden on Oct. 11 said the U.S. government is working with the Israelis to rescue the Americans taken hostage by Hamas.
At least 31 Americans have died and 13 Americans are unaccounted for since the start of the war, the White House confirmed on Oct. 17.
______
See the previous day's updates here.
The Associated Press and Reuters contributed to this report.