The mistress of Chris Watts, the man who was sentenced to life in prison for killing his pregnant wife and two young daughters, searched for wedding dresses just days before the killings.
Investigators looked through Nichol "Nikki" Kessinger's phone as part of the probe into the deaths of Shanann Watts, 34, who was 15 weeks pregnant, Bella Watts, 4, and Celeste Watts, 3.
Chris Watts killed his wife and children in Colorado, on Aug. 13.
Watts told investigators that he discussed separating with his wife at 5 a.m. on that day, several hours after she returned from a work trip, in a conversation that turned emotional. Watts claimed that he killed his wife soon after when he saw her strangling their children on the baby monitor, but prosecutors said he killed both his wife and children.
Watts and Kessinger began communicating in mid-June and struck up a romantic relationship, according to phone data released by authorities. About a month later, Watts had explicit images of his mistress on his phone, some of which were taken by him.
Kessinger searched online for wedding dresses for nearly two hours early on Aug. 4. On Aug. 8, she had searched Google on topics related to "marrying your mistress."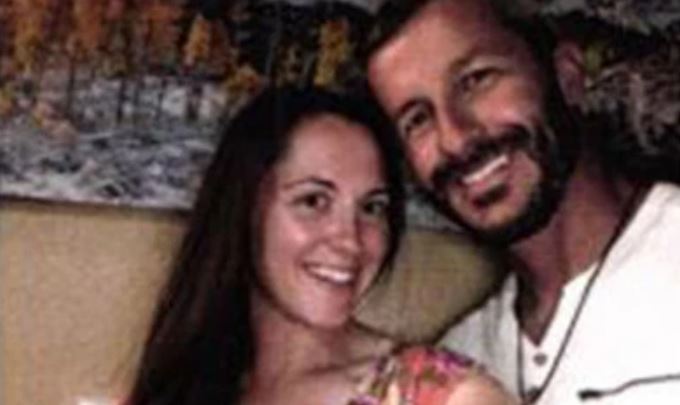 On July 24, Kessinger had searched Google for "Man I'm having affair with says he will leave his wife." Later in the day, she searched for "Victoria Secret" at a nearby location.
The next day, he searched for a number of topics, including "When to say I love you for the first time in a new relationship."
During the weeks leading up to the killings, the two frequently communicated and got together for dates.
In a video on Watts' phone from July 28, Kessinger appears and says, "Thank you so much for coming out here with me Christopher, I am having a wonderful time. You mean a lot to me and I'm glad you're having a blast." They spent the night at the Great Sand Dunes in a tent.
While on vacation with his family in early August, Watts was receiving images of Kessinger and stashing them in a Secret Calculator application, authorities said.
While his wife was on a work trip days before the murders, Watts and Kessinger went out on a date.
'He Lied About Everything'
In addition to the searches, Kessinger spoke with Watts multiple times over the days following his family's disappearance through texts, phone calls, and Skype.
Before and after the disappearances, she also searched online for Shanann Watts and Chris Watts, including looking at their Facebook profiles, and news reports about the disappearances before and after Watts was charged. She spent nearly four hours on Aug. 14 searching online. The day of the disappearance, she searched "can cops trace text message," "how long do phone companies keep text messages," and a related search.
Kessinger said she was fooled by Watts.
"He made me believe that he was doing all of the things that a rational man and good father would do," Kessinger told the Denver Post recently in the only interview she's given, noting Watts claimed he was looking for an apartment that would be good for him and his daughters. "When I read the news, I found out he was still married and his wife was 15 weeks pregnant."
She deleted all of her Google searches for articles related to the Watts women's disappearances.
Kessinger said that Watts told her he would never hurt his family but she sensed he was lying.
"It got to a point that he was telling me so many lies that I eventually told him that I did not want to speak to him again until his family was found," she told the Post. She met with FBI investigators in the hopes of helping with the investigation into where Shanann, Bella, and Celeste went.
When it finally emerged that they had been killed, Kessinger saw it on the news. "I just felt so, so sad," she said. "He's a liar. He lied about everything."