More than 600 people have been arrested in France amid ongoing protests in response to the deadly police shooting of a teenage boy earlier this week, according to Interior Minister Gérald Darmanin.
Darmanin wrote in a June 30 post on Twitter that law enforcement officials had faced "rare violence" last night, which marked the third night of protests in the country.
The arrests came as the protest turned increasingly violent, with widespread looting, fires, and damage to public property reported across multiple cities including Marseille, Lyon, Grenoble, Annecy, Toulouse, and Saint-Etienne.
The protests in France were sparked by the police shooting of a 17-year-old teen identified only as Nahel M. during a traffic stop in Nanterre, just outside Paris, on June 27. The teenager, who is reportedly of Algerian and Moroccan descent, was shot at point-blank range by a police officer as he attempted to drive away from the traffic stop and drove through a red light.
According to multiple reports, some protestors threw fireworks and projectiles at police in Marseille while others set fire to buses, bus depots, and public buildings, in some cases using homemade grenades.
"They came in the middle of the night. It was hundreds of people, who broke in and stole mainly cigarettes," the owner of a tobacco shop said, according to BBC, adding, "I live right upstairs, so I saw them coming and I heard everything. I was shocked."
In Nantes, some protestors reportedly drove a car into a Lidl supermarket before looting it, according to the BBC.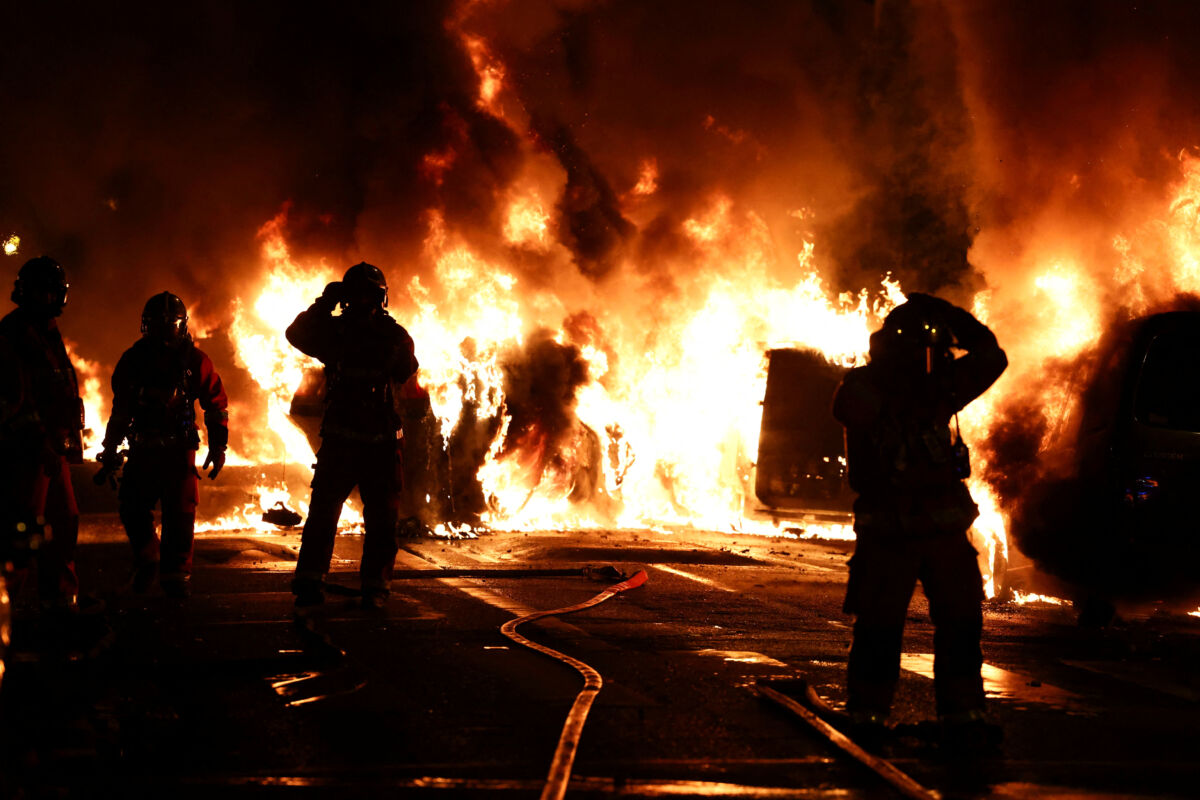 'Vengeance Pour Nael'
Elsewhere in the Parisian suburb of Nanterre, where the teenager was shot, some protestors spray painted "vengeance pour Nael" on the walls, in honor of the young teen, CNN reported. A bank was set on fire in the suburb according to CNN, while multiple fires occurred in the northern city of Lille, including an elementary school and a district office, multiple French outlets reported.
Firefighters worked overnight to tackle the various blazes.
Valerie Pecresse, president of the Regional Council of Ile-de-France, said on Twitter on Thursday that she will request 20 million euros ($21.6 million) in emergency funds to cover the damage caused by the violent protests across Paris suburbs.
"In response to the ultra-violence that destroys schools, municipalities, police stations and discourages the people of the popular neighbourhoods, the region will respond by being present," Pecresse said.
The latest violent protests came despite some 40,000 police officers being deployed across the country on Thursday night, nearly four times the number of officers that were deployed a night prior.
In Paris alone, the number of officers deployed was doubled to 5,000 in an effort to quell the protests and restore order.
Around 249 police officers and gendarmes were injured during last night's protests, authorities said.
France's President Emmanuel Macron, who has denounced the violence, will cut short his trip to Brussels, where he is attending a European Union summit, to hold a crisis meeting on the situation Friday afternoon.
Macron said earlier this week that the shooting of the teenager was "inexplicable and unforgivable," adding that the teen's death had "moved the entire nation."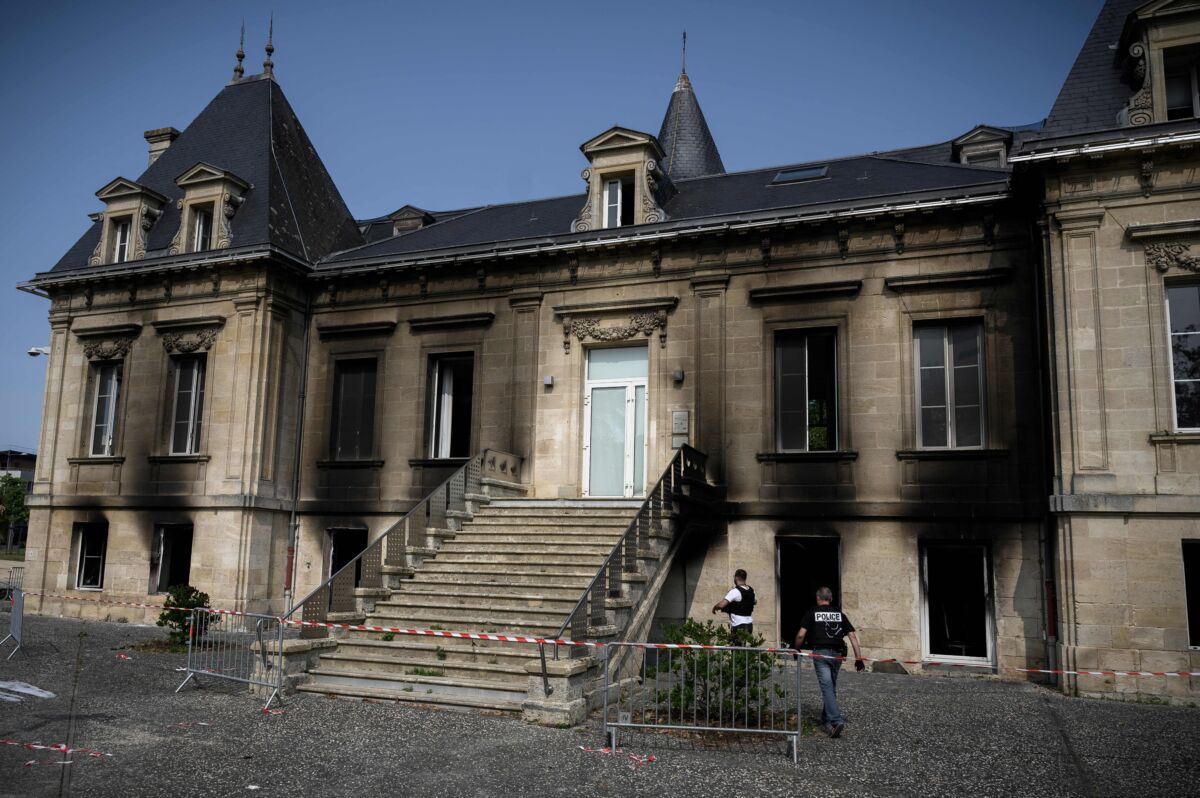 Officer Under Investigation
The officer involved in the shooting has not yet been identified but has been placed under formal investigation for voluntary homicide and is being held in preventive detention.
Prosecutors have argued that the use of the firearm was not legally justified.
His lawyer Laurent-Franck Lienard said the officer has offered an apology to the teen's family and that his detention was being done in an effort to calm violent protests.
"The first words he pronounced were to say sorry and the last words he said were to say sorry to the family," Lienard told BFMTV. "He is devastated, he doesn't get up in the morning to kill people. He didn't want to kill him."
His attorney also stated that the officer had been aiming his gun towards the driver's leg but was "bumped," causing him to fatally shoot toward his chest instead.
"He had to be stopped, but obviously [the officer] didn't want to kill the driver," he said.
The Nanterre public prosecutor, Pascal Prache, said on Thursday that Nahel was known by authorities for refusing to comply during prior traffic stops. The officer claimed to have opened fire on the teenager because he feared that he and his colleague or someone else could be hit by the car as the teen attempted to drive off again, according to Prache.
Nahel, who is of North African descent, was known by authorities for refusing to comply during prior traffic stops. Most recently, he was brought to the Nanterre public prosecutor's office and was expected to appear before a juvenile court in September, Prache said, without specifying details.
He is the third person this year in France to have been killed during traffic stops. A total of 13 such killings happened in 2022.
Lorenz Duchamps and Reuters contributed to this report.
From The Epoch Times