California Gov. Gavin Newsom discussed critical issues, including climate change, human rights, and trade, with senior Chinese officials during his weeklong tour of China. Notably, the topic of human rights was not addressed in his conversation with Chinese leader Xi Jinping.
"We accelerated our progress on climate in meaningful and substantive ways," Mr. Newsom told reporters after meeting with Mr. Xi in Beijing on Wednesday.
Mr. Newsom said the two talked about the Israel-Hamas war and fentanyl. Mexico cartels have been buying precursor chemicals from China to make fentanyl, and ship finished products to the United States.
According to state-run media Xinhua, Mr. Xi told Mr. Newsom about the importance of improving ties between China and California—a relationship that the Chinese leader said would serve to advance bilateral ties between Beijing and Washington.
The Newsom-Xi exchanges came less than a month before the Asia-Pacific Economic Cooperation (APEC) scheduled to take place in San Francisco. During this summit, there is potential for a meeting between President Joe Biden and Mr. Xi. President Biden has expressed that such a meeting is a "possibility." However, Beijing officials have not yet confirmed whether Mr. Xi will travel to the United States.
The two leaders have not had an in-person meeting since last year's G20 summit in Bali, Indonesia, underscoring the tensions between the world's two largest economic powers. Despite the Biden administration's efforts to resume diplomatic engagement with Beijing, the two nations still trade blame over issues ranging from Taiwan to human rights.
Mr. Newsom was warmly received by senior officials in Beijing. In a meeting earlier on Wednesday, China's deputy leader, Han Zheng, addressed Mr. Newsom as an "old friend" and said his visit would "inject positive energy into the development of the China-U.S. relationship."
"I'm here in expectation, as you suggest, of turning the page, of renewing our friendship and reengaging [on] foundational and fundamental issues that will determine our collective faith in the future," Mr. Newsom said in brief opening remarks ahead of his meeting with China's top diplomat, Wang Yi, earlier in the day.
Mr. Wang is set to arrive in Washington on Oct. 26 for a three-day visit, during which he will meet with Secretary of State Antony Blinken and White House national security adviser Jake Sullivan. Currently, it is uncertain if Mr. Wang will speak to President Biden directly.
In 2017, then-California Gov. Edmund Brown also met with Mr. Xi during a trip to China.
Human Rights
According to a press release from the governor's office, Mr. Newsom spoke about numerous human rights issues on Wednesday, including rights violations and anti-democratic efforts in Hong Kong, Tibet, and Xinjiang.
Prior to his visit to China, Mr. Newsom's spokesperson told reporters that the trip "is wholly focused on climate," suggesting human rights would not be on the agenda during meetings with Chinese officials. The spokesperson's remark prompted a group of House Republicans to issue a letter calling on the governor to cancel his trip.
However, Mr. Newsom said he brought up human rights issues with Mr. Wang but not with Mr. Xi. When asked why he didn't, the California governor said, "I can't be everything to everyone at every moment."
Ahead of Mr. Newsom's trip, a coalition of more than 50 human rights and pro-democracy organizations issued a letter, saying that Mr. Newsom should demand the release of 1,672 political prisoners in Hong Kong, including Jimmy Lai.
Many Hong Kong students participated in the 2019–2020 anti-Chinese Communist Party (CCP), pro-democracy protest movement. However, many protesters have since been arrested and sentenced, some found guilty under the city's national security law. Mr. Lai, the former publisher of the now-defunct newspaper Apple Daily, has been incarcerated in Hong Kong since December 2020.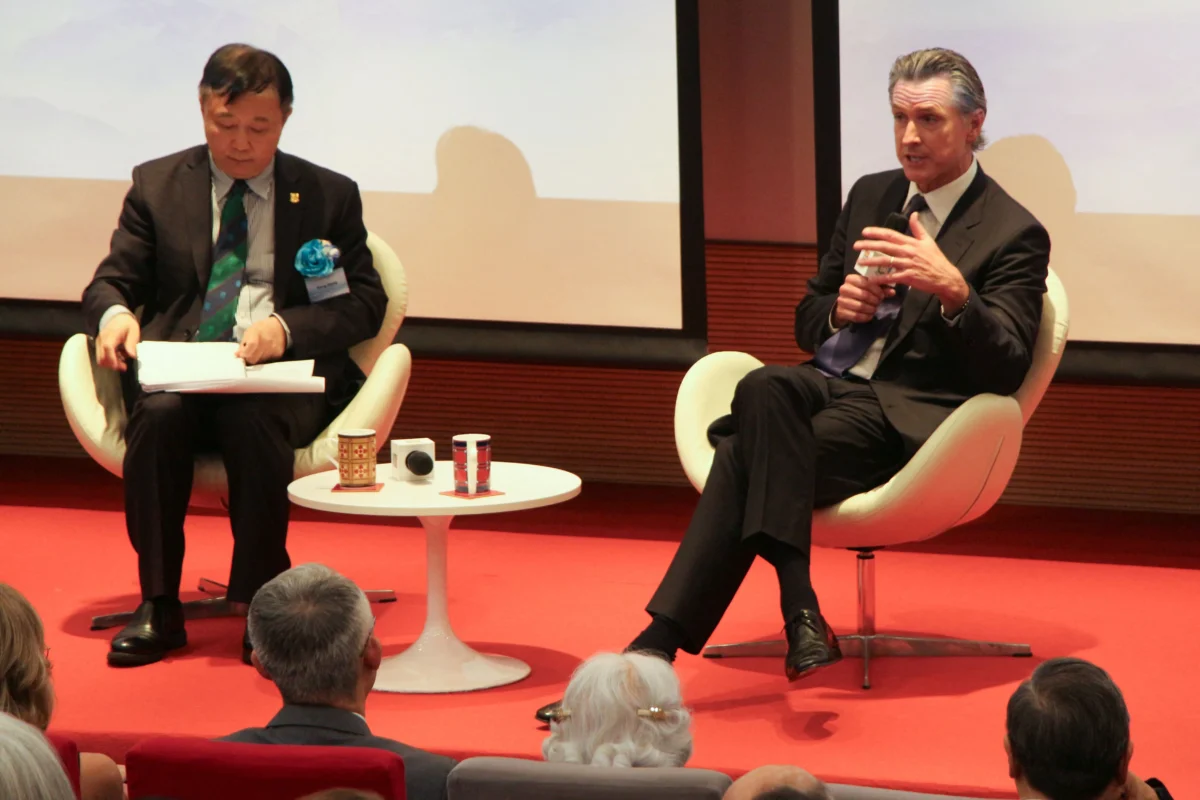 'Strategic Red Lines'
Mr. Newsom told reporters that there are "strategic red lines" in the U.S-China ties, but that the two nations could manage it.
Chinese diplomats have repeatedly asserted that the Taiwan issue was its "first red line," warning Washington not to cross it.
On Wednesday, China's defense ministry criticized the Pentagon's "2023 China Military Power Report," blaming the United States for tensions in the Taiwan Strait and reiterating the vow to achieve unification with Taiwan. The CCP views Taiwan as part of its territory to be taken by force if necessary. Rejecting the claim, the self-ruled, democratic Taiwan has pledged to defend its freedom.
The Defense Department said in the report that the Chinese regime "amplified diplomatic, political, and military pressure against Taiwan" in 2022, with its military increasing "provocative and destabilizing actions in and around the Taiwan Strait included ballistic missile overflights of Taiwan."
Climate Agenda
Mr. Newsom took part in a "fireside chat" at Hong Kong University on Monday. According to a press release, the governor told the audience how Hong Kong and California have been leading the fight against climate change.
Li Yongsheng, deputy commissioner of the Chinese foreign ministry in Hong Kong, also took part in the event at the school, according to Hong Kong media. Mr. Li had previously served as the deputy director-general of the Chinese foreign ministry in Xinjiang.
On Tuesday, Mr. Newsom signed a new climate partnership with China's southern Guandong Province, according to a press release. China's state-run media reported the California governor also boarded an electric bus and tested driving an electric SUV, both made by China's biggest electric vehicle manufacturer, BYD.
"We're proud to have a partner like Guangdong in our efforts to make the tailpipe a thing of the past," Mr. Newsom said.
BYD was one of 82 foreign and Chinese companies found to "potentially directly or indirectly benefiting from the use of Uyghur workers outside Xinjiang through abusive labour transfer programs as recently as 2019," according to a 2020 report by the Australian Strategic Policy Institute.
In 2021, the Victims of Communism Memorial Foundation sent a letter to the CEOs of 84 companies, including BYD, urging them to decouple their supply chains from Xinjiang.
Rep. Michelle Steel (R-Calif.), one of the House Republicans who wrote the letter calling on the governor to cancel his China trip, took to X, formerly known as Twitter, on Oct. 24 to ask why Mr. Newsom would want to work with the CCP.
Trade Issues
Mr. Newsom signed a memorandum of understanding with Zheng Shanjie, the head of the National Development and Reform Commission, China's top economic planner. The governor's office said the memo is focused on climate issues.
Aside from climate, trade was also the focus of Tuesday's meetings between Mr. Newsom and the regime's senior officials. According to the readout from his office, Mr. Newsom discussed how to strengthen the two-way trade between California and China, which he said rose to $166 billion. He also "made clear that foreign investments must continue to be predicated on fair competition."
U.S. lawmakers, however, warned on Tuesday that the CCP has taken advantage of the United States for decades, saying it's time to change that situation.
Sens. ​​Dan Sullivan (R-Alaska) and Chris Van Hollen (D-Md.) introduced "True Reciprocity Act of 2023," a legislation that addresses the "substantial imbalance" in the U.S.-China relationships across a series of sectors, including trade, diplomacy, and media.
"For decades, American citizens, businesses and organizations operating in China have faced significant restrictions and censorship, in sharp contrast to the treatment faced by their CCP counterparts who operate largely unencumbered in the United States," Mr. Sullivan said in a statement.
From The Epoch Times