As the United States, South Korea, and Japan staged joint naval missile defense drills off the Korean peninsula on Tuesday, North Korea denounced the "gangster bosses" of Washington and its allies for increasing the risk of nuclear war.
According to South Korea's military, the joint military exercises served to improve the allies' ability to detect missile attacks, track targets, and share information in the event of provocation by Pyongyang.
The exercises took place in international waters off South Korea's southern Jeju island.
South Korea and the United States last week undertook their largest-ever joint military drills, the Ulchi Freedom Shield summer exercises, prompting North Korea to conduct a test, firing a cruise missile from one of its ships.
Criticizing the increased presence of U.S. strategic assets in the region, North Korean leader Kim Jong Un has called for "radically" modernizing the weapons and equipment of his country's naval forces, including shipboard and underwater weapons systems.
During its broadcast on North Korea's Navy Day, the state-controlled news agency KCNA reported Mr. Kim saying that the "gangster bosses" of the United States, Japan, and South Korea announced regular joint military exercises—apparently referring to an Aug. 18 summit at Camp David, Maryland.
"Owing to the reckless confrontational moves of the U.S. and other hostile forces, the waters off the Korean Peninsula have been reduced to the world's biggest war hardware concentration spot, the most unstable waters with the danger of a nuclear war," Mr. Kim said.
In the first standalone meeting between the leaders of the U.S., South Korea, and Japan, the three nations agreed to deepen military and economic cooperation as they sought to project unity in the face of China's growing military presence in East Asian seas and North Korea's increasing nuclear threats.
Japan said sharing information on ballistic missiles was part of Tuesday's drills.
"The exercises will strongly facilitate trilateral cooperation and demonstrate the commitment of Japan, the United States, and the Republic of Korea to protect a free and open international order based on the rule of law," Japan's defense ministry said in a statement.
As part of the exercises, the allies' special operations units practiced infiltrating an enemy's coastline from the sea.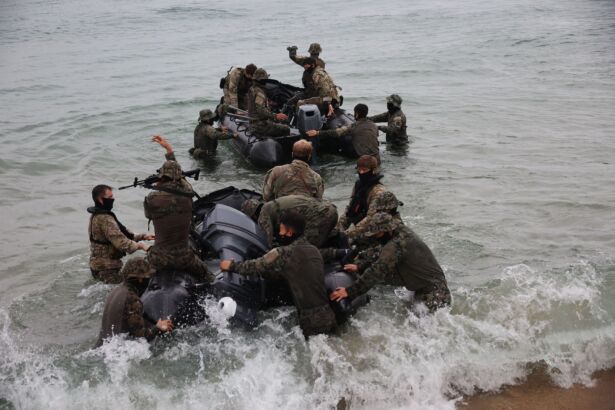 South Korea and the United States joint Ulchi Freedom Shield exercises that began last week focused on enhancing joint responses to North Korea's nuclear and missile threats on a multitude of levels, including cyber, terror, and drone attacks, as well as how to parry disinformation campaigns by the North.
Pyongyang has long denounced the regularly occurring military drills as a rehearsal for an invasion.
Reuters contributed to this article.