An FBI file the House Oversight Committee is demanding is "just one piece" of the information a whistleblower gave two top Congressional Republicans regarding an alleged "criminal scheme" involving President Joe Biden, according to Rep. Eric Burlison (R-Mo.).
The Republican-led House panel on May 3 subpoenaed the FBI for a file alleging that a whistleblower linked the president to a "criminal scheme" that involved money for policy decisions while he was the vice president.
"This person is a credible witness. They clearly have in-depth details about the inner workings of the FBI and the Department of Justice," Burlison, a member of the House Oversight Committee, said on the NTD program "Capital Report" aired on Monday.
Burlison said the unidentified whistleblower gave "very specific information" to Rep. James Comer (R-Ky.), chairman of the House Oversight Committee, and Sen. Chuck Grassley (R-Iowa) about a document they are now demanding from the FBI.
Last week, Comer filed a subpoena to FBI Director Christopher Wray seeking an internal form, called an FD-1023, that was created in June 2020.
The two Republicans said the whistleblower's disclosure indicated the Department of Justice and the FBI possessed "an unclassified FD-1023 form that describes an alleged criminal scheme involving then-Vice President Biden and a foreign national relating to the exchange of money for policy decisions," according to a May 3 letter to Wray and Attorney General Merrick Garland.
"This specific document goes into great detail, the pay-for-play agreement between Joe Biden as vice president, and the policy outcomes that this foreign national wanted," Burlison told The Epoch Times' sister media outlet NTD.
"This is just one piece of information this whistleblower is providing," the congressman added.
Ian Sams, the White House spokesperson for oversight and investigations, responded on Tuesday.
"For going on five years now, Republicans in Congress have been lobbing unfounded, unproven, politically-motivated attacks against the President and his family without offering evidence for their claims or evidence of decisions influenced by anything other than U.S. interests," Sams said in a statement to The Epoch Times.
"When it comes to President Biden's personal finances, anybody can take a look: he has offered an unprecedented level of transparency, releasing a total of 25 years of tax returns to the American public."
Comer's committee is investigating Biden and his alleged involvement in his son Hunter's foreign business deals. In March, the oversight committee chairman said financial documents indicate that the Biden family received more than $1 million from an associate linked to Hunter Biden between 2015 to 2017, a period that includes the time Biden serving as Obama's administration's vice president. The panel said most of the payments to the Biden families were transferred after the associate, John Robinson "Rob" Walker, received a wire from a Chinese energy firm.
House Oversight Committee was granted to financial records after Comer issued a subpoena to Bank of America in February.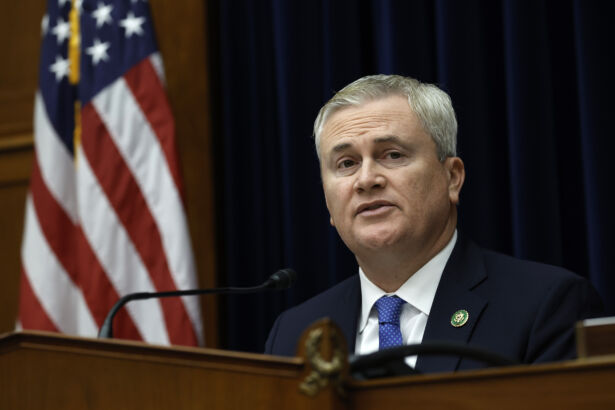 Comer's subpoena instructed Wray to produce "all FD-1023 forms, including within any open, closed, or restricted access case files, created or modified in June 2020, containing the term 'Biden.'"
The FBI must supply relevant information by noon on May 10, according to the subpoena.
"The fact that the FBI has been sitting on this is a story in and of itself," Burleson said.
The congressman described these documents they are seeking as an "unclassified document."
"Congress has every right to see it," he continued.
"If they deny it, then it really tells a lot more. It tells us that the deep state truly has no respect for the Constitution, no respect for the rule of law. And we're now in a totalitarian regime."
The FBI said it has no comment on the matter.
From The Epoch Times