House Homeland Security Committee Chairman Rep. Mark Green (R-Tenn.) announced that committee Republicans are entering the final phase of a five-phase impeachment investigation against Homeland Security Secretary Alejandro Mayorkas, and said the House could move ahead with an impeachment vote by the end of the year.
Speaking with NTD News on Wednesday, Mr. Green said this final phase focuses on allegations of waste, fraud, and abuse from the Department of Homeland Security (DHS).
"We have some informants who we're looking into some of the stuff there, the accusations that they're making," he said.
Mr. Green said there's "a lot of smoke" so far and "we're looking for the fire." He offered the comment after Mr. Mayorkas testified earlier in the day before the House Homeland Security Committee.
The first phase of the House Republican investigation of Mr. Mayorkas pertained to allegations he has been in dereliction of his duty to secure the U.S. southern border, including claims he's broken 11 laws and refused to follow two court orders pertaining to border security.
The second phase focused on how Mr. Mayorkas's alleged dereliction of duty has empowered criminal and terrorist organizations and undermined U.S. national security.
The third phase focused on the humanitarian costs of the alleged dereliction of duty, ranging from increased assaults by unvetted immigrants and to the rising numbers of fentanyl deaths among Americans from the drug being smuggled across the border.
The fourth phase focused on the financial costs the United States faces as a result of the Biden administration's border policies and Mr. Mayorkas' leadership at the DHS.
Mr. Green said Republicans will likely hold a hearing to present their final investigative conclusions in the next few weeks, after which they'll vote on whether they believe Mr. Mayorkas should be impeached.
"I think we want to be done by the end of the year," Mr. Green told NTD News.
The Republican House chairman's comments about the ongoing investigation come just two days after the House voted against moving ahead with another impeachment effort naming Mr. Mayorkas.
Rep. Marjorie Taylor Greene (R-Ga.) recently forced a House vote to proceed with the impeachment process, on grounds that Mr. Mayorkas was liable for the "willful admittance" of illegal border crossings.
The House took up the impeachment allegations on Monday, but eight House Republicans joined Democrats in voting to send Ms. Greene's impeachment articles back to the House Homeland Security Committee for the time being.
Mr. Green's final investigative phase could provide another opportunity to revive the impeachment case against Mr. Mayorkas.
Mayorkas's Office Calls Impeachment Talk 'Baseless'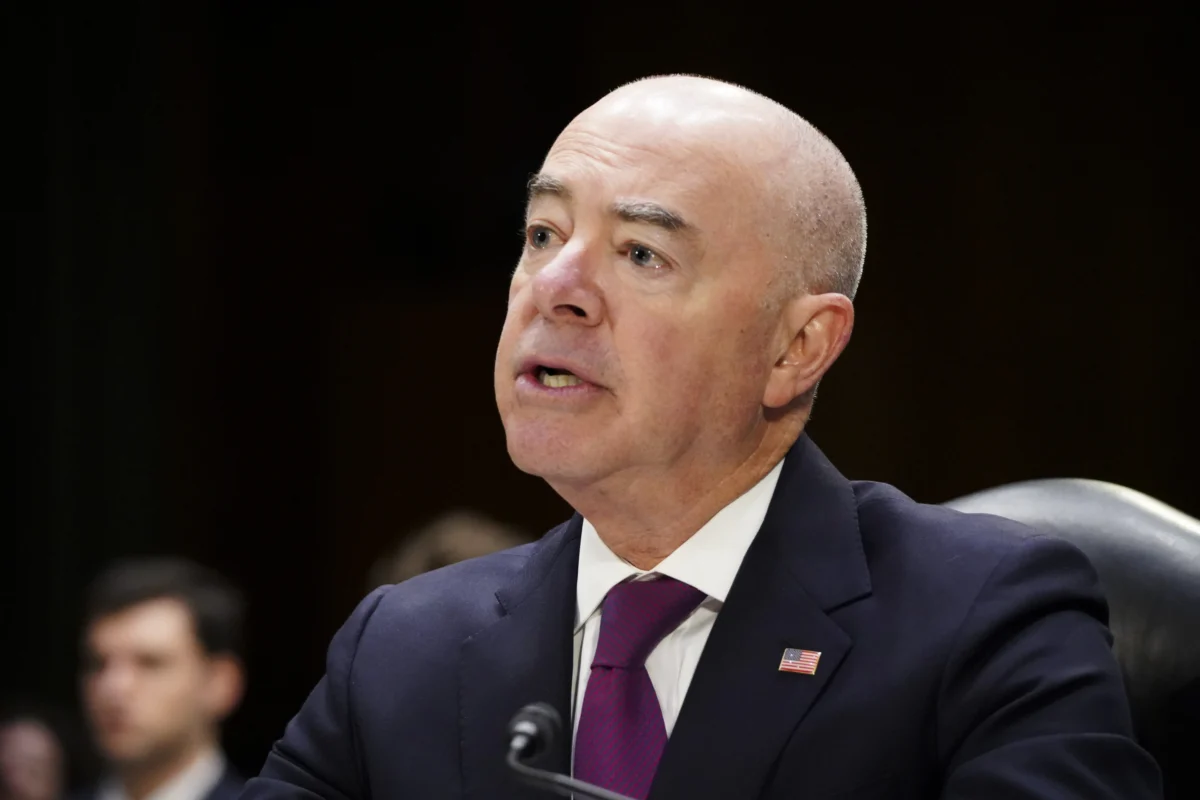 In response to an NTD News request for comment, a DHS spokesperson described the ongoing impeachment talks as "baseless" and said that  Congress should instead focus on reforming the U.S. immigration system and passing a spending proposal requested by President Joe Biden, that pairs about $14 billion in new funding for border security measures with another approximately $90 billion in military support for Ukraine and Israel, humanitarian aid to the Palestinian people, and a variety of additional initiatives in the Indo-Pacific region.
"Every day, the men and women of the Department of Homeland Security work tirelessly to keep America safe," the DHS spokesperson said. "They need Congress to stop wasting time and do its job by reforming our broken immigration system, reauthorizing vital tools for DHS, and passing the Administration's supplemental request to properly resource the Department's critical work to stop fentanyl and further secure our borders.
"Secretary Mayorkas continues to be laser-focused on the safety and security of our nation. This baseless attack is completely without merit and a harmful distraction from our critical national security priorities."
Rep. Bennie Thompson (D-Miss.), ranking member on the House Homeland Security Committee, also described the Republican premise for impeaching Mr. Mayorkas as "baseless" during Wednesday's hearing. Mr. Thompson further accused Republicans of working to distract from their "own failures at governing, their infighting," while describing their frontrunner for 2024 as "himself a threat to democracy."
Biden's $105 Billion Plan Pairing Defense with Boost for Border Security
Speaking with NTD News outside the Wednesday hearing, committee member Rep. Glenn Ivey (D-Md.) did not specifically discuss the Republican efforts to impeach Mr. Mayorkas but called for Congress to quickly pass the $105 billion package that President Biden has proposed.
"I hope that Congress will pass it soon, because I think it's important to get additional resources at the border," Mr. Ivey said.
In addition to the $14 billion for border security, the spending package includes about $61.4 billion for Ukraine's military; $14 billion for Israel's military; $9.15 billion for various humanitarian efforts in Ukraine, Israel, Gaza, and other places; and $7.4 billion for various Indo-Pacific programs.
Republicans have been apprehensive about approving President Biden's $105 billion spending package for a variety of reasons.
As the package pertains to border security measures, some Republicans have said the way to improve border security is not with new funding but with policy changes.
"It is not about throwing more money at the border. We've got to slow the flow. It's about changing the policies," Sen. Steve Daines (R-Mont.) said after President Biden announced the spending request last month. "They don't need a lot more money on the southern border. They need to change the policies to remove the incentives to come across our southern border."
Despite these calls for policy changes over additional border spending, Mr. Ivey told NTD News he expects Republicans will eventually agree to that portion of the $105 billion package.
"For example, some of the spending that we mentioned, where you can increase the number of border patrol agents. I'd be really shocked if the Republicans don't agree to that," he said.
Border Crossings, Chinese Nationals, Terror Suspects Heighten GOP Concerns
Adding to Republican concerns about the Biden administration's border policies are reports that a growing number of Chinese nationals appear to be entering the United States across the southern border.
"A lot of them are military-aged guys with former ties, not only to the [Chinese Communist Party], but also the People's Liberation Army," Mr. Green told NTD News. "So that's obviously very concerning. There were 24,000 of them. And the highest year before that was like 1,800. So you have to ask yourself: is there some kind of intentionality to it?"
Mr. Green said these Chinese nationals pose an increased espionage risk and could potentially work to sabotage the United States in the event the country enters into a military conflict with China.
Rep. August Pfluger (R-Texas) told NTD News he's highlighted multiple cases in which law enforcement agencies in his congressional district had apprehended Chinese nationals, and that he intends to continue asking what homeland security officials are doing to address these Chinese nationals and other so-called special interest aliens entering the United States.
"The Chinese Communist Party demonstrates day in and day out their willingness and motivation to undermine our national security. So if they're sending hundreds, if not thousands of people here to cross an open southwest border, then it's very dangerous to our own security here," Mr. Pfluger added.
Rep. Kat Cammack also raised concerns about DHS policies surrounding admissions of border crossers on U.S. terror watchlists.
"As individuals are being apprehended at the Southwest border, their ID is cross-checked with a couple of different databases, and sometimes it comes back as inconclusive. What our government then does is they release those individuals, while they have an inconclusive status," Ms. Cammack explained. "And then sometimes that inconclusive then gets further investigated and found to be an individual that was on the international suspected terror watchlist."
Ms. Cammack said she has been trying to find out more about the policies for people who show inconclusive results on border screening databases but said she's received little information.
"Why will they not share it with Congress? And what are they doing to track these people down who have ties to international terrorist groups? I think every American deserves to know," she said.