LAS VEGAS—Florida Gov. Ron DeSantis has one advantage over his Republican rivals, who also spoke at the Republican Jewish Coalition (RJC) summit in Las Vegas. He's in power right now in a large state with a significant Jewish population, and his party controls both houses of the Legislature.
Campaigning for the 2024 presidential nomination before the RJC on Oct. 28, Mr. DeSantis was able to point to actions he's taken lately, including the last three weeks since Hamas massacred 1,400 Israelis, sparking the Israel-Hamas War.
In the first few days after Oct. 7, he organized evacuation flights from Israel that so far have brought home 700 people, mostly Florida residents, who were stranded there. The U.S. government, meanwhile, was moving slowly and hesitantly, evacuating people only as far as Greece and billing them for their flights. The state sent two cargo planes loaded with donated relief shipments, such as medical supplies and clothing, to the Jewish state.
Most of the Republican candidates denounced Iran and President Joe Biden's friendlier relationship with the mullahs than his predecessor. Mr. DeSantis, for his part, called the Legislature into a special session to strengthen the state's business sanctions against Iran—Hamas's principal sponsor and the government that many, including many listening to his speech, consider the driving force behind the attacks.
At home, Mr. DeSantis mobilized law enforcement in the state to provide additional protection for Jewish schools, synagogues, Holocaust museums, and other buildings.
And he ordered Students for Justice in Palestine, a pro-Hamas group active on college campuses, to be decertified as a recognized organization on Florida campuses.
"This is a group that took pains to say that [though] they don't 'stand in solidarity with what Hamas did, that they are one and the same with what Hamas did.
"Well, you may have a First Amendment right to say a lot of dumb things but you do not have a right to give material support to terrorists. So we deactivated the students," Mr. DeSantis told the crowd, who cheered, as they did other candidates' references to smacking down campus antisemitism by deporting foreign students who support terror groups like Hamas.
Mr. DeSantis noted, though, that he was the first candidate to make that commitment.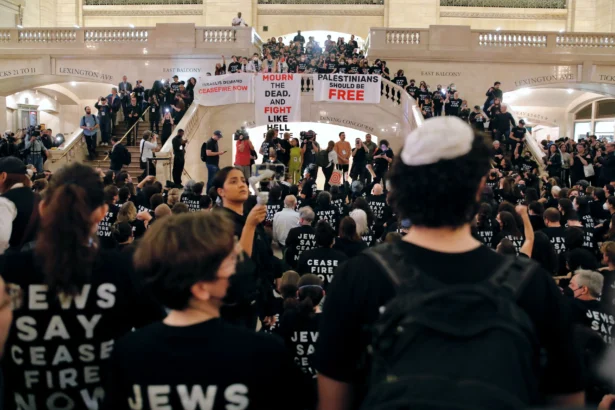 "In most of these universities, if you're a Jewish student, you don't feel safe even going to class in some of these places."
Mr. DeSantis alluded to an incident at Cooper Union, a college in Manhattan, on Oct. 25, where Jewish students were barricaded inside the school's library for 20 minutes while a mob of pro-Palestinian protesters banged on the building's doors and windows.
"This has been disgraceful, but it's very eye-opening," he said.
"I know campus leftists," he said, alluding to his time at both Harvard and Yale. "But even in my day, I would never have seen that type of activism where you're actually celebrating terrorists and openly being antisemitic."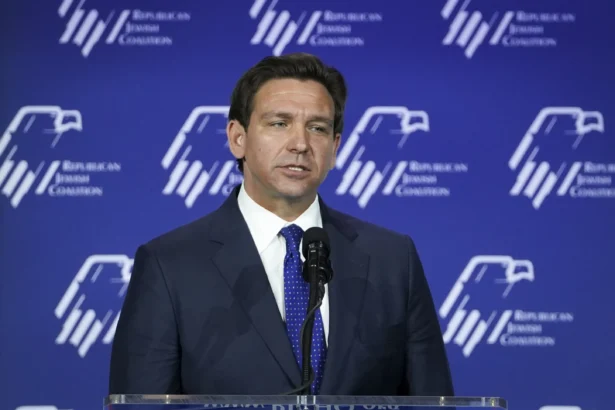 Mr. DeSantis praised Florida's state university presidents for firmly indicating which side they stood on and resisting the opportunity to find "moral equivalence" between Hamas and Israel.
"Political correctness will end this country if we don't stop doing it," he said.
He noted that he was also the first candidate to oppose accepting any refugees from Gaza.
"And what they said was, 'Well, they're not all Hamas.' But they elected Hamas. Let's just be clear, they were cheering for Hamas when Hamas perpetrated this, just like they cheered when Al Qaeda knocked down the Twin Towers; they were cheering in Palestinian areas when that happened.
"So the question isn't whether you're all Hamas, but the question is, do they teach young kids to hate Jews? Yes. Do they teach young kids that Israel should be wiped off the map? Actually, do they even have Israel on the map in their textbooks? No, it's not even there.
"So it's not a question of whether you're actually a terrorist or whether you're a member of Hamas or not. We can't vet all this stuff out.
"What I do know is if you bring in hundreds of thousands of people like AOC and the Squad want," he said, referring to Rep. Alexandria Ocasio-Cortez and her far-left faction of the Democratic Party sympathetic to Hamas. "You will be importing toxic ideology and the pathologies of the Gaza strip into our own country. That is not what the American people deserve."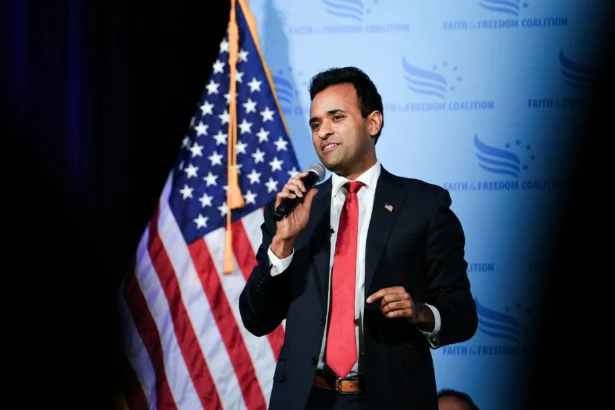 European countries have gone down that path, and it's had an effect, he said. He alluded to Germany having its worst antisemitism since the Nazi era, caused mainly by its lax immigration policies. He decried the Biden administration's lax border policies, allowing millions to stream over the U.S. southern border, and warned that people on the terrorism watch list had been caught coming over the border. He predicted domestic attacks in the future performed by terrorists who entered the country that way.
He tagged the Biden administration for supporting Israel in public while privately holding it back from retaliating.
"Behind the scenes, they're trying to kneecap Israel's right to defend itself," Mr. DeSantis said. And he decried their wanting to send money to Gaza, as Hamas had used aid money in the past to build arms or terror tunnels.
Mr. DeSantis stood out a couple of other ways from his rivals. He demanded the administration stop supporting "phony narratives" such as pressuring Israel to accept a two-state solution.
"Please explain to me, how are you supposed to have a two-state solution with people that don't believe in your right to exist as a Jewish state," he said.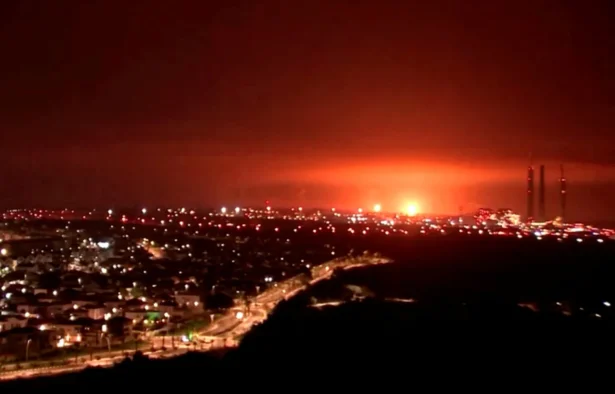 He declined to refer to the "West Bank," instead calling the area like many Jews do Judea and Samaria—Jewish lands dating back to Biblical times.
The story repeated by much of the media that Israel bombed a Gaza hospital, to which evidence to the contrary has since been uncovered, was "a blood libel, quite frankly," he said. "We're going to see more of this in the future."
Every candidate sympathized with Jews suffering their worst tragedy since the Holocaust. They had different takes on exactly how America should approach the Middle East. Republicans split between those urging a more interventionist policy for America to assert its power overseas and a more isolationist one backing the nation away from the costs and risks of foreign wars.
The debate has been heightened by what was called, after 9/11, the Global War on Terror, but is now called by many the Forever War for its length and costs in American lives and treasure in Afghanistan, Iraq, and Syria.
Vivek Ramaswamy, who spoke earlier, quoted David Ben Gurion, Israel's first prime minister, and talked in detail about Israel's history and put in emphatic terms Israel's right to defend itself.
"If Israel wants to destroy Hamas, Israel should go ahead and destroy Hamas," he said.
If Israel wants to commit a "Munich 2.0" by tracking and killing Hamas leaders, he said he was fine with that. "I would love nothing more than for the IDF to put the heads of the top one hundred Hamas leaders on stakes and line them up on the Gaza border so that nothing like the Oct. 7 terror attack happens again," he said.
At the same time, he advocated the United States returning to George Washington's prescription to "avoid foreign military entanglements that do not relate directly to our homeland here in the United States."
The two countries' alliance is strongest when it serves the self-interest of both, he said. The United States can support Israel diplomatically and with technology, he said. He questioned, though, whether the U.S. defense umbrella caused the "intellectual inertia" leading Israel to its military and intelligence lapses of Oct. 7.
Chris Christie, in his speech to the RJC convention, took issue with isolationism often linked to the America First movement, which grew during and since President Donald Trump's administration. He alluded to an earlier isolationist movement in the 1930s, which allowed Nazi power to rise and led to the atrocities of the Holocaust.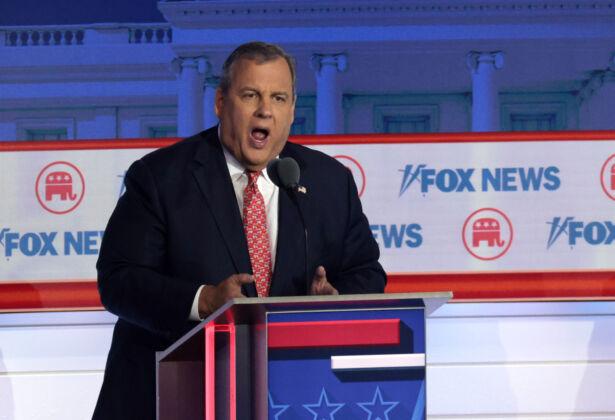 "What they really mean is 'America alone.' They mean 'Build a moat and pull up the drawbridge. These are not our problems.'
"And we have lived this before. Nobody in this room doesn't want America to be first. All of us do. It's how America becomes first that is the argument inside our party right now. Do we become first by turning our back on the rest of the world? Do we become first by saying, well, this problem, this hate, this murder, this terrorism, is not our problem?
"Don't be fooled, everyone. There are voices in our party, in our own party today, who only want to focus on certain hate, certain violence. That's unacceptable."
Mr. Christie blamed 1930s isolationism for the ills that followed but found fault for what's happening on college campuses in other places.
"It was isolationism from other nations around the world that allowed them to turn their backs on what we're seeing on college campuses in America today," he said.
"So first, we must begin to fix our own problems inside our own borders. Everyone has a different definition of America First. My definition of it, in this context, is that America must first fix the problem of antisemitism by standing up and saying absolutely not: not on our campuses, not in our country. Never, never again."
Mr. DeSantis defined why he supported Israel: because it's in America's self-interest.
"They're the most dependable ally we have in a very troubled part of the world," he said. "Anything that happens there, they will have our back, and there's no one else in the Middle East that you can say that of.
"They're the only country in that region that shares our values. They're a Western country. They believe in free speech and democracy and human rights."
From The Epoch Times