Four people are critically ill in hospital after being crushed when thousands of ticketless fans tried to force their way into a concert by a Nigerian singer at the O2 Academy in Brixton in south London on Thursday night.
Afrobeats singer Asake had been on stage for 10 minutes when he was informed of the trouble and he told the crowd: "They say it's [expletive] outside already. So we have to end the show. I don't know why. It's not me."
His announcement was greeted with boos by the crowd inside the venue.
The Metropolitan Police said hundreds of people turned up at the venue without tickets and tried to force their way in.
Eight people were taken to hospital as a result of the crush and two more were treated at the scene for minor injuries.
On Friday morning the police said four people were in a critical condition in hospital after what they described as an "extremely upsetting incident."
Asake, who is nicknamed Mr. Money, is a popular afrobeats singer who is touring with his debut album, "Mr. Money With The Vibe."
He posted a message on Twitter before the gig, saying it was sold out, as was a concert he is due to perform in Lagos on Dec. 22.
But the police said, "a large crowd attempted to gain entry without tickets" and this led to serious crushing at around 9:30 p.m.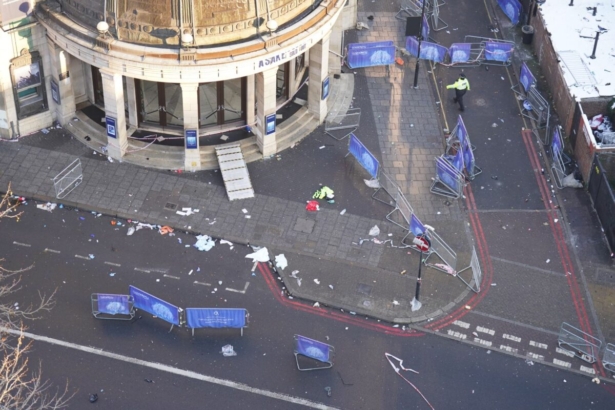 Police Say Injuries 'Caused by Crushing'
The Metropolitan Police said there were "a number of people with injuries believed to have been caused by crushing."
Mobile phone footage on social media showed hundreds of people trying to get into the venue and managing to force open the doors, which had been closed after the concert began.
A small number of police officers appeared to be overwhelmed by the numbers.
The police's gold commander at the scene, Ade Adelekan, urged people to "be sensible about what they share" on social media and not to post footage that would be "upsetting" to those whose loved ones had been injured.
The police said nobody had been arrested.
Adelekan said, "A police investigation has been launched, and it will be as thorough and as forensic as necessary to establish exactly what happened last night."
He said, "The scene will be examined by specialist officers, CCTV will be viewed, every witness that we can make contact with will be spoken to, and all other lines of inquiry will be followed."
"Officers are remaining in the area to provide reassurance to the local community in and around Brixton. If you have any information or concerns, please speak with them," he added.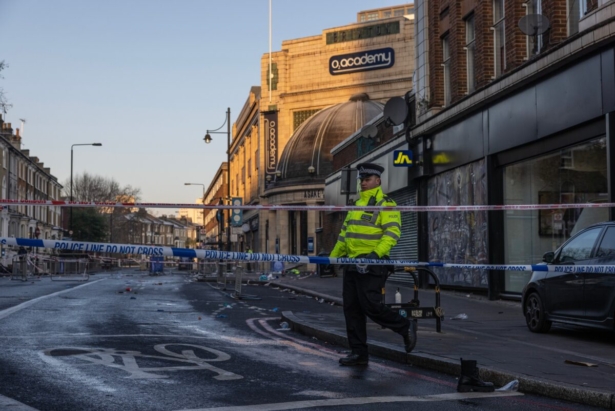 Asake: 'My Heart Is With Those Who Were Injured'
Asake wrote a message on Instagram on Friday morning in which he said: "My heart is with those who were injured last night and caused any form of discomfort. I pray you get well soonest. I am also in the of reaching out to individuals."
He went on: "I still do not have the full brief from the venue management themselves as to what led to the disruption at the entrance of the Brixton Academy, but we are thankful that all was peaceful at the end."
Asake ended by apologising for his performance being cut short and said, "Thank you for your unbelievable love, London.
The O2 Academy wrote on Twitter before the concert: "When attending a show, please arrive in good time. Security measures are in place, including bag checks on arrival. Large bags – including rucksacks – are not allowed, so please make alternative arrangements."
They have not made any further statement since the concert was terminated.
On Friday morning the Mayor of London, Sadiq Khan, wrote on Twitter: "My thoughts are with all those affected by the awful incident in Brixton last night. Eight people were taken to hospital, with four in a critical condition."
"An urgent investigation is already underway. I remain in close contact with the Met Commissioner & emergency services," he added.
Radio personality and community worker Solomon Smith posted a video on Twitter and wrote, "Not Asake's fault at all, it was more people who didn't have tickets turned up with fake tickets."
Afrobeats—which originated in Nigeria and Ghana—has become popular in many parts of Europe and its biggest artists include Wizkid, Burna Boy, D'banj, and Tiwa Savage.
In November 2021 hundreds of ticketless fans pushed their way into the Astroworld music festival at NRG Park in Houston, Texas, to see a concert by rapper Travis Scott, leading to a crowd crush which killed 10 people.
Several lawsuits have been filed against Scott—who was accused of inciting the crowd—and the organisers of the festival, Live Nation.
In October the family of Axel Acosta, 21, reached a settlement with Scott and Live Nation.
Acosta's family said he was "crushed by the incited, unruly, and out-of-control crowd" and died 40 minutes before the concert was finally called off.
PA Media contributed to this report.
From The Epoch Times