President Joe Biden's administration is going to use a third convention center to house illegal immigrant youth.
The Freeman Expo Center in San Antonio is being converted to an Emergency Intake Center for children who cross the southern border without their parents.
Up to 2,400 kids can be housed at the facility, according to the Department of Health and Human Services (HHS) and its Office of Refugee Resettlement (ORR).
"The Emergency Intake Site will provide ORR with needed capacity to accept children from Customs and Border Protection (CBP) into its care where they can be safely processed, cared for and either released to a sponsor or transferred to an appropriate ORR shelter for longer-term care. The Emergency Intake Site is intended for use as a temporary measure," the agency said in a statement obtained by The Epoch Times.
The administration has already reached deals to house up to 1,400 immigrant youth in the San Diego Convention Center and up to 2,300 youth in the Kay Bailey Hutchinson Convention Center in Dallas.
Additionally, officials have opened at least five other locations to hold the children, and the Pentagon accepted requests to keep thousands of youth at Fort Bliss and another several hundred at Joint Base San Antonio Lackland. In total, ORR operates over 200 facilities and programs in 22 states. There's also a plan to send illegal immigrant families to hotels, with taxpayers footing the bill.
Bexar County's manager didn't immediately return an inquiry. Bexar County Judge Nelson Wolff, asked about facilities possibly being used to house immigrants, told reporters on Tuesday that no agreement had been reached yet.
"We do have facilities there. They're climate control. They're large. But we are talking about, how will we handle security? Who would be the food provider, who will actually be managing the place? It'd be pretty much our job to, if we do it, to coordinate with them and to make the space available, but no agreements been reached yet. We're just now talking about a possible contract," he said.
The United States saw a jump in illegal border crossings in February, including an increase of over 3,600 unaccompanied minors from the month before. Officials have struggled to deal with the increase, with overcrowded conditions in Border Patrol facilities exposed through leaked photographs.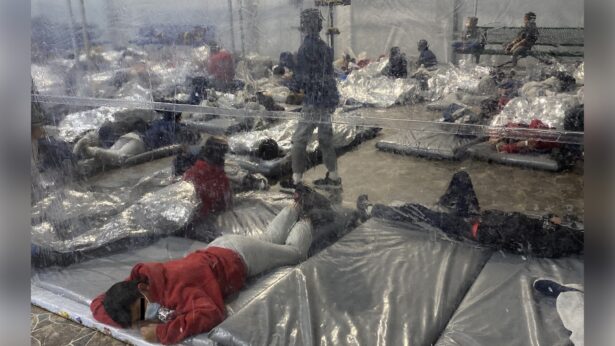 Biden's administration stopped expelling youth who cross into the country, a reversal of the Trump era utilization of Title 42 powers to send them back to their home countries. The powers are used in a bid to prevent COVID-19 from entering the country through immigrants.
Biden told reporters in Washington that under the previous administration, unaccompanied children would "starve to death" after being expelled from the country.
"No previous administration did that either, except Trump. I'm not going to do it. I'm not going to do it," he added.
Stephen Miller, a top immigration adviser to Trump, called the accusation "spectacularly false" and "a grave smear on our border agents."
Illegal border crossers were returned to Mexico and unaccompanied youth were returned to their countries of origin to be reunited with their families, Miller wrote on Twitter.
"This humane policy from President Trump brought unaccompanied minor numbers to record lows. Biden's disastrous decision to exempt minors from Title 42, and to stop the at-home reunification process in favor of domestic resettlement, single-handedly created this crisis," he wrote.
A reporter had referenced a 9-year-old boy who claimed to have traveled without adults to the United States from Honduras. The reporter said they reached the boy's mother by phone. She said she sent her son to America because she believed Biden's administration isn't deporting unaccompanied minors.
Biden asserted some youth will ultimately be deported. "The judgment has to be made whether or not—and in this young man's case, he has a mom at home; there's an overwhelming reason why he'd be put in a plane and flown back to his mom," he said.
From The Epoch Times