Doctors with the University of Cincinnati Medical Center said tests are ongoing to determine the cause of Buffalo Bills player Damar Hamlin's cardiac arrest during Monday night's game.
A "workup is ongoing," William Knight, lead physician and professor of emergency medicine at UC Health, said in a news conference Thursday. "We do not have definitive answers as to the etiology of the arrest, and tests will continue to progress."
Hamlin, 24, collapsed to the field during the first quarter of the Bills-Cincinnati Bengals game on Monday. As he spent about 15 minutes on the field, medical personnel performed CPR on him and used an automated external defibrillator to restart his heart, according to the Bills in a Tuesday update.
"There's been substantial improvement in his condition over the past 24 hours," Dr. Timothy Pritts, division chief of general surgery at the University of Cincinnati Medical Center, said at the conference. "We had significant concern about him after the injury and after the event that happened on the field, but he's making substantial progress."
Hamlin, he added, is "beginning to awaken, and it appears that his neurological condition and function is intact." Those who survive cardiac arrest often are left with neurological and brain problems, according to the U.S. Centers for Disease Control and Prevention.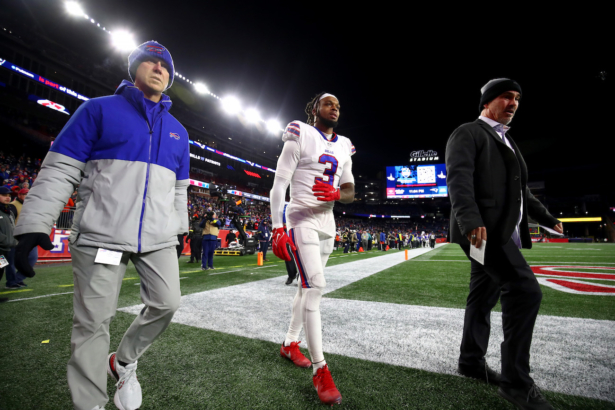 But the safety "continues to be critically ill and continues to undergo intensive care in our surgical and trauma ICU," Pritts added. His road to recovery, meanwhile, is "long and difficult," Knight said in the news conference, the first held by the medical center since Hamlin's collapse.
"We want to see him continue to breathe more on his own, and we want to get him breathing completely on his own. That will be the next big milestone for him," Knight also said. "The focus right now in terms of helping him to recover, liberate (from the ventilator) and continue to get stronger and rehabilitate, but it is entirely too early to project into the future," Pritts also said.
Knight credited the quick medical response with saving Hamlin's life, adding that a physician was at Hamlin's side within a minute of him collapsing and recognized that the defensive back did not have a pulse. Knight said Hamlin required CPR and resuscitation on the field.
'Did We Win?'
The doctors also said Hamlin asked who won the game on Monday. Hamlin cannot speak, and his communication is through writing.
"We are in the situation where we wanted to allow him to gradually wake up as the rest of his body was healing and last night, he was able to emerge and follow commands and even ask who had won the game," Pritts said.
"When he asked, 'did we win?' the answer is, yes, you know, Damar, you won. You've won the game of life and that's probably the important thing out of this, and we really need to keep him in the center of everything else that's going on, and we really want to ensure a good outcome for him," he added.
More Details
After returning home early Tuesday once the game was suspended, the Bills held meetings and a walkthrough practice without any media availability on Wednesday. On Thursday, players were spotted arriving at the facility, though the team has not yet released a practice schedule.
Numerous players across the league—former teammates and those who didn't know Hamlin until Monday—voiced their support, while saying they were shaken by what unfolded in front of a North American TV audience. The "Monday Night Football" telecast that saw Hamlin collapse drew 23.8 million viewers, Nielsen ratings show.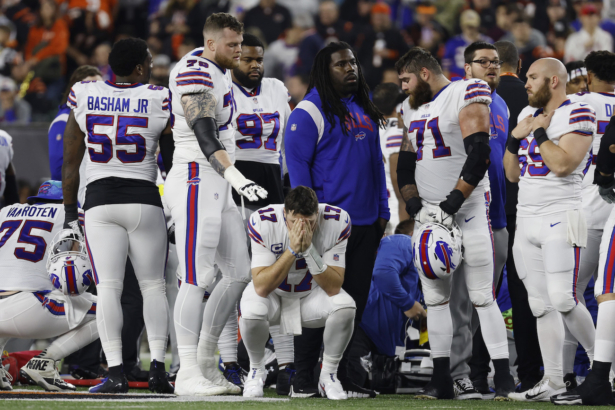 Colts safety Rodney Thomas made the two-hour drive from Indianapolis to Cincinnati on Tuesday just to be by the side of his former high school teammate.
"He's a fighter. I know he's a fighter and there's no other thought in my mind other than him walking out under his own power," Thomas said Wednesday.
Minnesota Vikings defensive tackle Harrison Phillips, who spent the previous four seasons playing for Buffalo, had dinner delivered to the hospital for Hamlin's family and medical staff.
Hamlin's marketing representative, Jordon Rooney, said Wednesday that the player's family was buoyed by the words and acts of kindness.
"They are elated right now," Rooney said. "Damar is still their first concern. But for them, they always look at how they can turn a somewhat troubling situation into a good one. The bounce back from this, for him and his family is going to be incredible."
It's not clear if the NFL will reschedule the Bills-Bengals game, a contest that has significant AFC playoff implications. The playoffs are scheduled to start on Jan. 14, while the last week of regular-season football ends on Sunday.
The Associated Press contributed to this report.
From The Epoch Times