Rep. Mike Gallagher (R-Wis.), chair of the House select committee on China, said the Chinese Communist Party (CCP) is now emboldened to carry out its repressive agenda on American soil, following recent indictments against two suspected Chinese agents.
"These unsealed complaints against two suspected Chinese Communist Party agents are just another example of how the CCP seeks to undermine our sovereignty and silence all dissent, even here on American soil," Gallagher said in a statement to The Epoch Times.
Gallagher added, "The FBI calls this 'transnational repression,' but we should be clear that this is a foreign adversary emboldened enough to commit crimes against those it deems to be a threat in the United States."
The two individuals—a 70-year-old U.S. citizen and a 43-year-old U.S. permanent resident—attempted to bribe an undercover FBI agent posing as an IRS agent, in a plot to revoke an entity run by Falun Gong practitioners of its nonprofit status, according to the Department of Justice (DOJ). They were arrested at their residences in California on May 26 and now face charges of conspiracy, bribery, and money laundering.
The suspects, both born in China, started their bribery scheme in January under the direction of Chinese officials, the DOJ added. At least one of the officials could be directly involved in China's ongoing persecution of Falun Gong practitioners in China, based on the conversation of an intercepted phone call between the two individuals, according to a court document.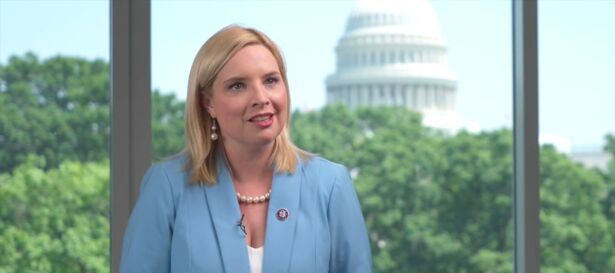 Rep. Ashley Hinson (R-Iowa), a member of the committee, said U.S. authorities are just "scratching the surface" with the bribery case, in terms of unearthing China's influence operations in the United  States, in an interview with NTD's "Capitol Report" on May 31.
"Unfortunately, I believe that this is just one of many cases that we're going to see of them trying to exert influence oppression," Hinson said.
Another committee member, Rep. John Moolenaar (R-Mich.), said the bribery case illustrates that China is targeting the United States with more than just spy balloons.
"They are actively using agents in our country to attack free speech and interfere in American government," Moolenaar said in a statement to The Epoch Times.
Moolenaar added, "We must not turn a blind eye to the CCP's aggression and should do more to stop its repressive campaigns within our borders. States and businesses need to recognize the historic mistake they would make partnering with the CCP or any company affiliated with it."
Gallagher said the United States shouldn't become China's "hunting ground" for dissidents.
"Congress and all levels of law enforcement need to help protect groups targeted by the CCP and continue to shut down these espionage and transnational repression operations on American soil," Gallagher said. "The United States should be a haven from persecution, not a hunting ground for authoritarians."
Forced Organ Harvesting
The DOJ's bribery case also shines a light on the ever-increasing death toll of Falun Gong practitioners in China.
Falun Gong, also known as Falun Dafa, is a spiritual practice that combines meditative exercises and moral teachings. According to estimates, there were 70 million to 100 million adherents in China by 1999, seven years after the practice was introduced to the public.
Deeming the practice's popularity a threat to its rule, the CCP began persecuting the group in July 1999. Now, more than 20 years later, China's persecution campaign—which some experts have described as genocide—has not been stopped, as many continue to be arbitrarily detained, incarcerated, tortured while in police custody, and persecuted to death.
At least 172 practitioners died as a result of the persecution in 2022, according to Minghui.org, a U.S.-based website that tracks the persecution of Falun Gong in China.
Many practitioners died as victims of China's state-sanctioned practice of forced organ harvesting. Their organs have been used to supply China's lucrative organ transplant industry, as Chinese hospitals often offer short waiting times to find a matching organ.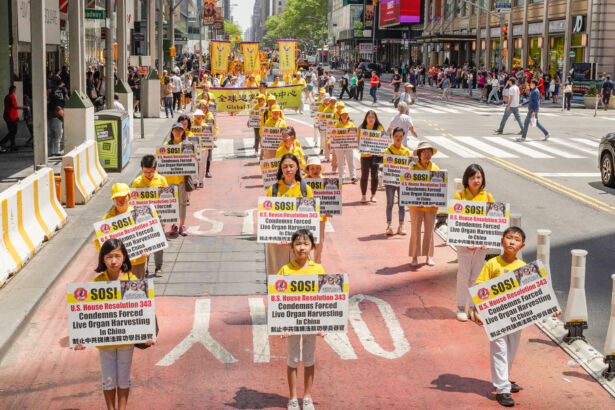 "It's terrifying," Hinson said China's practice of organ harvesting. "These people are being disappeared for practicing something that they believe in.
"Here in the United States. We praise people for speaking their minds, practicing their First Amendment right, whether that's free speech or freedom of religion. And in China, they punish you. They want your neighbors to tattle on you. They're not just doing this to the followers of Falun Gong, they're doing this to the Uyghur Muslims as well. People are just disappearing."
"If they're the right age and in the right condition, they're disappearing to provide those organs to other wealthy people in China," Hinson added.
"I think we have to be out there telling that story about how horrifying and terrifying this is. This is the Chinese Communist Party in action. This is what their value system is."
In March, Hinson was one of the House lawmakers who voted in favor of H.R. 1154, which is also known as the Stop Forced Organ Harvesting Act of 2023. The legislation, passed with a vote of 413–2, would sanction anyone involved in the act and require annual government reporting on such activities taking place in foreign countries.
The legislation includes penalties for those found to be involved in the act—a civil penalty of up to $250,000 and a criminal penalty of up to $1 million and 20 years in prison.
A companion version of the legislation (S.761) has been introduced in the Senate.
In Texas, a bill to combat China's forced organ harvesting was sent to Texas Gov. Greg Abbott to sign on May 29. The state legislation, SB 1040, aims to bar health insurance providers from sponsoring organ transplants from China or any other country known to have been involved in forced organ harvesting.
From The Epoch Times