Eating just one locally caught freshwater fish could be equivalent to drinking water that's highly contaminated with "forever chemicals"—or per- and poly-fluoroalkyl substances (PFAS)—for a month, a recent study has found.
PFAS are invisible man-made chemicals, high levels of which have been linked to health issues including various cancers, reproductive issues, and adverse effects on immune function.
Scientists from the Environmental Working Group (EWG), a U.S.-based research and advocacy nonprofit, analyzed U.S. government data derived from 501 samples of fish fillets collected across the United States from 2013 to 2015 under two monitoring programs of the United States Environmental Protection Agency (EPA).
Their analysis, formally published on Jan. 17 in the journal Environmental Research, found the majority of fish from rivers and streams across the United States are "potentially a significant source" of exposure to PFAS.
The study found the median level of PFAS in freshwater fish were an astounding 278 times higher than the levels the U.S. Food and Drug Administration detected in commercially-sold fish in 2019–2022.
"People who consume freshwater fish, especially those who catch and eat fish regularly, are at risk of alarming levels of PFAS in their bodies," David Andrews, a senior scientist at EWG and one of the study's lead authors, said in a statement. "Growing up, I went fishing every week and ate those fish. But now when I see fish, all I think about is PFAS contamination."
The study supports EWG's long-running calls for strict regulation of PFAS, and more testing on food such as fish, because diet is believed to be a major source of PFAS exposure for Americans.
'Environmental Injustice'
Authors also reported that perfluorooctanesulfonic acid (PFOS)—a type of PFAS—was the "largest contributor to total PFAS levels" in the freshwater fish, averaging 74 percent of the total.
According to the EPA, PFOS "may present a substantial danger to human health or welfare or the environment." The agency says that PFOS and perfluorooctanoic acid (PFOA)—another man made chemical under the PFAS umbrella—can "accumulate and persist in the human body for long periods of time."
The EPA says that animal lab and human epidemiology studies suggest that exposure to PFOA and/or PFOS "may lead to cancer, reproductive, developmental, cardiovascular, liver, and immunological effects."
Eating one 8-ounce serving of freshwater fish, assuming median levels of PFOS (8410 ng/kg), would be equivalent to drinking water highly contaminated over one month with PFOS at 48 parts per trillion. That's a level 2400 greater than the U.S. EPA interim drinking water health advisory.
"These test results are breathtaking," Scott Faber, EWG's senior vice president for government affairs, said in a statement. "Eating one bass is equivalent to drinking PFOS-tainted water for a month."
Authors said their analysis "suggests that a single serving of freshwater fish per year … translates into a significant increase of PFOS levels in blood serum."
The EWG says that PFAS contamination threatens those who can't afford to purchase commercial seafood, and as such, communities that depend on fishing are "inordinately harmed."
"The exposure to chemical pollutants in freshwater fish across the United States is a case of environmental injustice that especially affects communities that depend on fishing for sustenance and for traditional cultural practices," authors wrote in the their paper. "Identifying and reducing sources of PFAS exposure is an urgent public health priority."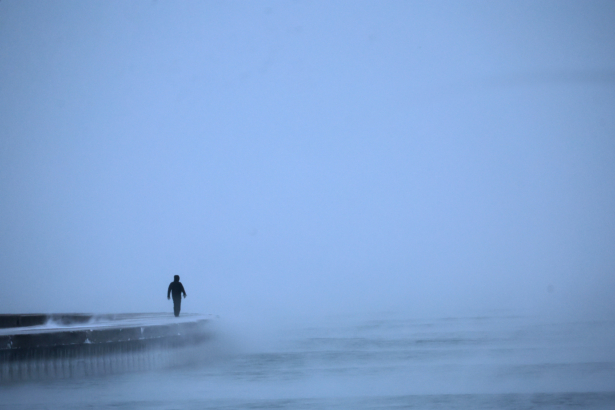 Higher PFAS in Great Lakes
The two programs that researchers drew data from were the 2013-2014 National Rivers and Streams Assessment and the 2015 Great Lakes Human Health Fish Fillet Tissue Study.
"Of the 349 samples analyzed in the 2013–2014 National Rivers and Streams Assessment, just one sample contained no detectable PFAS," researchers reported. Meanwhile, "all 152 fish samples tested within the 2015 Great Lakes Human Health Fish Fillet Tissue Study had detectable PFAS."
Higher levels of PFAS were reported in fish samples from the Great Lakes compared to other rivers and streams across the United States.
"The median level of total targeted PFAS in fish fillets from rivers and streams across the United States was 9,500 ng/kg, with a median level of 11,800 ng/kg in the Great Lakes," authors wrote.
They said the results "highlight that PFAS contamination may be of particular concern for the Great Lakes ecosystem and the health of people who depend on fishing on the Great Lakes for sustenance and cultural practices."
'Forever Chemicals'
PFAS were first developed in the 1940s and are used in a wide range of products to resist water and heat, including food packaging, non-stick pans, stain- and water-resistant fabrics and carpets, as well as cleaning products, paints, and fire suppression foams.
A number of PFAS chemicals "have been a concern because they do not break down in the environment, can move through soils and contaminate drinking water sources," according to the Centers for Disease Control (CDC). Because of this, PFAS chemicals are often commonly referred to as "forever chemicals."
"People are mostly likely exposed by consuming PFAS-contaminated water or food," the CDC says on its website, adding that PFAS can build up in fish and wildlife. "Exposure may also occur by using products that contain PFAS."
The National Institute of Environmental Health and Sciences (NIEHS) says that PFAS chemicals gradually accumulate and generally remain in a body over time "due to more intake than excretion of the chemicals."
The EWG has an interactive map that shares data on known PFAS-contaminated sites in the United States.
From The Epoch Times