A federal judge who was appointed by former President Donald Trump and ruled in his favor in the case involving records seized from his home by the FBI has been assigned to his new criminal case.
U.S. District Judge Aileen Cannon was assigned to the criminal case, which was lodged in federal court in southern Florida, according to the court docket.
Assignment of new cases is chosen randomly to one of 26 judges who operate in the district, according to the court's internal rules.
Cannon, a former U.S. prosecutor who was appointed as a judge in 2020, sided with Trump in a previous case brought by the former president against the government following its execution of a search warrant at his Mar-a-Lago resort.
Trump asked for an independent person called a special master to be appointed to help adjudicate disputes over the documents the FBI seized, many of which were not marked classified, because he said many of the documents were not allowed to be seized under the warrant.
Department of Justice (DOJ) officials opposed the request, alleging that appointing a special master would harm natural security and would impede its criminal investigation into Trump.
Cannon ruled on Sept. 5, 2022, that a special master would be helpful in identifying personal documents that Trump may be entitled to, such as tax documents that the government had acknowledged seizing.
She noted that the government had acknowledged botching a review of the documents for potentially privileged materials and that the team in charge of the review was not always "perceived to be as impartial as special masters.
"Concerns about the perception of fair process are heightened where, as here, the Privilege Review Team and the Investigation Team contain members from the same section within the same DOJ division, even if separated for direct reporting purposes on this specific matter," she said.
"The Court is mindful that restraints on criminal prosecutions are disfavored but finds that these unprecedented circumstances call for a brief pause to allow for neutral, third-party review to ensure a just process with adequate safeguards," she added later.
Cannon named U.S. District Judge Raymond Dearie, a Reagan appointee, as the special master and enabled him to view materials with classification markings.
Appeals Court Overturns Ruling
But an appeals court panel concluded Cannon "likely erred" when she made the materials available to Dearie and Trump lawyers, prompting Cannon to modify her order to block them from seeing the documents. The Supreme Court declined to intervene.
Trump's case was later thrown out after the same appeals court panel said Cannon lacked the jurisdiction to appoint a special master.
The new case against Trump stems partly from the same documents the FBI seized. Authorities say Trump illegally kept classified materials and other sensitive documents beyond his presidency at Mar-a-Lago, and showed some of the materials to other people in New Jersey in violation of federal law.
"The unauthorized disclosure of these classified documents could put at risk the national security of the United States, foreign relations, the safety of the United States military, and human sources and the continued viability of sensitive intelligence collection methods," the indictment, presented by special counsel Jack Smith's team and approved by a grand jury in Florida, states.
Trump says he declassified the classified materials before leaving office and is innocent. He has also pointed out that a number of former top officials, such as former U.S. Secretary of State Hillary Clinton, have not been charged even though they mishandled classified materials.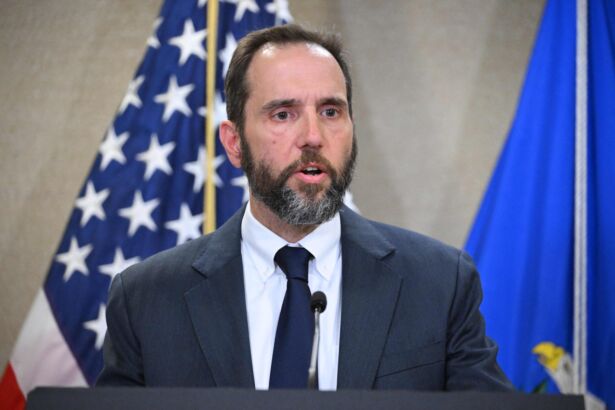 Request for Recusal?
Under federal law, if prosecutors reasonably believe Cannon cannot be fair, they could file an affidavit asking that Cannon recuse herself from the case, arguing that she has a personal bias or prejudice. If she finds the affidavit is "sufficient," she must step down.
She also must step down if it could be argued that her "impartiality might reasonably be questioned" by the parties or the public.
Given the reversal of Cannon's ruling last year, "there already appears to be a fair ground for disqualification because the public might reasonably question her impartiality, even absent an evidentiary basis for alleging or finding personal bias or prejudice," said University of Miami law professor Anthony Alfieri, the founding director of its Center for Ethics and Public Service.
Cannon previously worked as an assistant U.S. attorney, mainly out of the federal prosecutors' office in Fort Pierce, Florida, which is part of the same federal district as Miami but about 130 miles (209 kilometers) to the north. Beginning in 2013, Cannon prosecuted 41 cases as part of the Major Crimes Division, later handling appeals of criminal convictions and sentences.
She has also been a member of the Federalist Society, a conservative legal organization that has championed judges appointed by Trump, including Supreme Court Justices Neil Gorsuch, Brett Kavanaugh, and Amy Coney Barrett.
Born in Cali, Colombia, in 1981, Cannon came to the United States as a child, ultimately graduating from Duke University in 2003.
One of her cases as a prosecutor involved a defendant in a major $800 million Ponzi scheme who unsuccessfully appealed his numerous fraud convictions to the Atlanta-based 11th U.S. Circuit Court of Appeals. Her opposing counsel in that case, longtime Miami defense attorney Richard Klugh, described Cannon as "very bright and talented" and fair to the defense.
"I didn't see anything I could characterize as anything other than good lawyering, and no political bias whatsoever," Klugh said, adding that he has worked on cases handled by Cannon, although he has not appeared in her courtroom.
"She's known for affording fair process and hearings. You like somebody who actually hears you out," he said.
She was asked during her 2020 Senate confirmation process whether she had any discussions with anyone, including people at the White House or the Justice Department, about loyalty to President Trump. In a written response, she replied: "No."
The Associated Press contributed to this report.
From The Epoch Times