Democrat Adrian Fontes was projected Friday night to win the race for Arizona secretary of state against Rep. Mark Finchem, a Republican endorsed by former President Donald Trump.
Fontes, who formerly oversaw parts of the election system in the state's most populous county, Maricopa, said in a statement on Twitter late on Friday, projecting his victory, that he's "honored to be presumptively elected" and to serve the top position.
"I will make it my mission to bring us closer together than we have been during these last few years," Fontes wrote. "We must embrace dignity for our fellow human beings and work to become Americans who respect our neighbors, regardless of how they vote."
The Associated Press called the race in Fontes' favor Friday night around the same time it announced incumbent Sen. Mark Kelly (D-Ariz.) defeated Republican challenger Blake Masters in the senatorial race after a large batch of results increased Kelly's lead such that Masters could not make up the difference with the remaining ballots.
As secretary of state, Fontes will be overseeing the 2024 presidential elections in the key swing state. Other responsibilities include providing campaign finance disclosures, and managing and preserving public records.
The secretary of state, working with the governor and attorney general, also has broad authority to rewrite the state's election rules.
"I promise to always honor and defend the ideal of fair and honest elections with the voters of Arizona and I will help reignite the flame of unity in our Republic." Fontes, a former U.S. Marine, wrote in the statement.
Finchem, who hasn't conceded yet in the race, has not issued a public statement as of early Saturday. However, around the same time Fontes issued a statement to project his victory, the Republican suggested on Twitter that an outstanding number of ballots from Maricopa County would break in his favor.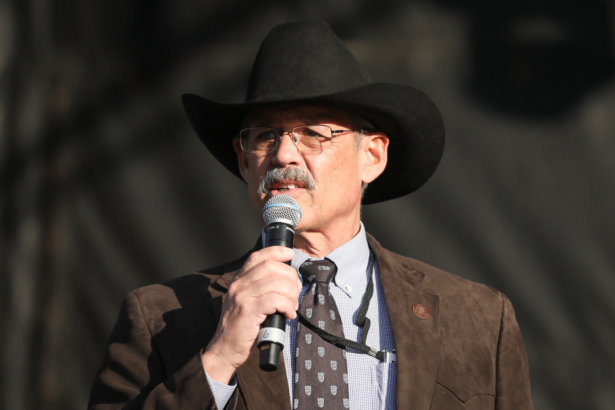 Finchem, who had emerged as one of the most prominent Republicans running for secretary of state positions around the country, said after winning the state's primary election in August that he wanted to restore the rule of law to elections in Arizona, declaring: "Right now, we have lawlessness."
While campaigning, Finchem pledged that he would bring systemic change to the ballot voting system in Arizona if elected as secretary of state.
Finchem also said, if elected, he'd seek to make it a requirement that the secretary of state steps down when seeking another political office, comparing the situation to playing on a baseball team and owning the team.
Prior to Fontes likely winning the race, Katie Hobbs served the top position. Hobbs, a Democrat, currently leads Republican Kari Lake in the race for Arizona governor, but the battle for control of the crucial battleground state is still too early to call.
The Associated Press contributed to this report.