House Speaker Kevin McCarthy (R-Calif.) would not say that Congressman George Santos (R-N.Y.) must leave the House of Representatives as the latter faces criminal charges from the Biden administration's Justice Department.
"I'll look at the charges," McCarthy told reporters on May 9, during a press conference mainly focused on debt ceiling negotiations with President Joe Biden.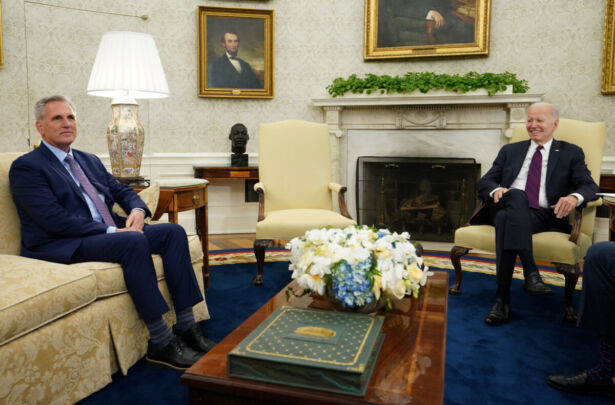 The embattled freshman Congressman faces federal charges in the Eastern District of New York. An indictment, unsealed on Wednesday, charged Santos with 13 counts of wire fraud, money laundering, theft of public funds, making materially false statements to the House of Representatives.
Santos has faced a litany of accusations since taking office, against a backdrop of demonstrably false statements by the lawmaker, ranging from the trivial to the potentially criminal.
The nonpartisan watchdog group Campaign Legal Center alleged that he violated federal campaign finance law during the midterms.
He described himself as a "terrible liar" during a February interview with Piers Morgan.
Although McCarthy granted Santos committee assignments at start of the 118th Congress, Santos soon stepped down from those assignments.
Other New York Republicans went on to introduce a bill targeting individuals indicted for campaign finance violations, in a move inspired by Santos.
"Con artists, liars, and fabulists who lied their way into Congress should not be able to monetize their lies, and this legislative package would ensure they are unable to do so," Rep. Anthony D'Esposito (R-N.Y.). a co-sponsor of the legislation, told The Epoch Times at the time.
Yet, Santos has also positioned himself as a close ally of former President Donald Trump.
During Trump's arraignment in early April, Santos appeared outside the courtroom, drawing considerable media attention of his own.
Santos could be crucial for McCarthy and other Republican leaders as they seek to advance their legislative agenda with only a narrow majority, a Democrat-dominated Senate, and Biden in the White House.
House Democrats' introduced a resolution expel the lawmaker in February.
The Epoch Times has reached out to Santos' staff for comment.
This article was updated with the unsealed charges. 
Correction: A previous version of this article gave McCarthy an incorrect House title. The Epoch Times regrets the error.
From The Epoch Times