House Speaker Kevin McCarthy (R-Calif.) said he is prepared to advance contempt of Congress charges against Christopher Wray if the FBI director misses a May 30 deadline to hand Congress a document alleging a criminal scheme involving President Joe Biden.
"I personally called Director Wray and told him he needs to send that document, today's the deadline," McCarthy said during a May 30 appearance on Fox News. "Let me tell Director Christopher Wray right here, right now: If he misses the deadline today, I'm prepared to move contempt charges in Congress against him."
In a May 3 letter, House Oversight and Accountability Committee Chairman James Comer (R-Ky.) and Sen. Chuck Grassley (R-Iowa) revealed that they received "highly credible unclassified whistleblower disclosures" that the FBI possessed an unclassified record that "describes an alleged criminal scheme involving then-vice president Joe Biden and a foreign national relating to the exchange of money for policy decisions."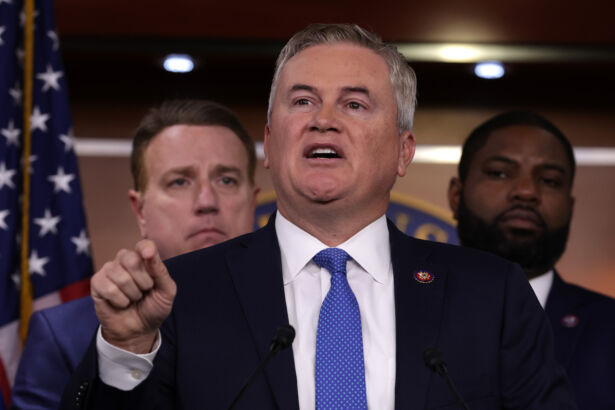 The specifics of these allegations are unclear since, despite repeated requests to hand over the document, the FBI has refused to share it on several occasions.
Lack of Respect for Congress
McCarthy suggested that the FBI's continued refusal to turn over the document suggests that the agency seems to view itself as above Congress.
"Comer subpoenaed the document," McCarthy said. "We have jurisdiction over the FBI, which they seem to act like we do not."
He echoed earlier comments by Comer, who said, "They [the FBI] don't respect anyone in Congress."
"We have jurisdiction over this," McCarthy said. "He can send us that document. We have the right to look at that, Republicans and Democrats alike in that committee.
"If he does not follow through with the law, we will advance contempt charges against Christopher Wray and the FBI. They are not above the law."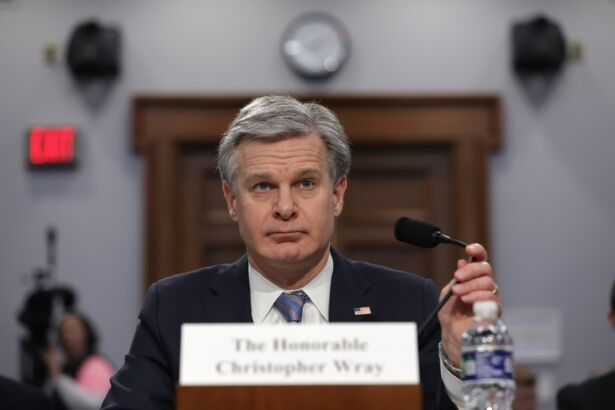 Democrats have dismissed Comer's inquiry—and larger GOP inquiries into the FBI and the Department of Justice—as partisan.
The White House called Comer's inquiry an "unfounded politically motivated [attack]."
Rep. Jamie Raskin (D-Md.) accused Comer of "recycling unsubstantiated claims." He called the inquiry "a baseless partisan stunt."
Wray is set to meet with the Oversight Committee on May 31, a day after the deadline.
The FBI declined to comment on the forthcoming meeting or the document but said it was committed to working with Congress.
"The FBI's mission is to protect the American people. Releasing confidential source information could potentially jeopardize investigations and put lives at risk. The FBI remains committed to cooperating with Congress' oversight requests on this matter and others as we always have," an agency spokesperson told The Epoch Times.
During the previous Congress, Democrats voted to hold several allies of President Donald Trump, including figures like former White House advisers Steve Bannon and Peter Navarro, as well as former Chief of Staff Mark Meadows, and others, for failing to cooperate with the Jan. 6 panel's probe into the Capitol breach.
The men each claimed that executive privilege protected them from having to testify or turn over documents, an argument advanced by Trump's legal team.
At the time, while promising not to be "political" with such procedures, McCarthy warned Democrats that they were opening a Pandora's box not easily closed again.
Meanwhile, prominent Republicans, like Florida Gov. Ron DeSantis and Rep. Marjorie Taylor Greene (R-Ga.), have called for Wray's removal from office.
If Wray fails to hand over the document, and McCarthy moves forward with contempt of Congress charges, it will be up to Attorney General Merrick Garland to choose whether to pursue a criminal investigation into the matter.
The Bidens' Business Dealings
Republicans have long sought to learn more about possible ethical concerns in the Bidens' business dealings.
In January 2023, days after Republicans retook control of the House, Comer sent a request for information related to art sales made by Hunter Biden.
Just weeks before the 2020 election, the New York Post published a report documenting findings from Hunter Biden's laptop, which had reportedly been forgotten at a computer repair shop.
Among other findings, emails on the laptop revealed that while he was still the vice president, Joe Biden had been introduced to a top executive at the Ukrainian energy firm Burisma.
"Dear Hunter, thank you for inviting me to DC and giving an opportunity to meet your father," reads an April 17, 2015, email allegedly sent from Vadym Pozharskyi, a Burisma executive, to Hunter Biden.
In December 2015, Joe Biden candidly admitted to the Council on Foreign Relations in 2018 that he threatened to withhold a $1 billion loan guarantee from Ukraine if a prosecutor looking into Burisma was not removed from his post. This threat came about eight months after Pozharskyi allegedly met the elder Biden.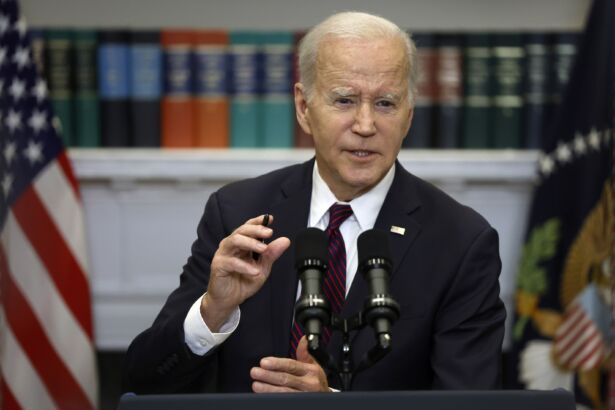 "I looked at them and said: I'm leaving in six hours. If the prosecutor is not fired, you're not getting the money," Biden said of the affair in 2018.
"Well, son of a [expletive]," Biden continued. "He got fired."
If true, this would mean that Biden's oft-repeated claim that he has had no role in his son's business dealings is false.
'Don't Mention Joe Being Involved'
James Gilliar, one of Hunter Biden's business partners, allegedly told fellow partner Tony Bobulinski in a May 20, 2017, email not to mention "Joe being involved."
"Don't mention Joe being involved, it's only when u [sic] are face to face, I know u [sic] know that, but they are paranoid," Gilliar told Bobulinski.
Bobulinski, who confirmed the authenticity of the emails in a later statement, replied at the time, "OK, they should be paranoid about things."
Another email relayed from Gilliar to Hunter Biden, Bobulinski, and a fourth business partner on May 13, 2017, described the breakdown of each member's shares in a Chinese business venture dubbed Sino-Hawk.
"Sino for the Chinese side, Hawk for Hunter's brother Beau's favorite animal," Bobulinski later explained.
Gilliar suggested each of the primary business partners would receive 20 percent. Another participant, called "Jim" by Gilliar, and likely referring to Joe Biden's brother, apparently was to receive 10 percent. Finally, the other 10 percent would be "held by H for the big guy."
On Oct. 22, 2020, Bobulinski made a public statement confirming that "the big guy" was indeed a reference to Joe Biden.
The document alleged by whistleblower allegations could give a more solid basis to allegations of Biden's business dealings if recovered.
From The Epoch Times