Former Vice President Mike Pence entered the 2024 presidential race on June 7 with a video announcement released on Twitter and drenched in religious language and references to the Republican glory days of the 1980s.
By doing so, the Indiana native staked his ground as the candidate representing religious faith and the can-do optimism of the Ronald Reagan era.
"I believe in the American people, and I have faith God is not done with America yet. Together, we can bring this Country back, and the best days for the Greatest Nation on Earth are yet to come!" Pence wrote in the Twitter post accompanying the campaign video.
Pence both tore a page from the playbook of former President Donald Trump and took a shot at his former running mate without mentioning him by name.
Pence and Trump
In language evocative of Trump's "American Carnage" inaugural address, Pence pictured the present days as among America's darkest.
"Today, our country's in a lot of trouble. President Joe Biden and the radical left have weakened America at home and abroad. The American dream is being crushed under runaway inflation. Wages are dropping. Recession is looming. Our southern border is under siege, and the enemies of freedom are on the march around the world. And worse still, timeless American values are under assault as never before," Pence said.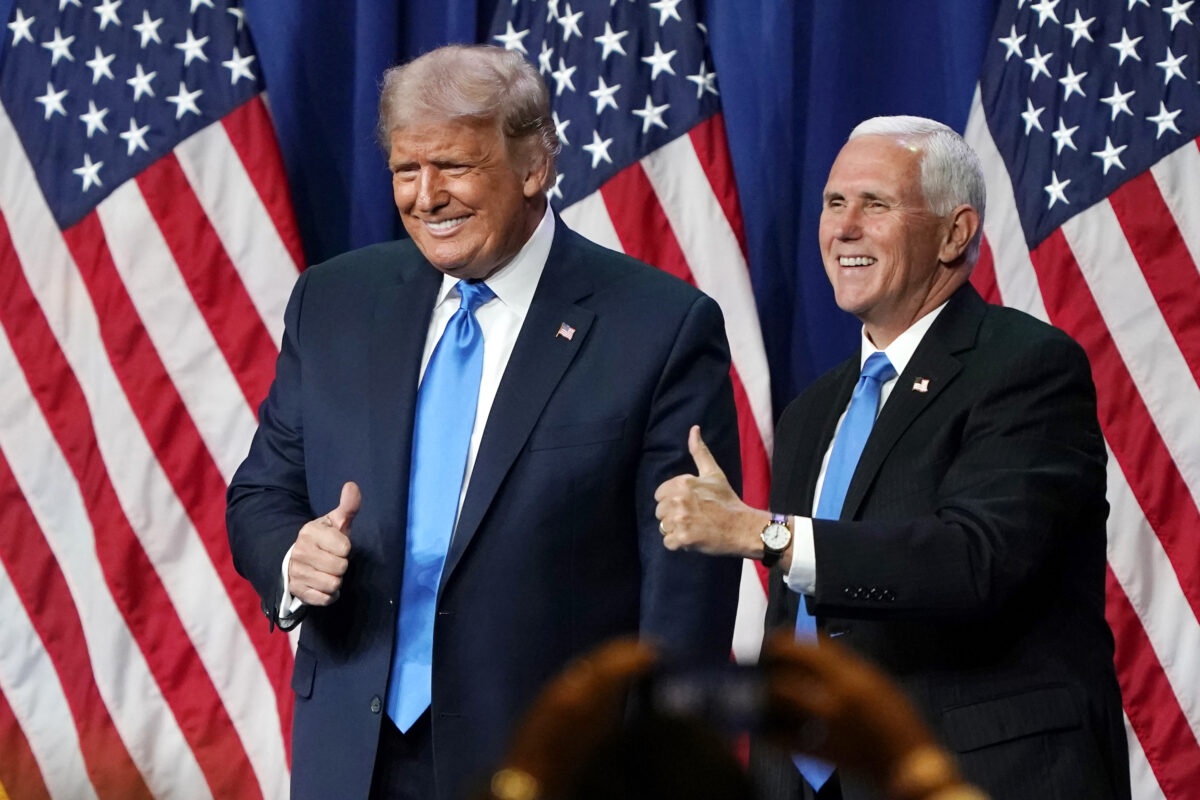 Pivoting to define the solution, Pence said that "different times call for different leadership," setting up the contrast between himself and the often bombastic and irreverent Trump.
"Today our party in our country needs a leader that will appeal, as Lincoln said, to the better angels of our nature," he added, referring to the final words of Abraham Lincoln's first inaugural address.
Pence staunchly supported Trump throughout his first two presidential campaigns and most of his presidency. The relationship soured when Pence defied Trump's wishes by refusing to decertify the results of the 2020 presidential election on Jan. 6, 2021.
The former vice president has generally refrained from directly criticizing Trump but has spoken openly about their conflict on Jan. 6.
"President Trump was wrong. I had no right to overturn the election, and his reckless words endangered my family and everyone at the Capitol that day, and I know that history will hold Donald Trump accountable," Pence said at a dinner in Washington on March 19, 2023.
The campaign now puts the two men in direct opposition. Trump announced his candidacy in November.
So Help Me God
Pence invoked the name of God five times in his comments on Twitter and in the video, linking America's destiny—and his own—with the will of the Almighty.
The former vice president, who has Roman Catholic roots but has attended Evangelical churches, likened his candidacy to a religious calling.
"I have long believed to whom much is given much will be required," Pence said, an allusion to Jesus' Sermon on the Mount.
"My family and I have been blessed beyond measure with opportunities to serve this nation. And it'd be easy to stay on the sidelines. But that's not how I was raised. That's why today before God and my family, I'm announcing I'm running for President of the United States. We can bring this country back," he said.
Pence twice referred to the nation as a "shining city on the hill," a phrase he attributed to Reagan but which also originated with the Sermon on the Mount. The phrase was borrowed by Puritans in the 17th century to describe the founding of the Massachusetts Bay Colony. Presidents John F. Kennedy and Barack Obama have also used the image, as have other candidates for the office.
Pence used the phrase to evoke the ghost of Reagan, who renewed American optimism in the wake of the Vietnam War and the Watergate scandal.
"Every time our nation has produced leadership that has called upon this country to do hard things, the American people have always risen to the challenge. And we will again," Pence said.
Closing the video, Pence borrowed another Reaganism, the phrase he used when concluding a speech or televised address.
"God bless you, and God bless the United States of America."
Crowded Race
Pence, who turned 64 on the day of his announcement,  joins a growing field of candidates for the Republican nomination. Those include Trump, 76; former South Carolina Gov. Nikki Haley, 51; tech entrepreneur Vivek Ramaswamy, 37; former Arkansas Gov. Asa Hutchinson, 72; Sen. Tim Scott (R-S.C.), 57; and Florida Gov. Ron DeSantis, 44.
A June 6 poll by FiveThirtyEight shows Trump holding a clear advantage at 54 percent. DeSantis polled at 21 percent. Pence was slightly ahead of Haley, both polling around 5 percent. Others were below 4 percent.
Trump has been endorsed by Sen. Lindsey Graham (R-S.C.), Sen. J.D. Vance (R-Ohio), and Rep. Andy Biggs (R-Ariz.).
Pence is expected to follow up on the campaign announcement with a town hall meeting in Des Moines, Iowa, at 9 p.m. ET, televised by CNN.
From The Epoch Times